---
With the United States (US) President Donald Trump turning the world order downside up and behaving in a dangerously unpredictable manner that one US Intelligence Chief describes as treason, the United Nations on Wednesday celebrated the 100th birthday of the legendary South African Statesman Nelson Mandela.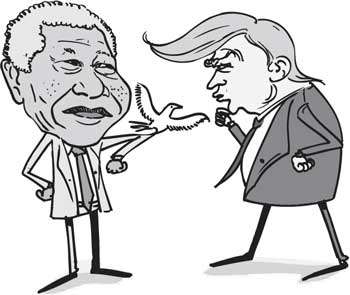 The UN in a statement says the Centenary is an occasion to reflect on his life, legacy, and to follow his vision to make the world a better place. The Nelson Mandela Foundation is dedicating this year's Mandela Day to action against poverty, honouring Nelson Mandela's Leadership and devotion to fighting poverty and promoting social justice for all.

Every year on July 18 the UN invites the people to mark Nelson Mandela International Day by making a difference in their communities. It says everyone has the ability and the responsibility to change the world for the better. Mandela Day is an occasion for all to take action and inspire change.

Mr Mandela devoted his life to the service of humanity — as a Human Rights Lawyer, a prisoner of conscience, an international peacemaker and the first democratically elected President of a free South Africa. He served only one term from 1994 to 1999 though a majority of the people would have liked him to go on for two or three terms. This is in contrast to Russia's dictator Vladimir Putin, China's President Xi Jin Ping, North Korea's Kim Jong Un, Turkey's Recep Tayyip Erdoğan and others, who show a desire to rule for life. Some analysts believe Mr Trump, especially after the crisis summit in Helsinki on Monday, praised Mr Putin so much apparently because he also maybe liking to be the President for life, though the US Constitution does not allow more than two four-year terms.

Other analysts believe Mr Trump, who has had business deals in Russia since the 1980s, maybe saying and doing such outrageous things because he is under some form of blackmail from Russia. All US intelligence agencies say they have substantial evidence that Mr Putin's Russia interfered with the US presidential election in 2016 and did it in a manner that enabled him to defeat his Democratic Party rival, Hillary Clinton. The US intelligence services also say Russia is continuing its cyber war against the US and other European Democratic countries, with access even to the power grids in those countries.

After Monday's Helsinki summit, where Mr Trump and Mr Putin met one – to – one for more than two hours, the two leaders held a news conference, where the US President went out of his way to defend the Russian Leader from charges that he interfered with the 2016 elections. Instead, the US leader accused his own intelligence services and the Justice Department of indulging in a witch-hunt against him. This led to one of the biggest outcries, in recent US history, with even Mr Trump's Republican Party leaders hitting out strongly against him.

Amid the crisis, Mr Trump, as usual, made a virtual U-turn. On Wednesday he issued a statement saying he had misspoken in defending the Russian leader and that he agreed with the US intelligence services that Russia had launched a cyber war against the US. Mr Trump came to office, with or without Russia's help on the basis that he wanted to put America First. This evoked a response from the forces of populism, nationalism or extremism. Essentially it is a policy of selfishness or self – centeredness and history have shown that such a policy is self-destructive.

In contrast, Nelson Mandela was selfless, sincere and sacrificial in his lifetime of service and suffering to the people of South Africa and the world. On building Peace he said, "Peace is not just the absence of conflict; peace is the creation of an environment where all can flourish, regardless of race, colour, creed, religion, gender, class, caste, or any other social markers of difference. Religion, ethnicity, language, social and cultural practices are elements which enrich human civilization, adding to the wealth of our diversity. Why should they be allowed to become a cause of division, and violence? We demean our common humanity by allowing that to happen...."

Sri Lanka's leaders and indeed world leaders need to be influenced by great men such as Nelson Mandela instead of allowing themselves come under what some analysts are describing as the Trump Degeneration Syndrome.