---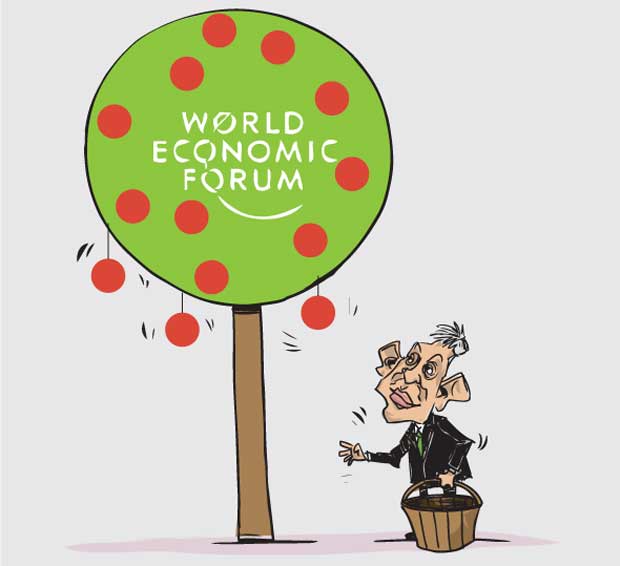 The World Economic Forum starting today at Davos in Switzerland will be an important event where Sri Lanka could work out more public-private partnership enterprises and foreign direct investments to carry forward the National Government's sustainable, eco-friendly and all-inclusive development strategy.
Prime Minister Ranil Wickremesinghe, Finance Minister Ravi Karunanayake and International Trade and Strategic Development Minister Malik Samarawickrama -- playing a leading role in the economic block-busting plan -- are leading Sri Lanka's delegation to the five-day forum. Last year also the Prime Minister was invited to be one of the main speakers at this forum and our delegation is known to have initiated the process for mega investments.

Providing jobs, skilled jobs, productive and well-paid jobs is the thrust of the government's sustainable development strategy and poverty alleviation plan. In impoverished or marginalised families, if one or two young people could be provided good jobs where they work with creativity and commitment, it will go a long way towards poverty alleviation and it does restore the dignity of the impoverished family. If one or two people are provided with jobs, the family could earn its own living and regain its position in the mainstream of society and decision making. That is the vital difference between charity and social justice.

During the past 25 years, after the collapse of the dictatorial Soviet empire, there has been rethinking or a paradigm shift regarding socialism and capitalism. In any event what we saw in the Soviet Union and see in China now is largely State capitalism with little by way of a more equitable distribution of wealth and resources.
On the other hand, we saw unbridled crony capitalism in the United States when it was under Ronald Reagan and Britain when it was under Margaret Thatcher. Whatever the unpredictable US President elect Donald Trump may do or not do after his grand inauguration on Friday, most countries including Sri Lanka are moving towards a middle path broadly described as a Socialist market economy.
Whatever the terminology, there is a need to go beyond words and the grass roots rural people especially need to experience its full benefits. The National Government says that is why it wants to implement the 15,000 acre industrial zones in the Hambantota, Monaragala, Matara and Galle districts. Pro – Mahinda Rajapaksa groups carried out violent protests when this Hambantota Port and Industrial Zones project was launched on January 7. They alleged that village people's lands are being taken over to be handed over to a China – dominated company.
But the National Government denies this saying that more than 90 per cent of the land for those projects is state land and there is no sell-out to anyone. Government leaders say the Joint Opposition critics are jealous and therefore trying to sabotage projects which will provide tens of thousands of jobs for the youth in rural areas.
The other major projects, the modern tyre processing plant at Horana and the vehicle assembly plant at Kuliyapitiya have also come in for criticism. While there is some validity to questions relating to tender procedures and sweeping concessions given, there is no doubt that thousands of jobs will be produced for our youth and Sri Lanka's export market will get a boost. With the European Union lifting the ban on Sri Lanka's fish exports and the vital GSP Plus concessions likely to be restored within two to four months, the prospects for Sri Lanka's export market are bright indeed. With tens of thousands of jobs also being provided, this is a major step towards a just society.