---
Food and the rising cost of living are much in focus these days, with the Supreme Court ordering the suspension of the controversial increases in the Value Added Tax (VAT) rates, and the government imposing maximum retail prices on 15 essential items with a warning that the Consumer Affairs Authority will take tough action against sales outlets which violate the price control notification.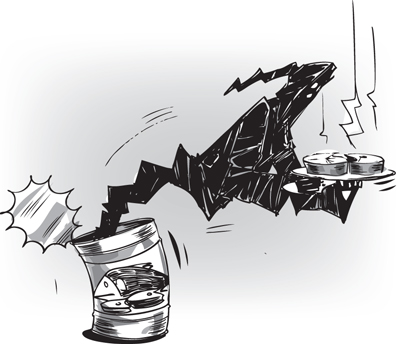 The National Government responded positively to last Monday's headline- hitting order by the Supreme Court, much in contrast to how the former Rajapaksa regime acted against the then Chief Justice Shirani Bandaranayake when she ordered in 2012 that the proposed Divineguma Draft Bill was unconstitutional and must be approved by the people at a referendum. After the historic people's victory and change of government on January 8 last year, there are allegations of hundreds of millions of rupees being abused under the Divineguma law and the then Minister was arrested on charges relating to it.

However the National Government is likely to move an amending Bill in Parliament soon seeking approval for the new VAT rates. Yesterday most of the Pettah traders closed their shops and held a protest against the proposed Bill while government leaders say the protests are not spontaneous but manipulated by political parties including the so-called Joint Opposition and the Janatha Vimukthi Peramuna (JVP).

As the Daily Mirror said in its Thursday editorial, civic conscious people need to cooperate with the government to ensure that sales outlets, big or small, comply with the regulations for maximum retail prices. If the outlets are found to be disobeying the orders, we need to see the power of consumer resistance with the people refusing to buy from those outlets.

With so much attention on food issues, we also need to reflect on some vital aspects relating to food safety and quality. Former Food and Agriculture Organisation (FAO) expert Ranjit Seneviratne has sounded a warning to consumers regarding food safety and quality. He has been advocating organic, fresh foods as the best for good health and disease prevention. He says we need to, as far as possible avoid food that is canned or tinned, plastic or paper-packaged or in bottles as most of them contain chemical preservatives, colours and flavours – some of which are known to be harmful in various degrees.

In his latest disclosure Mr. Seneviratne makes the shocking revelation that some of the products labelled "Made in Canada" could actually be produced in China or Hong Kong, Vietnam or Thailand where international food standards are not strictly maintained. Anything goes, inside the can that is.
Beware, check your sardines or tinned fish. Did you notice the size of the fish these days? It is getting bigger by the day. Make a note of the barcode (690- 695) – China. Carefully note bar codes -- this will assist you. Your health and your children's health should not be gambled with.

According to online reports with pictorial evidence, most of the high-liner fish products come from China even though the box says 'Products of Canada'. It is from China and 'processed' in Canada, that is, the coating is added and packaged in Canada only!

The fish are raised in pens using chemicals that are banned in Canada as cancer causing. But this is legal in China. Many companies are known to be using a Hong Kong address to avoid this type of image reputation.

Since the European Union two weeks ago lifted the ban on fish exports from Sri Lanka, the Fisheries Ministry says more than 150,000 kg of fish have been exported, earning millions of dollars. That is good. But we also need to raise questions as to why we cannot provide all the fish and fish products our people need, without importing junk items which may be toxic.