---
Not only in sustainable economic development, but also in religion, highest priority is being given to the battle against global warming and climate change with its catastrophic consequences including the unbalancing of the delicate balance in the earth's biodiversity. Launching a prophetic initiative, Pope Francis has called on religious leaders to come together and join forces in battling global warming. While the Pope is having a dialogue with leaders of different religions, the Swedish teenage crusader Greta Thunberg spoke out strongly at the World Economic Forum at Davos in Switzerland. She told world leaders, "I am a teenager now, and at 75, I may have grandchildren. Will there be a world left for them? I don't want to listen to your promises or what you hope to do, but on behalf of the young generation, I demand urgent and effective action to curb global warming."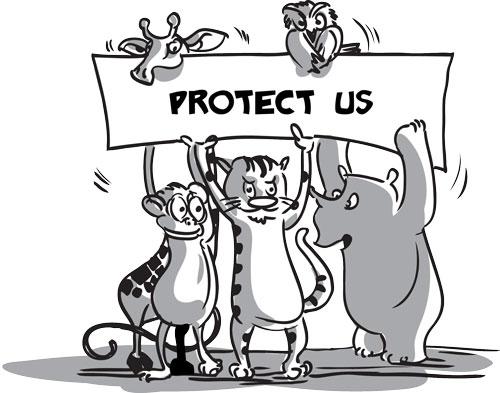 It is in this context that the United Nations marks World Wildlife Day tomorrow. According to the UN, the animals and plants that live in the wild have an intrinsic value to human well-being and sustainable development.

Tomorrow's event is an opportunity to celebrate the many beautiful and varied forms of wild fauna and flora. At the same time, the day reminds us of the urgent need to step up the fight against wildlife crime and human induced reduction of species. This has wide-ranging economic, environmental and social impacts. Given these various negative effects, Sustainable Development Goal #15 focuses on halting biodiversity loss, the UN says.

Goal 14 of the Sustainable Development Goals (SDG14) aims to "conserve and sustainably use the oceans, seas and marine resources for sustainable development." The World Wildlife Day 2019 theme is: "Life Below Water: For people and planet." This closely aligns with this goal, with a specific focus on the conservation and sustainable use of marine wildlife.

The UN says the ocean contains nearly 200,000 identified species, but actual numbers may be in the millions. More than three billion people depend on marine and coastal biodiversity for their livelihoods. Marine wildlife has sustained human civilization and development for millennia - from providing food and nourishment, to material for handicraft and construction. It has also enriched our lives culturally, spiritually and recreationally in different ways.

The capacity of life below water to provide these services is severely impacted, as our planet's oceans and the species that live within it are under assault from an onslaught of threats. These include the most significant and direct threat of over-exploitation particularly unsustainable fishing and other marine species extraction practices, but also important threats such as climate change, marine pollution and habitat destruction. These threats have a strong impact on the lives and livelihoods of those who depend on marine ecosystem services, particularly women and men in coastal communities, the UN warns.

On December 20, 2013, the Sixty- eighth session of the United Nations General Assembly decided to proclaim March 3 as World Wildlife Day to celebrate and raise awareness of the world's wild fauna and flora. The date is the day of the adoption of the Convention on International Trade in Endangered Species of Wild Fauna and Flora (CITES) in 1973. This plays an important role in ensuring that international trade does not threaten the species' survival.

For Sri Lanka, this year's theme has deep significance because we are an island. Latest figures indicate that about 40 per cent of the ocean is polluted largely because of the reckless disposal of plastic and polythene. Large fish including the popular seer or "Thoramalu" are known to consume this plastic or polythene. We prepare tasty curries with this seer fish and unknowingly eat a little poison and give it to children too. Analysts believe this may be one of the reasons why most of us fall sick more often and hospitals are crowded like marketplaces. Not only tomorrow, but throughout the year and the years to come, let us be careful in what we throw in to the sea while the government takes effective measures to clean up the ocean. Let us also remember the words of a beautiful song, "Listen to the ocean, echoes of a million seashells, forever it's in motion, moving to a rhythmic, unwritten music that is played eternally."