---
Christmas is associated with such a festive jeer that it looks unthinkable to make people remain low key during this period. Already we see posts on social media regarding people driving on the expressways to get to their
party destinations.

Inside information received by this newspaper reveals that some of the down south hotels are already fully booked for 31st night. What's disturbing is that all this is happening despite existing government warnings and health guidelines which specify that people should restrict travel and celebrate the festive season indoors as much as possible.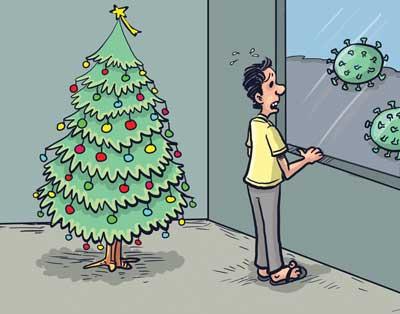 Another factor that alarms us is that night clubs operating in Colombo don't much adhere to health protocols. It's reported in newspapers that the police have said that they can't step into investigate such places unless there are complaints. Most night clubs don't provide sanitizer and a book to record personal details of patrons. Partygoers don't maintain social distancing; which is alarming given that there is evidence COVID-19 is an airborne virus pandemic.

December is a month to evaluate oneself; or a time to reflect on the months passed and see whether we have become better humans. Some aggressive businessmen did beat the odds and make their share of profits during the pandemic, but were they fair to the public and did they respect health guidelines? Businessmen who honour ethics and followed health guidelines resolved to settle for less in terms of profits and in return became morally richer as responsible citizens.

Even Catholic Church's Bishop of Colombo Malcolm Cardinal Ranjith has cautioned people to remain at home and view the religious services in churches via television. Christmas last year too was on low key because of security reasons; following a series of blasts at churches on Easter day.

Partygoers, Christians and others belonging to different faiths must observe how moral values have declined and note that we are in an era where we should mourn the loss of human values and stop celebrating the dawn of another year where we would remain the same.

Change must come to this society even if the change is small. Someone has to get up and say that traditional rites have to be stopped temporary if burying the dead is going to expose the living to the mighty danger of falling prey to the pandemic. We need to cooperate with PHIs and provide them with true details of who attended a family alms giving or party and somehow keep the head count down to 50 if there is a wedding reception. Sometimes the law enforcement officers would not be around and we gain nothing, only lose, if we try to be smart and work around specifications laid out in 'the Quarantine and Disease Prevention Ordinance'.

It's of concern when we know that people don't step out and spend time in shopping malls as much as they wish because they fear contracting the virus; not because surveillance cameras will catch them not wearing their masks properly. The bottomline is that people don't fear the law and give scant regard to health guidelines.

Despite the pandemic, at a time when we know that parents are experiencing a loss in income, we hear of tuition masters minting money through online classes and demanding payments for extra lessons and revision classes.

It's good if people can celebrate something different for a change; like when we know we have become better human beings. Just the other day it was reported in the newspaper that zoom had lifted the 40 minute call limit on the free version of its videoconferencing app so that families can have extended chats on Christmas and New Year day. We solute you sir!

We need warmer hearts this festive season and more importantly law abiding citizens who know to celebrate this festive season without having brushes with the law!