---
As much as the recent Presidential Elections showed how much Sri Lanka is divided, certain posts on social media underscore the fact that we need to work more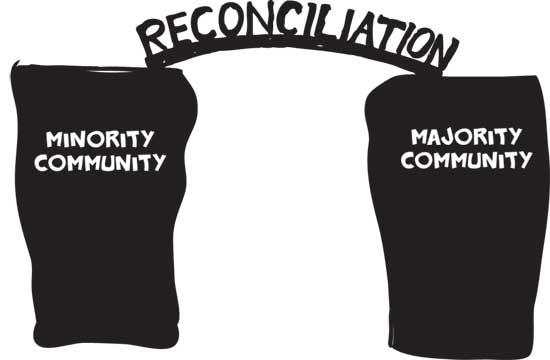 on reconciliation.
Incidents like the April 21 Easter attacks, mostly targeting churches, would have given the majority community the opportunity to unite with others and get accustomed to different cultures.
But in Sri Lanka this didn't happen to the expectations of 'right minded people' who'll choose peace over power.

Wednesday (November 21) marked seven months after these gruesome attacks. What's a bit depressing is that a fear culture prevails in society that Muslims might come under threat or even worse, an attack. It's heartening to note that the newly appointed Defence Secretary Retired Major General Kamal Gunaratne being quoted in newspapers saying that he would take stringent legal action against those who attempt to disturb national peace.

A Daily Mirror writer doing a tour of Negombo a few days ago had captured the pulse of the people as to how they reflect on the incident, which brought death to over 250 people. In a nutshell what was said was that people from different religions must make an attempt to understand other diverse cultures and religions.
People in authority and those who walk on the corridors of power must stop promoting the 'Sinhala majority' line. True, the election results when reflected geographically on a map show a divide which raises suspicion in the minds of those who are alien to the phrase 'unity in harmony'.
Between April this year and now religious tension has prevailed in this country. We saw how a firebrand monk gave strength to religious fundamentalists during actions which disturbed peace in society. The news of a Buddhist organisation, which was behind some of this chaos, disbanding has had the effect of music on the ears of those who value democracy and freedom.
Just days after the bomb attacks several refugees residing in the Negombo area were chased out or asked to leave the abodes that gave them shelter . Some of these refugees were Muslim Christians from countries like Afghanistan and Pakistan.
When turning the pages of time we can observe that those targeted were Muslim Christians. Their aim was to destroy unity among Muslims and Christians.
Even local Muslims, females, were afraid to go out on the streets wearing their scarfs fearing the possibility of attacks. There were reports of some women being jeered at for wearing head coverings even after the tense situation in the nation returned to normalcy.
Fundamentalists need to know that a good number of people belonging to minority races are still suffering from psychological trauma. Certain programmes are being carried out to heal broken minds. There is government funding for such programmes for which well-wishers too are contributing. But the work of fundamentalists can be counter productive when a nation nursing wounded hearts and trying to rebuild a wobbling economy is struggling to lift its head from the dumps.
It would be the need of the hour if the new government can promote a culture where humanity gets priority over religion. A sentiment echoing from the Christian community, still picking up their lives after the 'Easter Sunday fall', is that humanity should come first and religion second.
We all know that the government failed miserably when it came to providing security to its people during the Yahapalana regime. Now attempts are being made to raise that security to the levels maintained during the Rajapaksa regime. Handing over security matters to people with a solid military background is laudable. Security will be tightened now and we'll see armed personnel on vigil. While all that happens the rest of Sri Lanka can make attempts to be vigilant and sensitive to the needs of those belonging to different cultures and religions.