---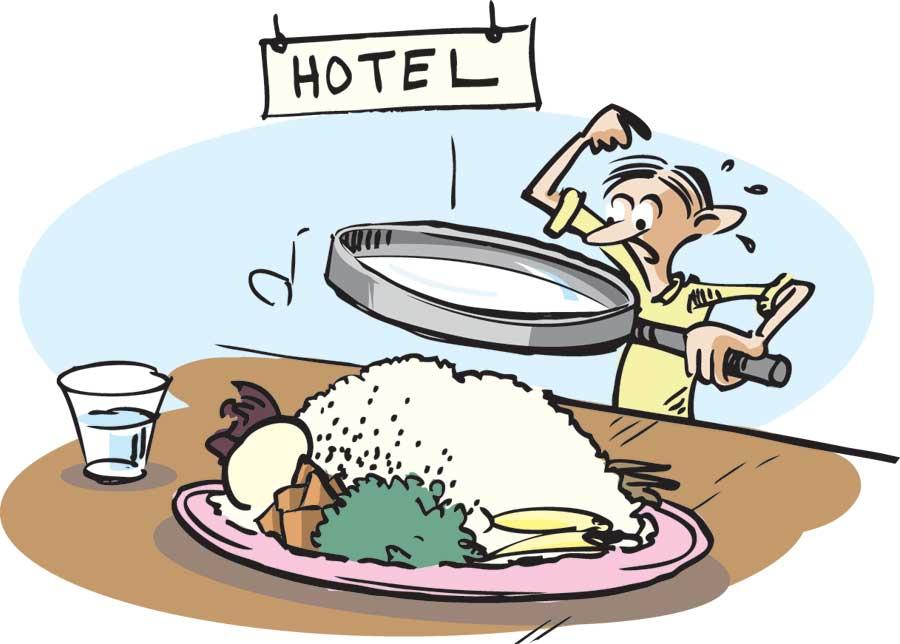 he Colombo municipal Council (CMC) inspecting eateries in Borella just few days ago, closing down one and filling cases against three leaves room for us to check what we purchase when dining out.
As many as seven eateries were scrutinised during these inspections and some were severely warned because their kitchens were in a deplorable state. Borella is a crucial interchange junction for many who commute by bus, bike or tuk tuk and they have the habit of stopping for a quick snack and tea when breaking journey at this busy junction.
The problem with most patrons is that they really don't keep their eyes and ears open and don't bother to read labels. The fruit juice bottles we order contain the manufacture and expiry dates of the product. But there are quite some occasions when it's a tad too late when we realise that the contents inside the chilled bottles we've just gulped down have past the shelf life.

When eating out, vigilance is the key. Some smart customers inquire whether they can use the washroom and create an avenue to take a walk inside a restaurant before they start ordering. The lucky ones get to have a peep into their kitchens which are often like dustbins. There have been occasions when patrons who do their homework ordering just a soft drink and vanishing from the place when the hygiene at the restaurant's kitchen is deplorable.
During the recent raid by the CMC, its health officials had found out that many of the kitchens were infested with rats and garbage had been seen pilling up. Three owners of these restaurants had been produced in court for maintaining unhygienic conditions.

The real value of food we consume became a hot topic in parliament recently when a deputy minister alleged that he suspected that the milk products imported to the country contained animal fat. Leading milk product importers have rubbished these claims however.
There was also great concern about where we eat out after a top rated restaurant operating under the name 'Indian Summer' was raided this year. It was found during this raid that the restaurant was in a deplorable state. The operations manager of this restaurant was arrested because the unhygienic state of the food had violated the food and safety regulations.
To know where we stand in terms of dining at renowned fast food outlets, we only have to browse the internet and check whether the branches of these franchises in other countries have lived up to their claim of 'serving good food fast'.

There is often a catch when good food arrives at the table in double quick time. We have heard of customers complaining of chicken being undercooked when ordering 'happy meals' at these much publicized fast food joints. We have also heard of worse case scenarios where customers have found worms in the chicken they've ordered. For the record a KFC outlet in Kerala, India was closed down in 2012 after a chicken meal contained worms.

Sri Lanka took a bold step last year when it banned the use of food being wrapped in polythene. The Government of Sri Lanka (GoSL) specified that High Density Polythene can't be used to wrap food. But what's alarming is that despite the ban there are restaurants that still continue with this old habit. Quite recently the Central Environmental Authority raided a factory in Panadura which was making products out of banned polythene. The GoSL banned the use of lunch sheets, styrofoam boxes and shopping bags in 2017.

In the wake of all this concern regarding the hygiene of the food that we consume, it was heartening to see the GoSL conduct the 'Food Security Week' from December 10-16, last year.
It's good to have laws which force restaurants to serve us with food which boasts of great taste plus hygiene. But patrons must take note that their little inquiries, complaints and the feedback they give to restaurant owners about the quality of food they are served with can turn these restaurants into better ones.