---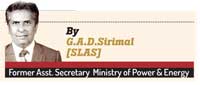 Reading in newspapers of various solutions to overcome the power crisis, I am reminded of efforts taken earlier when the country faced similar situations some of which were hilarious. The present authorities too have resorted to what was done earlier. Power cuts, Bodhi Poojas, invoking the Devas to send down rain, or advancing the clock by half an hour.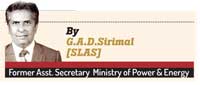 POWER CUTS
As stated in one of my earlier letters, when a similar situation arose, there was a conflict of opinion among the CEB engineers. One group advocated operating hydro-power stations, till the reservoirs ran dry, expecting the rains, which was supported by then Minister for Power and Energy, D.B.
Wijethunga, perhaps due to political reasons. The other group vehemently opposed this move saying it would damage hydro turbines- cure worse than the disease. The then Secretary to the Ministry, James.H. Lanerolle was placed in a very embarrassing situation as his view was in favour of cutting power which was against his Minister's wish.
However, later this was introduced, and I am unable to say whether there was any significant energy savings which could have been assessed only by the CEB. It will be interesting if any old timer of the CEB gives the results.
As he was responsible to the President, specially this being a national issue, he presented the case to President J.R. Jayewardene, taking along with him the two warring factions of CEB engineers. After giving ear, the President stood by the opinion of the Secretary James H. Lanerolle and ordered a power cut.
BODHI POOJAS INVOKING DEVAS
This brings to my mind, a hilarious incident. The power cuts were on in 1980s. The drought seasons almost coming to an end as predicted by the Met Department, when a Buddhist monk from Meepitiya, Kegalle, walked in and wanted to meet the Secretary James H Lanerolle, to discuss the situation and his ability to bring down rain by Devine power.
He was directed to me and I received with due reverence and told him, I regret, I am unable to spread a white cloth on the chair as done normally when a Buddhist monk is received. This he took up, I believe, that I was an easy prey for his move. Incidentally, this Buddhist monk had wide coverage in the Sinhala news papers of his miraculous deeds. He said he was prepared to perform religious rites at Laxapana reservoir area and requested transport to and fro from Kegalle to Laxapana, and to build a Devale for him to perform regular religious rites.
I very politely told him, that such a request could be accommodated, after having Government approval. Whatever it be, as the matter was urgent, I asked him to hire a vehicle and assured him to build a Devale at CEB expense, provided his prayers were successful within a week and reimburse whatever expenses he had incurred. Not being satisfied, he went away and returned about two days later. This time, he brought a small silver box, inner side of which was a black blotch and wanted me to peep deeply into it and see whether a Deva appeared.
This I did, and told him, I do not see any, to which he said that I may have eaten meat, fish [Pili] hence the Devas could not appear. Then he came out with a very interesting suggestion. He said, if he succeeded, it would be internationally recognised and accepted and I too could accompany him to other countries to perform this ritual. However, I said, the earlier offer or conditions of mine yet stood. The matter ended there.
CLOCK
As insisted by a scientist, attached to the Ministry for Power and Energy, a paper was submitted to the Development Committee, where all Secretaries meet to discuss matters of importance. If I remember, where I was present , the committee was chaired by former Civil Servant.
G.V.P.Samarasinghe. When this paper was taken up for discussion, there were very hilarious comments. One said, there would be a population explosion, one other said that his biological needs would work in the same manner although the clock was advanced.
One said he went to sleep at 10 p.m and even if the clock is advanced, it will only the clock which will show 9.30 p.m., while he would be really falling asleep at 10.30 p.m. as only the clock would be advanced by half an hour. Some spoke of disruption of domestic affairs, getting up early to cook. However, later this was introduced, and I am unable to say whether there was any significant energy savings which could have been assessed only by the CEB. It will be interesting if any old timer of the CEB gives the results.
THE MET. DEPT.
In the past, the forecast of the Meteorology Department was taken as a joke. Cartoonists showed men walking with umbrellas, expecting rain as warned of rain by the Met. Dept, while there was bright sun light. However, this time the forecast of the Met.
Dept has come correct, when it said that there would be rains within the next two days. Or, are the Poojas performed at Sri Maha Bhodhi, Anuradhapura by Minister for Power and Energy, Ranjit Siyambalapitiya and CEB officials, bathing the Sacred Bodhi with pots of water taken from all the hydro-reservoirs and also at the Temple of the Sacred Tooth, Maligawa, Kandy were answered by Devas?