---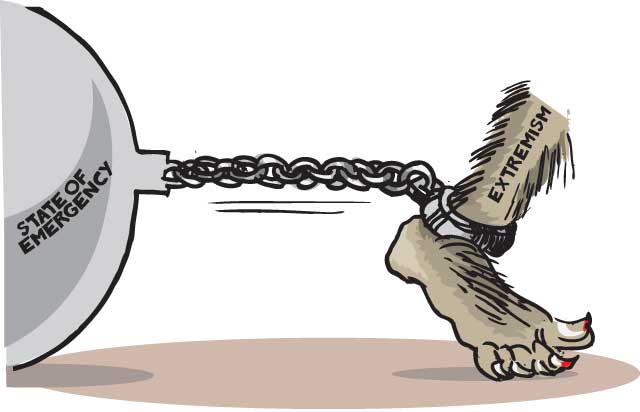 In the aftermath of violence in Ampara last week and in some areas of Kandy on Monday, the government yesterday declared a state of emergency for ten days. Reports yesterday afternoon said the situation in Digana, Teldeniya and some other areas was calm but certain groups could exploit the sensitive feelings and create more trouble. Thus we hope the police including the Special Task Force (STF) and the armed services will act fast and firmly to prevent such elements from creating trouble.
It is tragic that after a devastating 26-year war some sections and mainly extremist elements have still not realised that small riots in some areas could spread and cause havoc throughout the country. In the Digana and Teldeniya incidents, there is a belief that the security forces should have acted more effectively specially last Sunday afternoon when the victim's funeral took place and tension was running high. Eventually it is reported that mobs which came mainly from outside created riots by setting fire to certain business establishments and damaging places of religious worship.
The events during the past two weeks underline the importance of moving effectively towards interracial and interreligious dialogue to bring about deep unity in diversity. The new government when it took office said it would give priority to bring about unity in diversity and many moves have indeed being made but there are questions as to whether such efforts have borne fruit.
Violence is rejected by all four major religions practised in Sri Lanka. Religions teach that conflict-resolution needs to come through a dialogue where the parties try to come to an accommodation on the middle path. For this to be achieved and sustained a paradigm shift is needed. We all need to be aware that our perception on any issue is always relative and never absolute. Then we will be conscience that there is some virtue and validity in what other people and parties are saying or perceive. Acceptance of this reality brings about what is called synergy -- that means one plus one makes not two but three. It means that different perspectives put together could create something new.
The world has seen enough of racial and religious extremism and we should be careful not to take such a destructive path. That is why that where religion and race, culture and civilisation are concerned, there is a principle we need to follow. While we respect our own race, religion and culture and practise its precepts we also need to respect the race, religion and culture of others though we may not fully understand the virtues and values in what they do. We also need to understand there are common areas where people of all religions and races could work together. Some of these priority areas are poverty alleviation, the battle against global warming and the campaign to ban nuclear weapons.
Recently Russia announced it had developed hypersonic or smart nuclear weapons which could hit any part of the world at twenty times the speed of sound. Russia's President Vladmir Putin is trying to make Russia great again just as the United States President Donald Trump is trying to make America great again. That is why it is necessary for all religions to come together and work for a ban on nuclear weapons because otherwise the whole world could be destroyed in minutes.
With all these major issues facing the world, Sri Lanka's responsible citizens need to commit themselves to the principles of unity in diversity.