---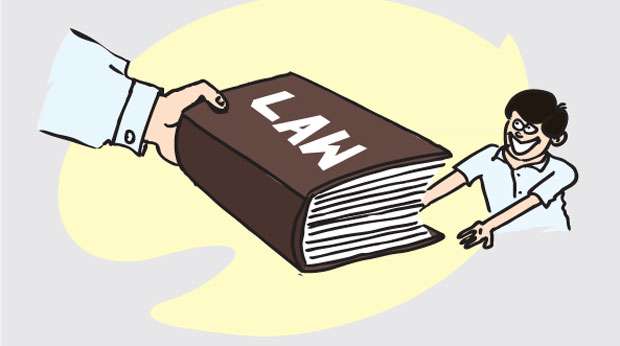 he approval given by the Cabinet to include law as a subject in the school curriculum must be commended.
This is because Sri Lanka is not regarded as a nation that abides by the law. Taking into consideration the many instances where top level officials have been involved in bribe taking, this attempt to educate the young generation about the law should serve this nation well.
This news was broken by Justice and Prisons Reforms Minister Thalatha Athukorala the other day. According to Athukorala a committee comprising eminent persons will prepare the syllabus before law is finally included as a school subject.
All parents will unanimously agree that school children must know the basics of law because this not only helps them to make the society better, but also completes a part of general education.

This part of general education in the future no longer need not be knowledge that's gathered outside the school classroom.
School children are also citizens of this country and it's their right to know the law.
It's apt to pen down an old saying here 'Not knowing the law is no reason to be exempt
from punishment'.
According to Athukorala there are plans to include basic principles of the Criminal Procedure Code, Bribery Act and the Constitution in the law that would be taught in schools in the future.

One of the most common reasons for schoolchildren to make news during the past couple of years is brawls. We read so much about such violence and there were even instances where some students who were injured perishing in hospitals.
As Athukorala quite rightly points out students must be taught to respect the law from an early age. She was quoted in newspapers saying "Breaking the law would destroy their lives" .

There are many lawyers among the lawmakers in parliament. This is quite a healthy factor. But what's of concern is when politicians take the law into their hands. Such incidents were rampant during the Mahinda Rajapaksa regime.
One shocking incident which took place during this time was the impeachment of Chief Justice (CJ) Shirani Bandaranayake in 2013. She was accused of numerous charges that included financial impropriating and interfering in legal cases; charges which Bandaranayake denied. She was later reinstated in her position as CJ and the majority of the judiciary denounced the way she was removed.

This was a time when the citizens of the country started losing the faith they had in the judiciary. But thanks to the regime change in 2015 and the landmark judgment that ruled President Maithripala Sirisena's decision to dissolve parliament as unconstitutional, there is hope for people to lean on the judiciary when the other two administrative pillars of the country-the executive and legislative- start wobbling.

We have heard time and again of schoolchildren being involved in shoplifting at supermarket stores. These acts can't be regarded as childish pranks and dismissed because what's bad must be nipped in the bud. Children must be taught very early that they can't get away by breaching the law.
Athukorala has opined that crimes relating to finance and acts such as rape, robbery and theft can be drastically minimised if schoolchildren were given an education in law.

There have been occasions during court hearings where even law enforcement authorities in khaki uniform have been reprimanded by judges for not knowing the law. This is quite sad because we as citizens expect the police to know the law when discharging their duties.
So lets hope that these efforts to introduce law as a subject at school sees light. All efforts to make citizens of this country, starting with schoolchildren, law abiding citizens will pay rich dividends in the long run. All these efforts we hear of to include law in the school curriculum make us recall a famous quotable quote by H.L Mencken which goes, 'A judge is a law student who marks his own examination papers'.