---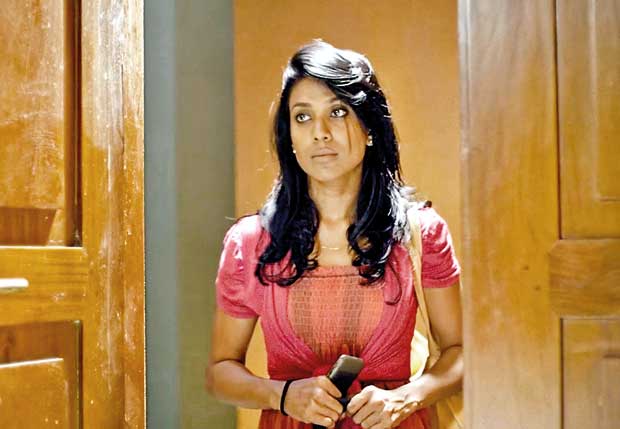 With his latest feature 'Let Her Cry', Director Asoka Handagama has taken one step forward and two steps backward. His last feature 'Ini Ivan' (2012) based on post-war Jaffna society was balanced, well-made and unsentimental with an underlying layer of deep pathos. But 'Let Her Cry' looks as if it was badly-made; it is unsentimental and without pathos that makes it hard to sit through the film's 105-minute duration, despite good performances by its cast, excellent cinematography by Channa Deshapriya and an OK soundtrack by Chitral Somapala.

The trouble is that the film exists in a cinematic space above the average Sri Lankan university professor's world. Even if most people, one assumes, do not know a university professor, we can build for ourselves a reasonable picture of one's life based on established parameters. Handagama's characters look and feel abstract. It's hard for us to connect.
The story, after all, is not a space odyssey. It's an inner space misadventure, and we need to be firmly anchored somewhere. It isn't just the professor (Indian actor Dhritman Chatterjee) and his posh family; the female undergrad student (played with panache by newcomer Rithika Kodithuwakku) who has lost her head over the professor is fatherless, comes from a village but wears fancy clothing and lives in a city apartment all by herself. The film is anchored within an inner reality, but what goes inside Handagama's head does not unfortunately get transferred to the screen.
The problems don't end with the physical, tangible parameters. Emotionally, the viewer is left without a thread to hang on to. What makes a ravishingly beautiful twenty -- something a university student who losees her head over an aged academic who looks older than his years? More than his age, it's his personality. He talks in grunts, smiles only in one scene when he's all alone in the house, and has as much charm as a padlock. She's not having this affair to get a First Class. There must be a deep rooted psychological reason for doing what she does (the impulse and passion is hers -- not his. He looks more and more like the comatose victim of an earthquake than anybody's lover).
He could be a father figure (she has never seen her father) but there's scant evidence in the script to support that hypothesis. She could be taking revenge on her absent father but tormenting the professor. But the case isn't clear cut.
"The film is anchored within an inner reality, but what goes inside Handagama's head does not unfortunately get transferred to the screen"

What she thinks of him, in any case, is hard to fathom. What could motivate her bizarre behaviour? But, as the film progresses, we can see that there is a method to her madness. She has in fact not lost her head at all. She is very manipulative, mocking and in control. The professor and his wife are puppets with hearts and brains responding to her movements.
If we discard the 'madly in love' theory, what are we left with? This is the film's core issue and there are no answers. The professor's young lover (actually his tormentor) 'hacks' into his family. She phones the long-suffering wife (Swarna Mallawarachchi) and tells her everything she doesn't need to know. Husband and wife share the same bed but no longer enjoy sex life. She's pious and can be seen praying to Buddha every evening as the professor returns home. It is credible that some people have monumental patience and tolerance levels, but this performance by the wife could easily make the Pope wonder if he should canonize Sri Lankan professors' wives en masse. The wife's response is to bring the mistress home. She badly miscalculates because the move only increases the professor's misery. He is reduced to kaleidoscopic fantasies and we are left wondering if the girl's accounts of passionate love making (as told to his wife over the phone) are a fiction. The affair could be platonic, the passion entirely in the fully dressed -- not undressed mode. But this sense of unreality only serves to alienate the characters from the patron.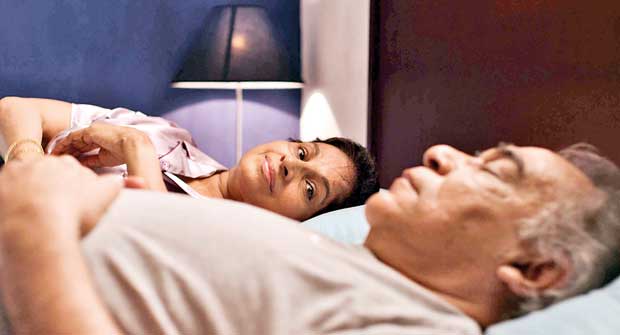 But Handagma should be given full credit for showing a 'taboo' lip kiss. That one should mention this at all says volumes about the backwardness of Sri Lankan cinema. As for the lovemaking scene (as fantasized by the professor), she seems to be making love to herself. When it comes to nudity, she is shown nude but half-hidden behind a curtain, peering at the professor. She reveals her full frontal nudity funnily enough to the professor's wife, and in reverse so that we see her from the back, a parody of what takes place in the 1967 film 'The Graduate', when Ms. Robinson (Anne Bancroft) takes off her clothes to the benefit of sceptical graduate Dustin Hoffman. For some reason, Sri Lanka's most daring director has backed off from doing in 2015 what Hollywood did in 1967, though he had a scene of full frontal nudity in his 2002 feature 'Thani Thatuven Piyambanna,' making this film, as much else in Sri Lanka, a case of one step forward and two steps backwards. This film
is full of compromises.
But he has one brilliant sequence when everyone -- the professor, his lover, and his family – visit a Buddhist temple. A politician arrives with his wife and bodyguard, the wife discovers her husband's young mistress there, and a mini civil war follows. That cameo speaks volumes for Sri Lanka's virulent socio-political culture. The professor's civilized family (even his mistress looks civilized compared to the politician's) is a study in contrast. But the patron hasn't bought a ticket to learn about the best possible behaviour in such cases.

That scene relieves the monotony, but the core problems remain. If the professor's lover/tormentor is meant to be a display of female empowerment, the film is sending out a very confused message. The girl is a vixen, but she is not a vacuous. She is driven, though not a nut-case. On the other hand, she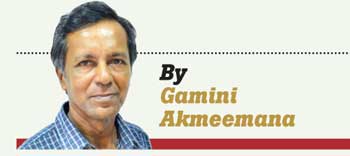 has no intellectual prowess. Neither has the professor. What is the mutual attraction? This is why the film's setting in a fictional and sophisticated and far above Sri Lankan realities is so frustrating. In a more realistic setting, one could have reaped, artistically speaking, from the possibilities inherent in the plot -- a vivacious young woman in love with a man who looks three times her age though his actual age might be less (he has a schooling teenage daughter). We can take a real life example from Dr. Ediriweera Sarachchandra's marriage. He married his student and the age gap was said to be at least 30 years. But Sarachchandra was already an icon and a demi-god of culture after producing Maname. One can understand the logic behind that attraction. This professor, on the other hand, doesn't have any such reputation. He is shown talking once on TV, which is commonplace nowadays. What does he actually teach? He doesn't even discuss a book with his mistress. The attraction is certainly not cerebral. If it's physical, you are left gasping at the choices some women make. The motivation therefore leads us to a complete dead-end.
In the film's promotional website, the professor is described thus: "'He' is a man of the post-modern world who cannot be a true lover and, must therefore, live out the routine of a good, decent and responsible professor and father."

So far, so good. But there is nothing post-modernist about love. 'True love' may have been contentious during all ages. But that's what literature and the arts did – to establish the phenomenon of love majestically above human uncertainties. People still search for, and find love even in the post-modernist age. What this film really offers is a warning to all glum, post-modernist professors chased by lusty young women -- find another job or face the consequences. In this context, it is interesting to make a comparison with the 2008 film 'Elegy' (based on the novel by Philip Roth) which is about an American professor of literature (Ben Kingsley) who routines seduces his best-looking students but finally, and very unfortunately, falls in love with one (Penelope Cruz).
This was what Peter Bradshaw said while reviewing Elegy for the Guardian:
"He is electrified by this extraordinary gift, so late in his life; previously, Kepesh (Ben Kingsley) had been appalled to discover nature's secret sick joke, namely, that men are agonized by sexual desire well into unattractive old age, and yet Kepesh had always had the fame, status and robust health to gratify his needs. The sick joke is rather now that he is in love for the first time in his life, and sees with terrible clarity how Consuela (Penelope Cruz) will want to leave him reasonably soon. He becomes jealous, controlling, tormented and mad – inflamed with a passionate connoisseurship of Consuela's body, and yet idiotically, selfishly unable to commit himself to her in the normal way she actually wants.

"What the film can't reproduce is the continuous, acrid pain of what male desire often is, thwarted or not: a continuous, day-by-day, hour-by-hour, minute by minute pain, almost like a cancer pain. Opinions may divide, on gender lines, about whether this is an insight into the human condition or an egoistical indulgence, but it gives the book its severity and its ferocious magnesium flare, which the more lenient film version has tamped down. (Director) Coixet has brought of a creative and corrective account of Roth nonetheless: an intelligent film for grown ups."
One can't quite say the same about 'Let Her Cry.' It's a confused, rather dull film for confused and rather dull post-modernists. If Handagama is happy to keep making films that way, that's his privilege. But this is neither here nor there. It may be gratifying for some to interpret human emotions and actions in terms of neuroses. As such, even love is neurotic, which is sad. In the absence of love, we have only just plain neurosis without any redeeming factor, which is catastrophic. Handagama's taciturn, sad sack professor who keeps his feelings all bottled up has an affair entirely in his head, but pays the price of a real affair gone bad. His ravishing, neurotic young beauty wastes herself on a sack of potatoes with a PhD. because she can't distinguish fantasy from reality. This is the saddest film Asoka Handagama has made so far.