---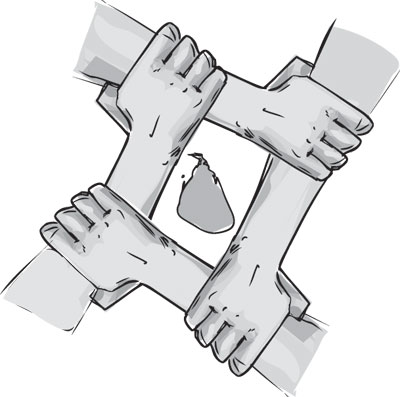 Next week's National New Year – when people of all races and religions come together for a multitude of cultural events centred on the festival of the Sun – is an ideal time for a just, fair and lasting reconciliation.

Sri Lanka's two major political parties, the United National Party (UNP) and the Sri Lanka Freedom Party (SLFP) led United People's Freedom Alliance (UPFA), for the first time since Independence have come together to form a national government despite disputes and problems. Whatever that critics or cynics would say, most people believe it is a good first step towards political unity in diversity which could eventually lead to multi-racial, multi-religious and multi-cultural unity in diversity.

Unity in diversity, a wonderful manifestation in Mother Nature herself -- is unfortunately confused or mistaken by some people for uniformity. The best example of unity in diversity is the human body. Every part of the body ranging from the brain and the eyes to the fingers and the toe nails plays a different role but they are part of one body and work for the common good. If one part of the body is working well, it is helpful to all parts and similarly if one part suffers, all do. For instance if we have a toothache or a pain in the toe the whole body suffers. Those who expect uniformity need to be made aware of what a monstrosity it could be if the whole body was a nose or a mouth. We see a similar picture in a beautiful flower gardens. The beauty is in the variety, colours, shapes and sizes. Roses, lilies, madonnas, araliya flowers, jasmines all put together give the fragrance and beauty in diversity.
Unfortunately some defeated or bankrupt elements in recent weeks have been trying to create what most people see as "Billas" about the possibility of terrorism erupting again or a threat to national unity and Sri Lanka's sovereignty. Government leaders have repeatedly assured there is no such threat and none would be tolerated. But some groups or cliques which earlier thrived on racial or religious strife are unfortunately persisting with their 'Gonibilla claims' following the discovery of a suicide bomb kit and four claymore bombs at a house in Chavakachcheri. President Maithripala Sirisena who is also the Commander-In-Chief for the security forces and Defence Secretary Karunasena Hettiarachchi have assured that the Chavakachcheri discovery will be fully probed, though they also point out that thousands of such discoveries have been made after the war ended in 2009. A dispute has also arisen over the withdrawal of military security provided to former president Mahinda Rajapakse and former Defence Secretary Gotabhaya Rajapakse. Government leaders insist that only police security could be provided to any leaders and military security could be given only under emergency regulations. Unfortunately a controversial Buddhist monk is apparently trying to bring party politics in to religion by threatening to form a force of monks to protect the former president.

In a more positive move aimed at the future instead of wallowing in the past, the government appointed Task Force for reconciliation mechanisms has called for public submissions on the design of structures, processes and measures to set up several mechanisms. The Task force is to compile a report on the setting up of an Office of Missing persons, a Truth, Justice, Reconciliation and Non-Recurrence Commission, in addition to a judicial mechanism with special counsel and an office of reparations. Submissions could be made by individuals, groups or organizations in all three languages on the design structure, processes and measures to be taken by these mechanisms. The people could make submissions on one or more of the mechanisms, its mandate, composition, types of violation to be covered and tasks to be performed. Submissions are to be used in the compilation of a report that will be submitted to the government and made public. Submissions need to be made by May 1,via forms on www.scrm.gov.lk, [email protected] or by registered post to the Secretariat for Coordinating Reconciliation Mechanism, Republic Building, Sir Baron Jayathilaka Mawatha, Colombo1. The Task Force requests contact information be attached with submissions in the event further information is required and stated the submissions will be made public unless requested to be kept confidential.

People who wish to see a just and fair peaceful and lasting solution to ethnic and religious conflicts need to cooperate with the task force so that the national New Year 2016 would be an important turning point towards building a new Sri Lanka and a just society.