---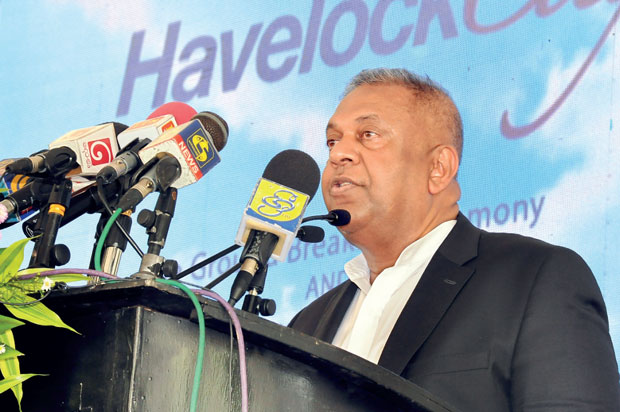 Chief guest Foreign Affairs Minister Mangala Samaraweera addressing the gathering
Following is the speech delivered by Foreign Affairs Minister Mangala Samaraweera as the chief guest at the ground-breaking and inauguration of Havelock City Commercial Development by Overseas Realty PLC, held yesterday.

It gives me great delight to attend this memorable event as the chief guest and an honour to be asked to speak a few words.

First, let me express my gratitude to Tao, Chairman of Overseas Reality, a visionary entrepreneur and a philanthropist with extensive worldwide business experience. Let me thank him for the invaluable contributions he has made to the Sri Lankan economy over many decades of association with our country.

Tao was one of the pioneer investors who supported our country when it really mattered, i.e., at the peak of the conflict – war – when Sri Lanka was desperate for foreign direct investment. The country cannot and will not forget such people who have taken major business risks by making substantial investments and thereby demonstrating faith in our country.

I recall Tao's role in developing the World Trade Centre, one of the most iconic properties in Sri Lanka even after 20 years since its inauguration. It helped create an identity for Sri Lanka as a potential destination for investments in the global market. This property stands out as our economic hub facilitating global investors for much-needed connectivity with Sri Lanka. We acknowledge with much gratitude that this substantial investment was also made by Tao at the height of the war. I also recall Tao using his charm to persuade Sri Lanka Telecom, which was then under the purview of my ministry, to take up space at the World Trade Centre, one of the first state enterprises to do so.
Tao was also one of the founder investors in our real estate industry where he pioneered the development of condominium business in Sri Lanka by conceptualizing and developing the Havelock
City project.

Some of you may recall what this area was like before – this was totally an underdeveloped block of land for a prolonged period of time. Today we all know that this property has set the pace for creating a billion-dollar industry to bring in the much-needed foreign exchange revenue, attracting global investors and an influx of investment from Sri Lankans living and working abroad.

Ladies and gentlemen, I can assure you that the property development industry is bound to grow going forward and that it has a huge potential to attract investment to the country. I am told that the residential component of Havelock City, with four towers already built, will accommodate over 1000 apartments upon completion. I strongly believe this supply pipeline will cater to the growing housing requirements in Colombo and the suburbs. It will make it affordable to own a property in the heart of the city at a time when the land prices are rapidly appreciating.

Today we are all gathered here to break new ground for Havelock City Commercial Development, which I believe comprises of both an office tower providing Grade A office space and a large shopping mall built to international standards.

Currently there is a shortage of quality office space. Economic growth will drive MNCs and precipitate the expansion of commercial businesses in Colombo. The measures taken by your company to build yet another office tower will help us meet the increasing demand for premium office space.

A proper shopping mall has not been built in Sri Lanka for the last 25 years. It is time that Sri Lanka looks towards her neighbouring countries where the shopping mall concept has spread rapidly with large developments. I am confident that this phase of the commercial project of Havelock City will be a great success and set the pace for more development to enhance the lifestyles of the local community. I have no doubt that the economic strategies adopted will result in increased incomes and the growth of tourism, both factors auguring well for retailing.

For any project to be successful a crucial factor is sound management and in this case Tao's selection of Pravir to lead his team in Sri Lanka demonstrates his ability to identify talent and I am sure it will pay dividend.

I would like to thank Tao and his family for their endearing financial relationship with Sri Lanka as well as the loyalty and affection he has displayed towards our island nation through his long-standing business commitments.
I wish this project all success.