---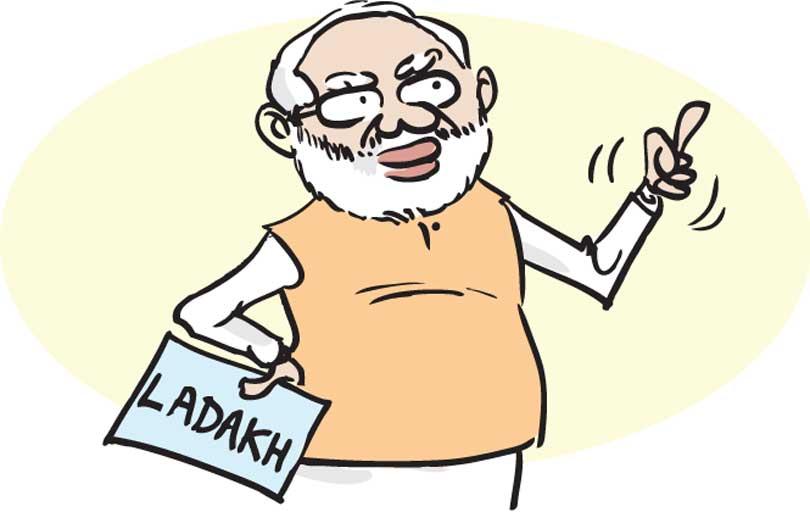 Multiple realities can co-exist. They often do. Two weeks after the scrapping of Article 370 of the Indian Constitution the ensuing debate is presenting the world many layers of the reality existing in the Jammu-Kashmir region.

The decision by the Narendra Modi government to carve out a Union Territory for Buddhist Ladakh out of the State of Jammu and Kashmir, making the latter a moth-eaten region, can easily be interpreted by one as a calculated political move. Critics may find this line of thinking more in tune with their pessimistic view on the abrogation of Article 370 which saw the State of Jammu and Kashmir losing its special status.

However truth can also be polyphonic.

Prime Minister Modi's home State, the 62-million strong Gujarat, currently has nearly 2.5 million Buddhists. Interestingly an overwhelming majority of them converted to Buddhism from Hinduism during PM Modi's tenure as Chief Minister of Gujarat. It was indeed quite fascinating the manner that Narendra Modi, who is better known by the rest of the world for propagating a strong Hindutva ideology, adopted such a tolerant approach towards these conversions. Besides, Modi is also known to have organized and patronized a slew of Buddhist conferences in Gujarat during his thirteen-year stint as Chief Minister, and a number of Sri Lankan Buddhists monks have attended these events.

"Gujarat is poised favourably to become a Buddhist pilgrimage and heritage circuit not only in India but also the world. So far this aspect of Gujarat has not been given due attention. However, I feel that the time has come to make it known to millions of Buddhists, scholars and lovers of Buddhism about the historical and archaeological wealth available for them to enhance their understanding and practice," the then Chief Minister said addressing the International Seminar on Buddhist Heritage in Gujarat in 2014. As Chief Minister, Modi helped preserve dozens of Buddhist archaeological sites in the state, and continued to do so even after becoming the Prime Minister.

"It is my dream to build a grand monument of Lord Buddha at Dev ni Mori so that people from across the world can come here and visit this place. I'm confident of fulfilling my dream with your blessings," Indian media quoted PM Modi as saying in 2017 during a visit to a Gujarat village in the Aravalli District. The archaeologists there had unearthed a casket containing relics of the Buddha and ruins of a Buddhist monastery dated to 3rd - 4th century.

The same year PM Modi made it a point to visit a Buddhist Temple in St. Petersburg when he arrived in the city for his much-hyped meeting with Russian President Vladimir Putin. The Indian PM reportedly gifted a hundred volumes of Buddhist scripts to the temple.

In May, 2018 the Prime Minister urged excavation around Buddhist sites in Vadnagar, his home town in Gujarat and the digging has unearthed, among other things, some 58 Buddhist stupas. The Indian government has reportedly disbursed USD 11 million for excavation and development of Buddhist and Hindu sites in the area.

Some analysts have attributed PM Modi's propagation of India as a Buddhist centre as part of his strategy to checkmate China, which of late has also adopted a patronizing approach towards Buddhism. China of late has been ambitiously promoting the land among Buddhist tourists.

However given his long history of benefaction to Buddhism one cannot rule out PM Modi's sympathy and patronage for Buddhism having a major role in his decision to create a separate union territory for Buddhist-majority Ladakh.

Harassed and invaded by Sikhs and Tibetans for centuries and Pakistanis in modern history, the Buddhist Ladakhis, a community endowed with a unique identity became the subjects of a Muslim majority Jammu-Kashmir ever since the 1947 partition. There has been an assortment of genuine grievances by the community since then. The passionate speech made by Ladakh MP Jamyang Tsering Namgyal during the recent lower house parliamentary debate on Article 370 opened the eyes of the world to the pathetic plight of the Ladakhis under Jammu-Kashmir rule. As such one may well say that notwithstanding the motive Prime Minister Narendra Modi has corrected an historical blunder by offering a union territory for Ladakhis.