---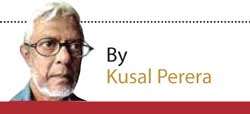 In one of the media outlets where "yellow journalism" is the 'rule' and the 'norm' both, a media employee told the nation a few days ago that in Sri Lanka "Corruption" is the major problem. Not 'poverty', not 'riches' and not 'racism' he stressed.

Corruption does matter when the Telecom Regulatory Commission (TRC) directly under the President is accused of selling frequencies underhand and those at the top are implicated in the largest bond scam in history, defending then CBSL governor, his close ally.

Yet for any Muslim person to publicly say "racism" in Sri Lanka is no major problem after Digana and with social media dominated by hardcore Sinhala Buddhist extremism, brings forth the question, 'what do these opinion makers in Colombo know of Sri Lanka?' Colombo is the city of all professionals, the educated and the opinion makers in Sri Lanka.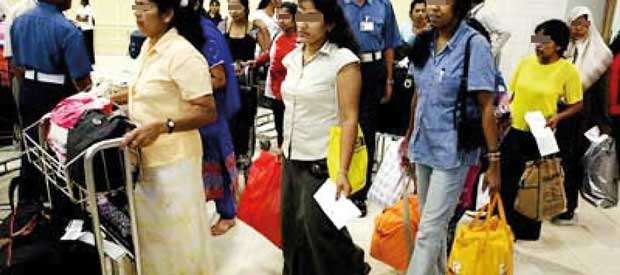 All big cities, after they evolved with nation States, all along history were social centres that created new knowledge, culture, science and technology and also developed philosophy, political and economic theory and among many other novelties,were initial collectivising centres for radical social movements as well. It is so even today, in most mega cities that had evolved over Centuries in all Continents. There is good reason for that. Cities have economic power that bring together the academia, professionals and technocrats, facilitate research and organised social dialogue. Cities have the capacity to institutionalise social memory that includes documentation and provide easy access and better and faster communication than any village could. In short it is 'cities' and not 'villages' that have social space and social capital for intellectual engagements that can seek common good and a prosperous future.

Colombo therefore should be that. Colombo should be where social dialogue takes place in seeking a better future. Where new knowledge is created for the future. And Colombo should be where intellectual discourses happen. Sadly, Colombo today, is anything but that. In Colombo, everything is being reduced to loud noises demanding investigations into corruption of the Rajapaksa era from this "Yahapalana" government that is even more corrupt than the Rajapaksas. All what Colombo pundits are busy talking about is political rivalry within political parties and among political leaders. All mainstream media, web news sites and social media dish out juicy news stories on crossovers, possible break-ups, promotions and demotions in government and in the two ruling partners. Most who think they are defenders of democratic rights want to be in the media making statements on "corruption" and demanding the "people's mandate of 2015 January" be honoured, by this government that from day one was a gang of looters. Some are busy moving 'pawns' on a dirty old chess board to checkmate 'Rajapaksa' who has stepped on the chess board once again. Once again in Colombo, it is debating who the best Sinhala Buddhist candidate could be for the 2020 presidential election. Where are people and their major issues in these 'hotnews' stories within gossip circles in the urban middle class? Will any of their appeals and protests make this government of looters change course? How much of these Colombo demands on the "people's mandate of 2015 January" apply to the larger majority of the rural and the urban poor?
It is common knowledge, the "people's mandate of 2015 January" had nothing to do with the 6.2 million people who voted against Rajapaksa. That only allowed a starving opposition to gang up with 'Rajapaksa rogues" to hijack the government, in the most undemocratic manner. It allowed the UNP leadership to smuggle extremely undemocratic pieces of law into the 19 Amendment to stay in power for almost five and a half years (2015 January to August and four and a half years from there). Meanwhile, this "good governance" fraud allowed some odd characters from nowhere to land in Colombo to pose as "die hard anti Rajapaksas" and earn through "yahapalana" projects. Having created comfort zones for themselves these funded Colombo "intellectuals" would not bother to raise the major issues that within 03 years have left the people on a huge garbage dump called "yahapalanaya".
Over the years, the savagely ugly medical Mafia parading as the GMOA has turned the once broad based health system into a curative health system that demands money at every level

It was 'common sense' there could be nothing decent and democratic, nothing clean and civilised with a government formed with those who were responsible for all the alleged "Rajapaksa corruption" and misrule. It was common sense that everyone from the previous regime who joined with the UNP that was starved of power for 20 years, did not label this unholy, unprincipled government as "yahapalanaya" to serve the people. It is no joke for those who spoke, stood up and voted for the 18th Amendment of Rajapaksa to have voted for the 19th Amendment of Wickremesinghe too that denies the people an election for a period of four and a half years, for change of government. Both the 18 and the 19th Amendments for the two reasons of removing the 02 term limit for presidency and denying elections for four and a half years, should have gone before the people with a Referendum. Yet the Supreme Court did not rule so.

These political parties do not represent people.They are totally corrupt and they are run by the filthy rich. Even the man on the street knows they don't discuss and they are not capable of discussing any of the major issues that need serious answers. The whole education system is collapsing. Education today from pre-school to university is no "learning" process. The academia is corrupt and selfish, making universities far worse than "Maha Vidyalayas". Education is reduced to heavily competitive exams from Grade V to G.C.E A/L in a wholly uneven field of opportunities and a chaotic teaching profession. Schools are buildings where children are taught to answer question papers and not centres where children are guided to learn. Education today is only about collecting "certificates" to demand employment. "Education" has to be redefined.This education system thereafter has to be seriously reformed with long term answers to mould future citizens.That needs a carefully drafted "White Paper on Education Reforms" for public debate.

"Free health" today is a myth, completely dominated by a greedy, selfish and a morally degenerated medical profession. Over the years, the savagely ugly medical Mafia parading as the GMOA has turned the once broad based health system into a curative health system that demands money at every level. In a fast ageing society where gastritis, diabetes, high blood pressure and cholesterol are very common issues, an open-heart surgery even at the Sri Jayawardenepura hospital costs around one million rupees. Health today is not defined and financed in terms of improving and expanding preventive healthcare to reduce patients, but is about paying medical doctors more and more from tax payers' money. The health sector has thus been turned into a lucrative trade for big private investment.

So is commuter transport where thousands of vehicles get jammed daily, even on fly-over bridges built with billions of borrowed money. Individual ownership of two, three and four wheel vehicles as the wallets permit, is the norm in daily travel. It has allowed a fleecing trade of vehicle imports and sales. Added is the massive import bill for fuel. The net result is the time lost on the roads by people who have to travel up and down for work. They don't talk of distance in travelling, but the time taken to travel. All governments beginning with President Jayawardene has only thought of widening roads and building highways that has not in anyway helped daily commuting. The most who get bogged down in city traffic, the urban middle class shows no interest in alternatives and in proposing an efficient, comfortable and an economically viable public commuter service that can include both rail and road.
Why young women from rural communities want to migrate as housemaids in Mid East countries for 30,000 rupees per month. Will they leave their kith and kin, if their families could earn at least 20,000 rupees regularly in their own villages?

There is also no questioning as to why young women from rural Sinhala, Tamil and Muslim communities want to migrate as housemaids to slog in Mid East countries that carry stories about stoning, nailing, sexually and physically abusing, for a paltry sum of about 30,000 rupees per month. Will they leave their kith and kin, if their families could earn at least 20,000 rupees regularly in their own villages? There are absolutely no answers for these rural lives in their own rural economies.

So have all the post war issues, North and East is agitating for 09 long years, demanding answers. For the Colombo "anti Rajapaksa" pundits, they don't seem to come within the "2015 January mandate" to demand answers from this "yahapalana" government, now far more racist than even Rajapaksa.

All these major issues have been drowned in useless, meaningless and never productive talk on party rivalries, leadership tussles, next presidential candidate for Sinhala Buddhists.The urban middle class is nevertheless comfortable with all that, as long as they could earn the extra "double buck" in this rotting system. For them therefore, a collapsing education, an ailing health system, a jam packed road network and a village for an annual retreat are all part of urban living that has money. They therefore don't need any change. All they want is this "yahapalanaya" in some form, that can give them freedom to enjoy economic space liberally and not common sense to understand that chaos around them would before long, leave them also on a garbage dump that will be far more difficult to clean up than now, unless an alternate development programme is dialogued in society.