---
The COVID-19 pandemic is showing no signs of relenting or loosening its grip on Sri Lanka and is continuing to spread without let or hindrance. As of yesterday morning the number of coronavirus cases stood at 21,261; deaths at 94 and the recovered at 15,447 with last Saturday's nine COVID-19 related deaths being the largest number in a single day. Up to 4 October, there were only 13 deaths while between then and now, Sri Lanka had recorded 81 more. Where has the government gone wrong or missed out in allowing the pandemic to slip out of control? While people are being blamed for their supposedly apathetic attitude, should not the government and its various agencies also shoulder a major part of the blame for this unfortunate state of affairs? A couple of weeks ago we saw Health Minister Pavithra Wanniarachchi and Ministers Udaya Gammanpila and Prasanna Ranatunga teaming up with Eliyantha White, a self-styled 'medical doctor' throwing pots of, what Mr. White had described as, kundalini-charged water into several rivers. This kind of superstitious and gullible practices by Minister Wanniarachchi, who heads the country's health sector and the other two ministers, would only give wrong signals to the people that the government had exhausted its medical and scientific resources when it came to overcoming the deadly virus. Be that as it may, the silver lining amid the darkening clouds is the news that several companies were close to producing vaccines for public use to counter the COVID-19 virus.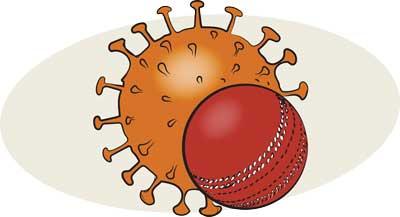 Last week, we also read media reports quoting the National Operation Centre for the Prevention of COVID-19 Outbreak (NOCPCO) Head, Army Commander Lt. Gen. Shavendra Silva as having informed the Foreign Ministry and overseas missions that the NOCPCO task force needed to be consulted and its approval obtained prior to repatriating stranded Sri Lankans to the island so that future repatriation procedures would be carried out in a manner that did not pose any threat to the country. We too consider such directives important if Sri Lanka is to prevent repatriation being carried out in a haphazard manner knowing that several of those who came from abroad especially from middle-eastern countries, were on arrival, found to be COVID-19 infected. But these directives need to be applied across the board without exception, whether it is the repatriation of stranded Sri Lankans or to cricketers coming here from overseas, while keeping an eye if not several eyes on Sri Lanka's entry points to prevent new sources of infection invading the country.

In such a scenario, another important question that begs answers is whether the organisers of the Lanka Premier League (LPL) had consulted the NOCPCO and obtained its approval prior to conducting the T20 tournament amid the rapidly spreading pandemic on the basis of the request made to the Foreign Ministry when it came to repatriating stranded Sri Lankans to resolve a humanitarian crisis at that.

LPL 2020 has lined up matches among five franchises – Colombo Kings, Dambulla Viking, Galle Gladiators, Jaffna Stallions and Kandy Tuskers – meeting each other in 23 matches set to begin on November 26 at the Sooriyawewa International Cricket Stadium in Hambantota with the finals being played on December 16.

Against this background came media reports of some foreign cricketers listed to play in the T20 having tested positive for COVID-19. Pakistan fast bowler Sohail Tanvir, Canada's Ravinderpal Singh and Indian bowler Sudeep Tiyagi were subjected to a period of quarantine after their on-arrival PCR tests showed they were COVID-19 infected, while some other players and officials whose names have still not been released by the authorities are also said to have tested positive for the virus.

At this point we consider it essential to emphasise the fact that we are in no way opposed to the LPL tournament being conducted in Sri Lanka, but that our main concern was its timing in the midst of a ravaging pandemic, and also considering the previous lessons learned by the authorities where several of those entering the country were found to have been infected by the virus.

Meanwhile, despite the several COVID- 19 related issues cropping up and that of some other players and officials pulling out of the tournament, Sri Lanka Cricket (SLC) however, remained adamant that no matter the challenges they needed to overcome, the LPL 2020 would go ahead as scheduled. That of course is their decision, while we on our part, wish them well and look forward to a successful tournament.