---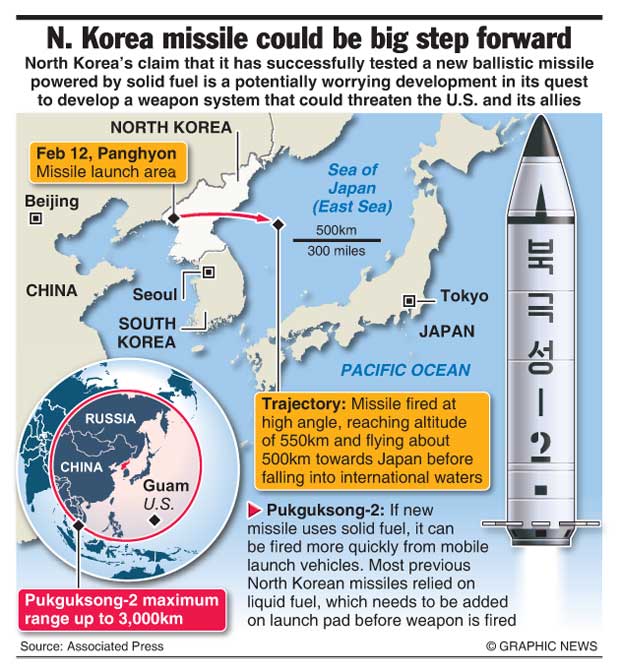 Kim Jong-un has some guts. The North Korean leader's foolhardiness apparently knows no bounds. Though baby faced, he is dangerous. He has only contempt for the United States. The maverick regime's eccentric leader dismisses with a characteristic smirk US warnings of a tough response in the wake of every nuclear or missile test his country carries out. He conducted 24 such tests, including a suspected hydrogen bomb test, last year.
Last Sunday, in what is seen as a challenge to the new US President Donald trump, who is not even one month into his office, the impoverished but nuclear powered North Korea carried out an intermediate range missile test. It was the political equivalent of World Wrestling Entertainment's all-time bad guy Roddy Piper's pre-match taunt thrown at his opponent.
Trump the opponent was, surprisingly, not provoked. There was no lunging forward to land a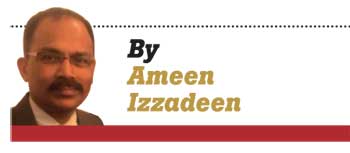 punch on the face. No head butt or camel-clutch stranglehold. Perhaps Trump is learning how to be president-like. Well, Trump is unpredictable, too. He has his own plans to deal with world issues. On Wednesday, in a move that is likely to propel the Middle East into further violence, he backed off the two-state solution to the Israeli-Palestinian issue. Since surprises abound in the Trump presidency, his North Korea solution may have some out-of-the-box approach.
Last month the then President-elect Trump sounded tough when he reacted with exaggerated swagger to a threat by North Korea to test an intercontinental ballistic missile. "It won't happen," he roared in a tweet.

The same Trump, however, put Iran on notice when that country carried out a missile test on January 29.
The North Korean missile test was a double provocation. Not only was it a taunt thrown at Trump. It was also a shot across the bows to Japan; and it came at a time when Japan's Prime Minister Shinzo Abe was in the United States as Trump's guest. The duo had a joint news conference. Abe called the missile test "absolutely intolerable." But Trump in an unusually guarded statement said the US was "behind Japan, its great ally, 100 percent." He didn't even mention North Korea by name. The response was seen in line with his campaign remarks.
During the campaign, Trump said he was willing to talk to the North Korean leader and accused US allies Japan and South Korea of not paying enough to share the cost the US had to incur in defence of them. North Korea, of course, couldn't be happier with such Trump remarks.
Trump then delivered another trump card to North Korea. In one of his first presidential actions, he withdrew from the Transpacific Partnership Treaty (TPP) – a move that would allow China, North Korea's one and only ally, to increase its influence in the Asian region through the rival Comprehensive Economic Pact.

But Trump soon realised his folly; he quietly fell in line with Barack Obama's policy of checking China while maintaining the one-China policy and healthy trade relations.
Days after the latest North Korean provocation, Trump delivered a tough message to North Korea. Addressing a joint media conference with Canada's Prime Minister Justin Trudeau, Trump described North Korea as a "Big problem" and said he would deal "very strongly" with it. The US, together with Japan and South Korea, later called an emergency session of the UN Security Council to deliver a warning to North Korea.
In January last year, North Korea announced it had successfully carried out its first hydrogen bomb test, but it drew worldwide condemnations.
The sanctions-hit North Korea is one of the world's poorest countries and its nuclear programme comes at a great cost to the social welfare of millions of people living in abject poverty.
Nuclear weapons research, production, maintenance and delivery systems cost billions of dollars. Although it is impossible to make an accurate estimate given the secrecy surrounding North Korea's nuclear programme, South Korean analysts say Pyongyang spends nearly US$ 700 million or more a year on its nuclear programme. Although compared with the US$ 62 billion the US spends on nuclear weapons each year or even Pakistan's US$ 2.2 billion annual nuclear budget, what North Korea spends is low. But still it is a huge sum, especially if we add the opportunity cost in terms of social welfare. The money should have been spent on poverty alleviation. Two years ago, Kim Jong-un, in a paper he authored, said he "cannot sleep" because of worry over his people's poverty. The North Korean news agency KCNA quoted the young leader as saying that he lamented that his people have "never enjoyed an abundant life".

The irony is that North Korea's nuclear programme is a big source of income though it is costly. North Korea earns millions of dollars by secretly sharing its nuclear and missile technology with states secretly developing missiles and nuclear programmes. According to the Washington-based Arms Control Association, North Korea has been a key supplier of missiles and missile technology to countries in the developing world, particularly in politically unstable regions such as the Middle East and South Asia. Such transfers are believed to be one of Pyongyang's primary sources of hard currency, ACA says.
Obama's North Korea policy was one of "strategic patience" -- squeeze Pyongyang and wait for it to buckle, just as it handled Iran with regard to its nuclear programme. The US allies feel this policy has not worked, and say a tougher approach is needed to deal with Kim Jong-un. They now look to Trump with hope, giving him legitimacy and recognition which he does not get at home – and Trumps like it.
That Trump was serious with Asia became evident when the new Defence Secretary James Mattis made the Far-East Asian region his first choice of destination after he took office. During his visit to the region, Mattis assured South Korea and Japan that the security alliance binding them with the US remained strong and delivered a strong warning to North Korea.

Disregarding Chinese protests, the US Defence Secretary assured the two allies that the US would go ahead with plans to instal an advanced anti-missile system in South Korea.
In the Asian power game, the North Korean missile test offers just another excuse for the United States to beef up its defences in Asia at a time when China has heightened its assertive diplomacy to establish its sovereignty over a series of disputed islands in the South China Sea.
China condemned the North Korean missile test, saying it ran contrary to United Nations resolutions, but such condemnations have become routine.
China believes the missile test will only accelerate the US programme to instal Thaad missiles in South Korea after the Obama administration deferred their deployment in the face of strong Chinese protests.
China has in recent months transformed several of South China Sea islets into potential military bases. In recent years, US warships have sailed close to these islets in a bid to negate China's sovereignty claims over them and the surrounding waters. However, the two countries have exercised restraint and not allowed the friction to develop into all-out hostility. Well don't they say that nuclear powers do not go to war?