---


arly this month, a separatist militant named Burhan Wani was killed in a gun battle with the Indian Army in the Indian administered Kashmir. Kashmiris took to the streets and in the ensuing violent protests, scores were killed and over a thousand wounded, many were feared to have lost their eyesight when hit by pellet guns.
Last week, a group of Sri Lankans and Pakistani community here also held a demonstration in front of the UN Office in Colombo against violence in Kashmir, and demanded that the UN Secretary General facilitate and support a peaceful resolution of the Kashmir issue in accordance with the UN Security Council Resolution 47 of 1948, which recommended a plebiscite in the disputed territories of both Indian and Pakistan administered Kashmir to decide their future. That referendum was never held, the UN has since 2010 removed Kashmir from the list of disputed territories under its observation.
Issues such as Kashmir and Palestine provide Muslims to reconnect with Ummah (worldwide Islamic community) for sake of upholding Muslim solidarity. In fact, since their establishment after the dissolution of the Ottoman Empire, the new nation States of the Middle East derived legitimacy and social cohesion mainly through two things: solidarity with Palestine and Islam. Both these fountains of legitimacy (and of course, third being the oil wealth) masked the absence of rule of law, democratic institutions and basic freedoms in those States. Over the time, that however did not prevent those societies from exploding into a mass mayhem,as most of they are doing now. In their relatively stable days, they were hotbeds of mass religious radicalism, much of which were State-sponsored, and some others such as secular autocracies of Syria and Nasser's Egypt tried to fight political Islam, fomenting further discontent and extremism. When these States crumbled, extremism brewed in those social cultural milieus making a gory presence across the globe, from Raqqa to Nice, from Cairo to Peshawar.

If there is one lesson for countries like ours, which have largely been insulated from that mayhem is this is something, we are better off keeping our distance from. Problems in Kashmir or Palestine are not just freedom struggles as they are generally projected; they are embodiments of large scale dysfunctionalities of a certain social milieu. As much as Palestine has been a smokescreen for a

greater dysfunctionalities of Arab autocracies, monarchies and dictatorships, Kashmir is a mask for Pakistan, where mass radicalization is a household industry and has no qualms to export it far afar.
And we are better off keeping away from this rot, not least because too much rhetoric would offend our neighbour India, relations with which would be the corner stone for our future prosperity. More so because those issues have proved to be mine fields of mass radicalization. Palestine and assorted anti-Zionism provided the earliest breeding ground for Islamic radicalization, which over the time has sucked in everything on its path as it expands, from the Middle East to the immigrant ghettos of Paris suburbs.
What we should not do is to jump on the path of the ever expanding black hole. However if we import grievances from afar and implant them here as our own, we are exactly doing that. Kashmir is the least of our problems. It is perfectly legitimate to raise political concerns over the perceived or real grievance of Kashmiris or any other community. This article should not be misconstrued as challenging that legitimate right or for that matter criticizing the local activism on that. Rather, this is meant to be a caution about the potential undesirable spin off effects, if we venture too further along that path.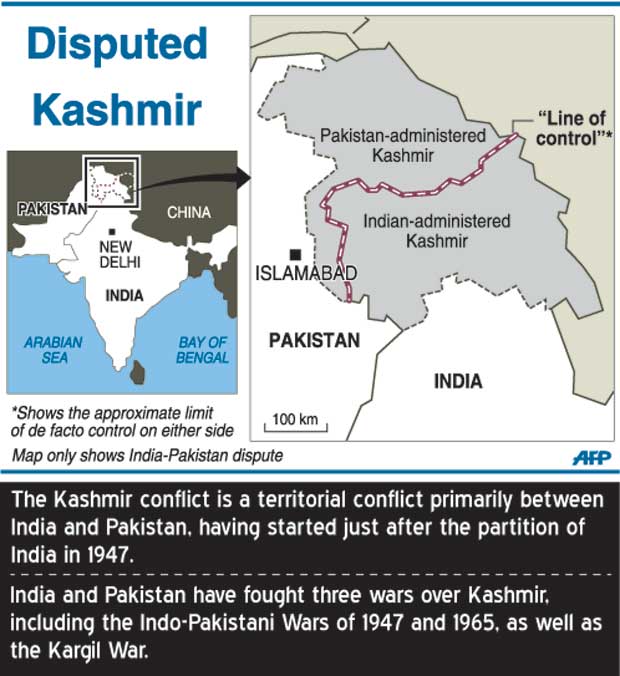 After all, Islamic radicalization has been proved mind bogglingly diverse and complex; where an Afghan teenager granted asylum in Germany, gets radicalised over a matter of weeks and goes to butcher passengers in a train, where a Tunisian loner mows a truck through revellers of a National Day parade in Nice, where private school-educated Bangladeshi teenagers slash throats of foreigners; and where a gay man in Orlando unleashes carnage in the name of the terrorists of the Islamic State (ISIS), which among other displays of its barbarism, crucifies homosexuals as a form of divine punishment.
Sri Lanka should not create an opening for drivers of that mass radicalization to make a presence here. After all, there are concerns over certain Muslim madrasas. Indian police have claimed several Kerala Muslims who joined the ISIS spent time in an Islamic school in Negombo. A discussion on those issues does not sound as politically correct, at a time when all the communities strive for reconciliation after a three decades of a brutal conflict, of which radicalizing agents were first though to be innocuous, only until one megalomaniac named Velupillai Prabhakaran took over the Tamil struggle to a new high of barbarism.

However, he was a product of those early radicalizing agents, be it Tamils' real or affected grievances or the self-serving Tamil elites who made a living out of highlighting those grievances, none of which warrant the egregiousness that the Eelam war later reached. Ultimately, it was the Tamils who lost most because of the failure of the successive governments to confront grass roots radicalization at its outset, both through political and security measures. In the same way, it will be a grave injustice to all communities here, and to the Muslims the most, to import grievances from Pakistan or the Middle East and implant here, at a time no one is sure what sort of expressions those grievances would metamorphose into. In these imperfect times, one has to be cautious trying to be too perfect, because such a naivety is more likely to be exploited. (German Chancellor Angela Merkel may be thinking the same now).
Of course in a perfect world, one would expect India to honour the UN resolution and hold a plebiscite on the future of Kashmir. And the choice for the voters would be two striking polar opposites: on one side, the world's largest democracy with strong secular and liberal traditions at its core; on the other, where those attributes are increasingly in short supply. The choice for a rational, liberal, free-thinking individual is obvious. However, the world is not perfect. So are the public, more so when the religiosity overwhelms freedom in a given social milieu. We should not try to recommend our perfect solutions to imperfect problems (just like the Americans and the Europeans did to us in the recent past and are now being forced to eat their own words in their cities). We are better off minding our own business.
Follow RangaJayasuriya @ RangaJayasuriya on Twitter.