---
Narendra Modi could have been right, only if he had acted democratically with the consent of the Kashmiri people. His supporters may point out that in repealing Kashmir's special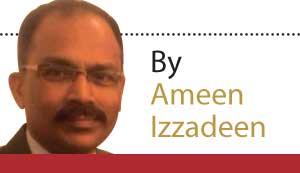 autonomous status, Modi acted democratically as he was only fulfilling an election promise. Adolf Hitler also gave election promises, the fulfillment of which is a bloody chapter in world history today.
Democracy could be dangerous and this is aptly being proved in India, where the Hindu nationalist Modi government with its near steamroller majority is turning Asia's temple of democracy into a fort of fascism.
In Modi's India, an entire region's people have been denied their right over a matter that directly involves their lives, freedom, dignity and future. Modi's move regarding Kashmir, if seen together with his failure to bring to justice his party supporters unleashing violence against minority Muslims and Christians, gives credence to the claim that democracy under Modi is nothing but a democracy of bigots. It lynches India's soul built on Mahatma
Gandhi's vision.

With Gandhi being ridiculed by hardline Hindutva supporters, Modi's democracy of the bigots for the bigots and by the bigots manifested in Monday's decision to strip Kashmir of its special status in terms of a constitutional article. Article 370 granted considerable freedom for the people in the Indian-administered Kashmir to decide their own fate, except in defence, monetary, foreign policy and communications matters. The Muslim-majority region was once a princely state, but its Hindu ruler joined the state with India in 1947, months after the sub-continent was divided up at the end of British rule. The Modi government has now declared the whole of Kashmir, including the areas under Pakistan's and China's control, as India's sovereign territory.
India apparently believes that it can face whatever adverse consequences of its decision through its diplomatic clout and military might.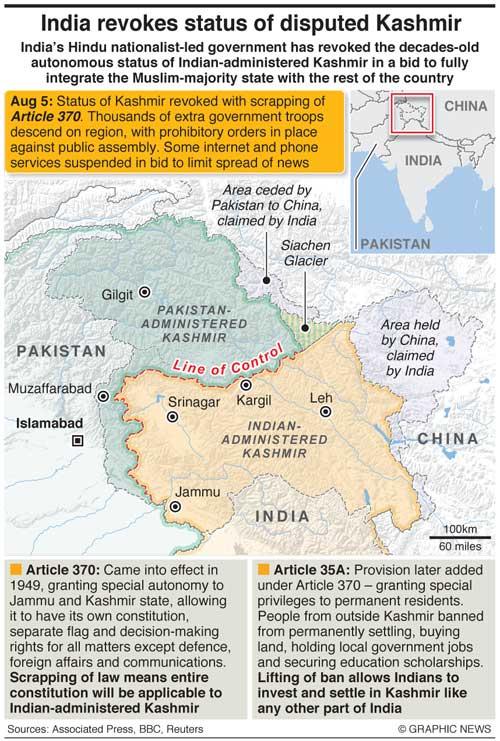 Pakistan, which controls one third of Kashmir along the ceasefire line following the first major war between India and Pakistan in 1947/48, on Wednesday decided to downgrade diplomatic relations with India, suspend bilateral trade, review bilateral arrangements and haul India before international forums.

If Pakistan believes that India can be browbeaten by these measures, then it is living in a fool's paradise. None of its measures could force India to reverse its decision.
Pakistan is left with few options. Given the woeful state of its economy, even a limited war with India will lead to devastating economic consequences. Islamabad may turn to Beijing, which also has border disputes with India. One such dispute is over Ladakh, the Buddhist-dominated area that became a separate union territory on Monday after India's new law separated it from the Jammu and Kashmir region. However, it is unlikely China will join Pakistan's war. In the circumstances, Pakistan can only hope the Kashmiri people's rebellion will turn more intense to force the India military out of the region.
It was only recently that United States President Donald Trump told visiting Pakistan Prime Minister Imran Khan that the US could broker peace between India and Pakistan to resolve the Kashmiri dispute. India's move has now disrupted Trump-Khan peace initiative. Hope the increase in hostilities does not lead to a
nuclear confrontation.

What will India do? As the rebellion increases, India will send more military personnel to Kashmir. Already the Indian part of Kashmir is regarded as the world's most militarised region, with some 700,000 troops being deployed.
The Kashmiris believe that with the repeal of Article 370, India is now free to undertake demographic engineering. They say that soon the Muslim-majority region will see hardcore Hindutva members from other states being settled in the region. India probably feels that if China can do demographic engineering in Muslim-majority Xinjiang and Israel in Palestine, why can't India? After all, India has been emboldened by the relative silence of the world to its move to deny the Kashmiri people their right to decide on their fate. As expected, there is no protest from Arab and Muslim countries either.

India's action is not unprecedented. In 1975, it annexed Sikkim, an independent kingdom. At least in this case, there was a referendum, however much of a sham it was. India has also turned Bhutan into a vassal state, denying that country freedom to decide on defence and foreign policy matters. Also annexed was the Hyderabad State ruled by Nizams. At one point, there were fears in Sri Lanka, too, that India, in keeping with K.M. Panikkar's advice, would make Sri Lanka also part of its territory. This fear prompted Sri Lanka to sign a defence treaty with Britain at Independence. The possibility of India annexing Sri Lanka or part of it cannot be ruled out even now, given India's worries over China's strategic interests in Sri Lanka.
What will the Kashmir people, the real owners of the region, do? The Kashmiri people are angry. They are waiting till the curfew is lifted to express their fury at the decision, on which they were not consulted. Instead of obtaining the Kashmir assembly's consent in terms of Article 370, India obtained the consent of the region's governor, as the legislature remained dissolved from November last year.

Since Monday, Kashmir has been in a state of lockdown, with communications cut off and the region's moderate leaders put under house arrest.
For how long can India keep people under the jackboot? Sooner than later, the region will be plunged into more bloodshed and mayhem.
It was only in February this year that 40 Indian troopers were killed in the region's worst suicide attack. The incident led to a mini war between India and Pakistan. Modi used the situation as part of his strategy to win the general elections.
Modi is a sheer populist and demagogue. With stunts such as yoga, poetry and appearing in a Discovery channel's wild life programme, he tries to build up his image as tarnished by Gujarat's anti-Muslim riots. With the main opposition Congress Party in limbo, Modi's Bharatiya Janatha Party is on a major drive to take every Indian state under its control and convert India into one-party fascist government by whipping up Hindutva nationalism.
The Modi government's preposterous move has also dragged South Asia towards a gloomy prospect of a nuclear war, or a long-drawn out diplomatic hostility between India and Pakistan. Forget any hopes of reviving the South Asian Association for Regional Cooperation (SAARC) which has not met since 2014 at summit level.