---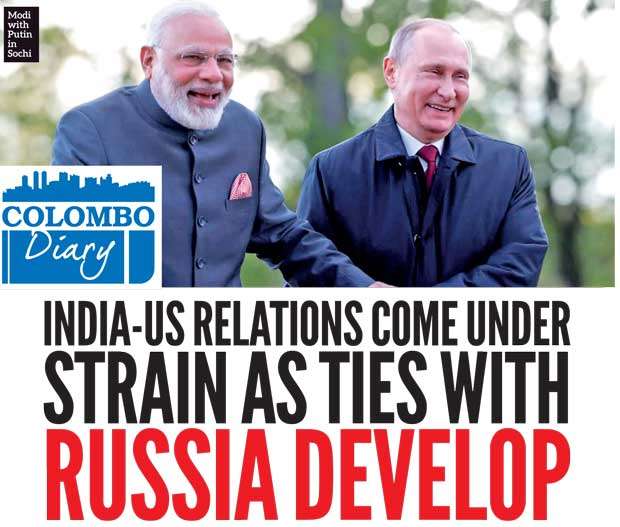 India's reliance on Iran for oil, and on Russia for defense equipment, could be choked due to the unilateral sanctions by the US
Russia's share of arms imports falls from 79% between 2008-2012 to 62% in 2013-2017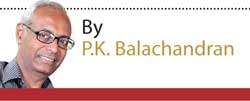 Relations between India and the United States, which were on the upswing following the collapse of the Soviet Union and its aftermath, have now come under strain due to President Donald Trump's eccentric trade and defence policies.

After declaring India as a strategic defence partner in 2016, the US has been pressurizing India to snap its traditional defence ties with Russia and buy weapons systems from the US mainly.

Recently, when India decided to buy Russia's S-400 surface-to-air missile units instead of the failed US PAC-3 interceptors, the US threatened to impose sanctions under the Countering America's Adversaries Through Sanctions Act (CAATSA).

CAATSA is a US federal law enacted in 2017 to impose sanctions on Russia, Iran and North Korea.

Recently, when Turkey rejected the PAC-3 and opted for S-400, the US threatened sanctions. US Secretary of State Mike Pompeo told the House Foreign Relations Committee that the US was making efforts to "keep the Turks in a place where they will never acquire the S-400."

Unilateral US sanctions have damaged Washington's relations with the European Union and other parties to the Joint Comprehensive Plan of Action (JCPoA) also.
However, India's External Affairs Minister Sushma Swaraj told Parliament that India would go in for the Russian air defence system even if it attracted US sanctions. She pointed out that CAATSA could not be applied to India as it abides only by UN and not US sanctions.

And Defence Minister Nirmala Sitharaman told the media: "In all our engagements with the US, we have clearly explained how India and Russia's defence cooperation has been going on for a long time and that it is a time-tested relationship."

She added that India has received numerous defence assets from Moscow and that such cooperation would continue with the $ 5.5-billion S-400 deal.

Despite the US bid to capture the Indian arms market, Russia is still India's largest arms supplier, accounting for 62 per cent of arms sales to New Delhi over the past five years, according to the Stockholm-based International Peace Institute (SIPRI).

"It must be noted that S-400 is an advanced weapon system and it is virtually impossible for India to procure a comparable system from any other country. However, the bottom line is that some discernible shifts are there in the Indian foreign policy lately – one may say, a rethink or a course correction. India is asserting its strategic autonomy," former Indian Ambassador M. Bhadrakumar told Russia Today. According to experts, the S-400 Triumf is capable of firing three types of missiles to create a layered defense, and integrates a multi-function radar, autonomous detection and targeting systems, missile launchers and command posts. It can bring down aircraft at a range of up to 400km. On the other hand, the US PAC-3 has failed said expert Bharat Karnad in a piece in the The Citizen. The Trump administration is interested in selling to India, F-18 and F-16 fighter planes. The companies making them have offered to assemble these planes in India as part of Modi's 'Make in India' campaign. The US is also marketing 22 Sea Guardian Unmanned Aerial Systems for US$ 2 billion.

The ambitious Defense Technology and Trade Initiative (DTTI) is the key platform to elevate the Indo-US defense relationship from a buyer-seller engagement to a partnership model, to co-develop and co-produce key defense technologies, it is pointed out.

Of course, if implemented, these US schemes are advantageous to India. But the US cannot monopolize India's purchases nor can it dictate what India can buy and from where. That has been made clear to Washington.

"Buying from the US comes with lot of attached baggage. Just too many do's and don'ts, inclusive of the uncertainty attending on the spares supply, which can be stopped at any time on congressional whim and an administration's fancy. And worst of all, the PAC-3 does not work as advertised," Bharat Karnad points out.
Despite the US bid to capture the Indian arms market, Russia is still India's largest arms supplier, accounting for 62 per cent of arms sales to New Delhi over the past five years, according to the Stockholm-based International Peace Institute (SIPRI)

Jeopardizes Indo-Iran ties

US sanctions on Iran have put India's interests in Iran in jeopardy. India is involved in the construction of the Chabahar Port which is a vital link to Central Asia. Iran is a significant source of oil for India. US sanctions will render the use of US dollars illegal by August 2018.

As India takes over the Chabahar Port under a lease agreement, the ramifications of the sanctions on Chabahar could result in banks backing out due to fear of US sanctions.

India's reliance on Iran for oil, and on Russia for defense equipment, could be choked due to the unilateral sanctions by the US on various important entities, personalities and institutions in these countries, observers point out.

US-India trade war

India has decided to suspend trade concessions and raise import duties on 30 products from the US by up to 50% in a mirror response to Washington's "impetuous move" to impose tariffs on steel and aluminum imports, a report said.

"The new measures will see a 50 % tariff increase on motorcycles with engine capacities of over 800cc, while apple imports would be charged with a 25 % levy. Imports of almonds and walnuts would see a 20% levy. The total tariff increase on all products in the list will amount to an estimated additional US$ 240 million in import fees. The sum is roughly equivalent to the damage India would suffer from Donald Trump's protectionist measures," the report added.

Strengthening ties with Moscow

Meanwhile, India is building upon its relations with Moscow. Indian Prime Minister Narendra Modi met Russian President Vladimir Putin in Sochi in May and discussed Russia's agreed weapons exports to India, estimated to be worth $ 12 billion.

Russia's share of arms imports had fallen from 79 % between 2008-2012 to 62% in 2013-2017, according to SIPRI, causing concern in Moscow.

In a tweet sent out prior to his visit, Modi confirmed that he would seek to "strengthen the special and privileged strategic partnership between India and Russia."
Prior to Modi's visit, India's National Security Advisor (NSA) Ajit Doval and the BJP leader Ram Madhav also visited Russia to strengthen political and security ties.
However, India and Russia have issues to thrash out. India had decided to quit the Sukhoi/HAL Fifth Generation Fighter Aircraft (FGFA) project, mooted for over a decade. "New Delhi is apparently dissatisfied with both the timelines and the characteristics of what would have been a groundbreaking, jointly produced jet, and a new model for Russia's post-Soviet aerospace industry," Russia Today said.

But there is cooperation in the nuclear field. Russia has completed nuclear reactors 3 and 4 at Kudankulam, India's largest nuclear power station, and wants to complete reactors 5 and 6 by the start of the next decade.

"The success of the (Kudankulam) project could determine the path of the country's energy industry – a relevant concern for a rapidly growing economy, and a population that is expected to overtake China's within five years," Russia Today said.

Then there is the trilateral nuclear development project in Bangladesh, namely, the US$ 13 billion Rooppur Nuclear Power Plant, where Russian engineers will supply the technology and the Indian side will provide some of the financing and management, Russia Today added.

India dilutes importance of Quad

Meanwhile, India has diluted the importance of the "Quad" in its Indo-Pacific strategy. The Quad is a new group involving India, US, Japan and Australia, which is primarily meant to safeguard US and Japanese interests in the Indo-Pacific region.

India's Ambassador to Moscow, Pankaj Saran had told The Hindu that the Quad is not central to India's policy on the Indo-Pacific region. Modi would have assured Putin that India was not part of any US-led alliance directed against it. This should be music to the ears of the Chinese too.