---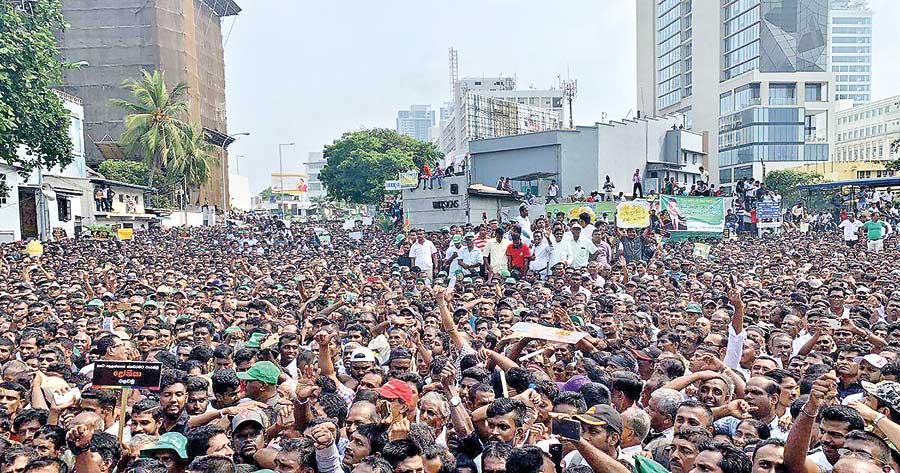 In defence of democracy: Tens of thousands of people gathered in Colombo to protest against President Maithripala Sirisena's undemocratic and unconstitutional move to remove Prime Minister Ranil Wickremesinghe in October last year
Is democracy a cause worth dying for? This question assumes greater relevance amid fears that democracy is dying, as populists with little democratic credentials are elected to office even in iconic democracies.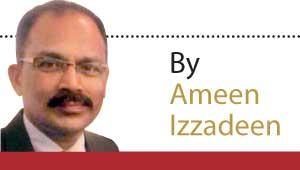 Several global factors work in tandem to strangle democracy. They include politicians' greed for power, the Western powers' dwindling interest in democracy promotion, the rising influence of democracy-detractor China in world politics, the United States, once regarded as the world's most vibrant democracy, electing a populist president riding on white supremacist sympathy, and the worldwide trend to endorse rightwing ultranationalist politics. Democracy's future is bleak. The London-based Freedom House in a report notes a global decline in political rights and civil liberties for an alarming 13 consecutive years from 2005 to 2018.

It is said democracy is the worst form of governance, except for all other forms such as dictatorship, monarchism and anarchism. Then there is this charade. To justify their undemocratic actions, populist political crooks in democracy skin have the temerity to call their strong-arm governance democratic dictatorship – a term institutionalised by Mao Zedong in China.
As we face a presidential election, most Sri Lankan voters do not seem to think preserving democracy is a priority. Talk shows on politically charged television channels seldom discuss the importance of democracy. This reminds me of what 16th century English Philosopher Thomas Hobbes said of people of his era and democracy: Most people are too busy to find food, and the rest are too ignorant to understand democracy.

His younger contemporary John Locke, however, insisted that the social contract between the ruler and the ruled should be democracy. Preservation of human rights is a precondition for people's participation in an organised community. If the ruler violates the "rights", then the people have the right to rebel.
Since Magna Carta was signed between the King of England and the barons in 1215, democracy's trajectory had indicated a modest progress. With the Cold War's demise in 1991, the trajectory reached a peak with winds of democracy blowing across Europe, turning authoritarian former Eastern bloc nations into nascent democracies. Every new state that emerged from the old Soviet Union embraced democracy, although, later on, Russia and a few Central Asian nations such as Uzbekistan and Kazakhstan drifted towards authoritarianism.

In the first decade of the post-cold war era, the world was on course to realise the idealists' dream of establishing a values-based international order. It was a period when the United Nations spent much of its time and energy to promote human rights. Among its notable achievements were the moves to convert the lame United Nations Human Rights Commission into a robust Human Rights Council and the adoption of the Rome Statute that established the International Criminal Court to try war criminals. The European Union and the British Commonwealth began to give much importance to democracy and good governance. In 1995, Commonwealth leaders created a Ministerial Action Group to deal with persistent or serious violations of the Commonwealth's shared democratic values. Accordingly, non-conforming member nations were suspended or expelled from the Commonwealth.
Unfortunately, democracy's ambitious journey towards Utopia slowed down after the September 11, 2001 terror attacks on the United States. The then US President George W. Bush set a bad example to the rest of the world by discarding human rights, democratic values and international laws on warfare in the name of prosecuting a war on terror. On the domestic front, the Bush administration introduced draconian laws – the Patriot Act, for instance – severely undermining the people's right to freedom and privacy.
Instead of promoting democracy, the US became a global regime changer. To achieve its political goals and justify its immoral wars on Iraq and other nations, it stooped so low to resort to lies and deception. Its dirty hand was visible in the Ukrainian coup that overthrew the democratically elected pro-Russian president in 2014.

In 2011, a rare opportunity knocked the doors of Arab nations to usher in democracy. But the US colluded with Arab dictators and monarchs to turn the Arab Spring into a long winter with democracy being buried beneath a thick layer of ice not even an extreme global warming scenario can melt. But if it suits its agenda, the US rushes to condemn human rights violations and adopts a holier-than-thou posture to preach democracy. This we saw in the US statements supporting the pro-democracy protests in China's Hong Kong. The selective approach to democracy was also evident in this week's US statement expressing concern over the appointment of Maj. Gen. Shavendra Silva as Sri Lanka's army commander. Such statements are issued while the Trump administration accelerates democracy's decay by resorting to acts even a nation remotely connected with democracy would not do, as has been seen in the despicable treatment illegal immigrants are being subjected to on the Mexico border. Besides that, the Washington Post reported this week, that during his two years and eight months in office, Trump had told as many as 12,000 lies and falsehoods.
"As we face a presidential election, most Sri Lankan voters do not seem to think preserving democracy is a priority"

Emboldened by the absence of a world power with genuine interest in democracy and human rights promotion, rightwing politicos worldwide have no qualms over suppressing dissent and spurning democratic values. Early this month, in democratic India, Prime Minister Narendra Modi stabbed democracy in the back when his government stripped Kashmir's special status without consulting the people of the disputed region. Holding regular elections alone is not a criterion to assess a democracy. In essence, democracy means good governance based on justice and morality. We cannot call Israel a democracy as it oppresses the Palestinian people, occupies their lands and treats its own Arab citizens differently.
A greater danger to democracy looms in the possibility of a China-led world order. Will there be a proliferation of autocratic nations? If that is so, forget human rights; forget democracy. Democracy's trajectory will take a vertical plunge. The prelude to a China-led world order can be seen in China's response to the ongoing Honk Kong protests.
We in Sri Lanka are on the threshold of a decisive moment. Should we become alert to dangers facing democracy or allow power greedy politicians to take Sri Lanka down the dark alleys of democracy's graveyard?

It was only in October last year, the people, at least the educated among them, rallied against President Maithripala Sirisena's move to distort democracy and change the government in violation of the Constitution. Thanks to the 19th Amendment, the judiciary, in sharp contrast to judicial servility that plagued the highest echelons of the superior courts prior to 2015, ruled the president was wrong. Should we allow the next government to change the 19th Amendment and undermine its democracy promoting provisions?
Autocracy creeps through the loopholes in democracy. Populism makes people fall victim to demagoguery. For these demagogues, the motive in politics is power. Most politicians are in a state of endless and restless desire for power -- which stops only in death. In our blind love for or obeisance to such populist leaders, we tend to tolerate their excesses until one fine day we find ourselves living in a fascist state.