---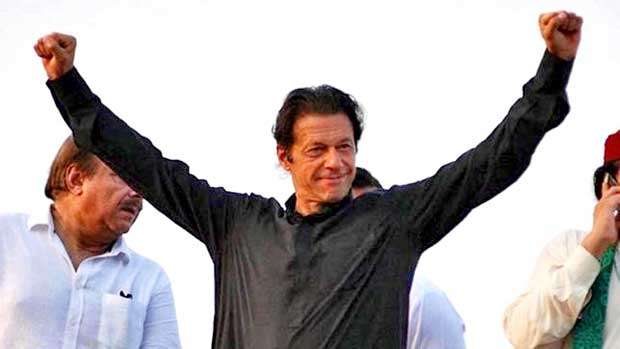 Twenty-two years ago Pakistan's flamboyant world cup winning cricket captain Imran Khan exchanged his cricketing flannels for the rough and tumble of Pakistani politics. On Saturday the former cricket-star turned politician took his oaths as Prime Minister of his country after leading his Pakistan Tehreek-e-Insaf (PTI) party to electoral victory.

In his capacity as captain of the Pakistan national team Imran Khan was able to mould Pakistan's individually brilliant, but often divided national cricketers into a world cup winning unit. Today as Khan takes up the reigns of leadership, his country faces a plethora of problems which he has vowed to tackle. Among them are:
A mounting economic crisis, major corruption scandals, a serious breakdown in relationship with its neighbours India and Afghanistan, rampant poverty, a serious diplomatic breakdown with the US, and his future relationship with the country's military.

Pakistan's external debt and liabilities has increased 76% to 10.6 trillion rupees ($92 billion) since June 2013, taking the ratio up to 31% of GDP. According to the International Monetary Fund (IMF) Pakistan's gross external financing alone needs at a record $27 billion for the next fiscal year and forecast that due to additional borrowings, Pakistan's external debt would jump to $103.4 billion by June 2019, up from this June's projected level of $93.3 billion.

Throughout his political career Imran Khan has raised his voice against and vowed to bring to book those involved in rampant corruption at the pinnacles of power which he claimed, led his country into the parlous economic situation it faces today.
During the 2013 election campaign he vowed to wipe out corruption within a 90-day period if elected to power. A major challenge... But Khan has examples in Asia itself to choose as his model for fighting corruption. History will judge him on the road he takes.

There is the Malaysian model -- where the immediate past Prime Minister who stood accused of mega corruption was charged, arrested and remains behind bars... all within a week of the new regime which promised to bring to an end rampant corruption taking power. Or there is the the Sri Lankan model where even after three long years, the new regime, which was voted into power on a promise to end corruption, has been unable to bring to book any of the major players accused of corruption. History will judge Mr. Khan on the model he chooses.

In the international field the PM-elect faces a minefield of problems. While relations with Afghanistan have improved, Pakistan's relationship with India is at an all-time low with Kashmir being the bone of contention. India's PM Modi initially invited Pakistan's then premier to his swearing-in- ceremony. But since then, dialogue with Pakistan has ceased and India has ratcheted up anti-Pakistan rhetoric.
Indian troops have also made incursions into Pakistan on the pretext of chasing Kashmiri terrorists. An action which reminds Pakistanis of India's role in the bifurcation of their country, the bloody birth of Bangladesh and India's role in it.

Both countries possess nuclear weapons, India's conventional arms build-up, which Pakistan cannot hope to match, could trigger an inadvertent nuclear conflagration. Urgent measures need to be implemented to defuse the situation in Kashmir and especially rebuild a sense of trust with India. Can Khan do it? Relations between Pakistan and its ally -- the US -- are bad, with the US accusing Pakistan of being an untrustworthy ally and villain in the Afghan war. Pakistan's relations with Washington are summarized in one of the US President's tweets in January this year: "Washington had 'foolishly' provided Pakistan $33 billion in 15 years to fight terror, but "they have given us nothing but lies and deceit, thinking of our leaders as fools".

While wishing Imran Khan the best in his role of captaining the Pakistani nation, it must be kept in mind that Pakistan's military -- has ruled the country for more than half of its 71-year history -- and still continues to be the power behind the throne. Will the military permit Captain Khan to pursue his aim of improved relations with India? Will he (Khan) be able to overcome challenges posed by religious extremism and clean up dirty politics which grips his country?
These are but some of the challenges facing Pakistan's new premier and we wish him well in his efforts to achieve his goals.