---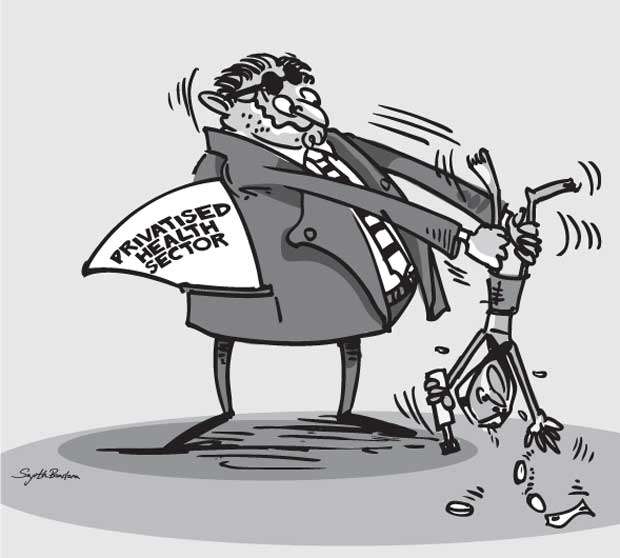 The World Health Organisation (WHO) celebrated its landmark 70th anniversary on Saturday with World Health Day events being held in almost all countries while the premier event took place at the Nelum Pokuna Hall in Colombo with President Maithripala Sirisena and Prime Minister Ranil Wickremesinghe as the chief guests, their relationship also being restored to a healthy level in the aftermath of the political showdown on last Wednesday.
In a statement the WHO says at least half of the world's population still does not have full coverage of essential health services. About 100 million people are still being pushed into extreme poverty and surviving on about Rs.300 a day because they have to pay for health care. More than 800 million people -- almost 12 percent of the world's population -- spent at least 10 percent of their household budgets to pay for health care. All UN Member States have agreed to try to achieve Universal Health Coverage (UHC) by 2030, as part of the Sustainable Development Goals.

As for Sri Lanka, we are blessed with a free public health service where thousands of poor patients get free treatment daily though there are many shortcomings which Health Minister Rajitha Senaratne has pledged to rectify in the coming years. But in the private sector, the health service which was once revered as a vocation similar to the priesthood later became a profession and to a large extent it has become a big business or one of the biggest profit-making businesses. That is why many business magnates are investing heavily in private hospitals mainly in Colombo but also in other districts. With few if any regulations or guidelines most patients pay at least Rs. 2,000 for a five minutes consultation, expensive drugs and non essential tests are often prescribed and many middle class patients say a visit to the hospital could cost them up to Rs. 10,000.

No doubt there are doctors who maintain high values and principles but they also are caught up in a vicious circle. While private hospitals have become multimillion profit making institutions, most medical specialists earn about Rs.100,000 a day. The vision of any health service is to give top priority to the well-being of patients but in the private health sector patients are often plundered especially when they have to be admitted to wards.
The Health Minister has promised to introduce regulations and ensure that patients are not plundered. But little or nothing is being done. For thousands of middle class families one major illness would send the family into bankruptcy because of the huge hospital bills they are forced to pay.
'Sri Lanka has been a welfare state since independence with a commitment to human development during economic growth. Despite a low GNP, post independent Sri Lanka has achieved an outstanding record of improvement in many vital social and health indices compared to other countries in the South Asian Region (UNICEF, 1992). The ability to deliver successful health care on a low per capita income is attributed to the firm commitment to public support during economic growth. Life expectancy and total fertility rates are almost at par with the levels achieved by the developed nations. In the health field, the decrease in child mortality is the most commendable amongst many improvements. Frank cases of clinical under nutrition are rare. The most striking achievement in the social field is the improvement in the literacy rate, particularly the high female literacy rate... The data demonstrates that countries with much higher GNPs have performed poorly in improving the basic standards of their people'.

The success of Sri Lanka is largely due to Universal Health Care (Free Health) and Free Education. A similar success story has been observed in the Kerala State of India too. Despite these important observations, ironically, under the guise of promoting 'Free Trade', there is a global move to destroy Universal Health Care and Universal Education (two vital public services) and privatise free health and free education by putting health and education on the market. This will lead to grave, negative health and social implications.