---
ive months after Section 377 of the Indian Penal Code was decriminalised, the Lesbian, Gay, Bisexual, Transgender, Intersex and Queer (LGBTIQ) community still feels the stigma and discrimination lurking around. But that hasn't stopped individuals such as Himanshu Singh from making a difference. Himanshu, an IIM Kozhikode graduate came out as gay in 2016 and established Umeed, a college-based LGBTQ group. Through this he spearheaded the #QueerPeCharcha campaign – a month-long online campaign to educate people on issues pertaining to sex, gender, sexuality, identity among others.
In a candid interview with the Daily Mirror, Singh shares the objectives of setting up Umeed, the journey he has come thus far and future aspirations.
Q What challenges did you face when setting up 'Umeed'?
There were a lot of administrative challenges. We had to look at who was going to continue the campaign, who would be there and if support didn't come from the college it was going to be quite challenging. Since it's a sensitive topic, nobody wants to be involved. When people come forward to help, others think that you are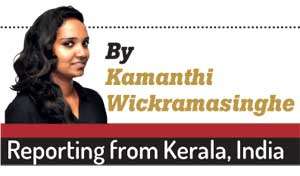 from the community. Therefore maintenance is quite low. I graduated in 2015 and established Umeed, an LGBTIQ group in 2017. For two years we didn't have any formal recognition from the colleges. Each year a new batch comes out and they try to establish this group but it hasn't succeeded thus far. However, currently we have many college groups in IITs but they are run informally.
Q How can people be a part of this group?
Any college group and anybody from the community can be in it. Its mission and vision is to create the environment for this community to be comfortable in. Members of the group could or could not be from the community. We call them allies. It's mostly made up of students but we always try to get one or two members from the faculty.
Q What are the activities done by this collective?
We try to conduct classroom discussions, show them movies based on LGBTIQ topics and invite external speakers to share their experiences. On the other hand we also ask students to interact so they get a better understanding of the topics being discussed.
"The transgender community gets mocked all the time. They are not getting enough opportunities at work. So we have to break them. People think gay people aren't good parents. But we are also humans, we can also fall in love, take care of a child"
Q Tell us about the support you received from your family and friends...
It varies from person to person. I have friends and family who support me in this cause. I don't feel ashamed. I came out as gay in 2016 when Section 377 was still in force. However, I feel that it's a good step. People will feel challenged when they come out as their true selves. Therefore, there has to be proper awareness. Let people decide when to come out and we can only hope that nobody will talk in discriminatory language or project harsh behaviour.
Q How challenging is it for one to come out as gay, lesbian or with any other identity from the community?
It's very challenging for someone to come out. There are various stages, firstly self acceptance. When you're comfortable with your own identity you have to tell it to the right people. It's not easy. They can start this discussion with friends. People should open up their minds. If they are struggling they should tell their family members. But one has to take his/her own time.
Q Now that Section 377 has been decriminalised, what are your expectations at this juncture?
We have a lot of things to cover apart from Section 377. The next step for us is to speak on the right to marry and also shed light on adoption rights. We also need opportunities to donate blood and even speak on the possibilities of bringing about surrogation laws. All of these need to be discussed in future.
"It's very challenging for someone to come out. There are various stages, firstly, self-acceptance. When you're comfortable with your own identity, you have to tell it to the right people"
Q Do you think that this move will help break stereotypes on the LGBTIQ community?
It is very important to break stereotypes. We can't put people in boxes. The most common stereotype is that gay people are feminine. The transgender community gets mocked all the time. They are not getting enough opportunities at work. So we have to break them. People think gay people aren't good parents. But we are also humans, we can also fall in love, take care of a child. Hence, all these stereotypes need to be broken. It is something that we try to instill in people. This isn't applicable to everyone but we won't involve those who have negative thoughts about the community to open up their minds. In fact there needs to be more discussion on sexual expression and orientation.
Q What role does sex education play in this awareness process?
Sex education is very important but it's very much frowned upon. When I was in college, there were a lot of people around me and they would point at a girl and say she's beautiful. But I wasn't attracted. Such things put me in a dilemma and they started questioning whether I am normal. But if we can tell people that it's alright for children to like people from the same gender, that it's normal for boys to masturbate then the stereotypes will be broken to a greater extent. In my biology class this chapter was always skipped. People find their own ways to get this kind of education. But they should be taught in a systematic way.
If people can have these discussions out in the open they can have an educated view on this topic, clearing out doubts on safe sex methods and other related topics.
Q Your message to those who want to, but are afraid to be themselves...
We don't have to be sorry just because we want to be whom that we want. Live your life to the fullest, life is already too short.
Inside Kerala's first transgender clinic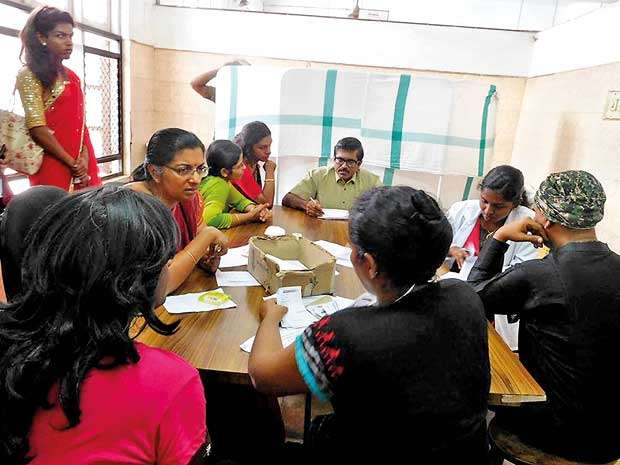 In another first, the Kottayam Medical College initiated a multi-disciplinary transgender clinic as a pilot project. The move was undertaken by the state's Health and Social Justice Department in collaboration with the district's Legal Services Society with an aim to make the state's health sector transgender-friendly. Although the Kerala State Transgender Policy mentions that all citizens have the right to freedom of speech and expression, a majority of the transgender community are excluded from socio-economic and political spectrum.
During a visit to the clinic, the Daily Mirror, came across two transgender women who came for consultations. It was the second instance when *Alijah and *Jumal came to this clinic and they believe it's a worthy initiative. "We travelled from Kochi and so far we have had a good experience. The staff is very supportive. It will be good if they can start these clinics in Thiruvananthapuram (Trivandrm), Alappuzha and other areas as well," the duo said.

What is quite significant about this clinic is that it offers all services free-of-charge. But discussions are still underway to establish the Sex Reassignment Surgery (SRS) as it requires proper expertise. In addition to that, although many transgender people are requesting for this surgery, they need to be given proper guidance. However, transgender people face injustice in their families, home front, school system and even at the hands of the police, healthcare workers and other service providers. "These individuals are very vulnerable; some of them haven't even passed Grade 10," said Dr. Sue Anne Zachariah, Assistant Professor of Medicine who is also working as the nodal officer of the Clinic. "Most of them are in underpaid jobs in the makeup and entertainment industries. A lot of them are also into sex work as well."

One and-a-half years ago, the transgender community was brought under a new legislation and Dr. Sue was one of the attendees at the initial meeting. Having done an MBA in Internal Medicine, she is also an HIV consultant and has worked at the Kottayam Medical College since 2001. "We had to provide cover for them under the new legislature," she added. "Three doctors from the medical college also attended this meeting. We found out that many of them wanted to do SRS but they didn't know the procedure. At private hospitals this surgery is quite costly. Therefore we gave a report to the Legal Services society including the requirements and reasoning out why the setting up of this clinic is rather important."

Apart from establishing SRS, services such as hormone replacement, various cosmetic procedures, cheek augmentation and breast re-implantation are being done at this clinic. Dr. Sue further said that it's not possible to continue the process as these individuals are not accepted in society. "99% of them are male-female cases and there are no female-male transgender individuals. Most of them are college dropouts and some have been kicked out of their families. They are very vulnerable. Although Kerala is known for its highest literacy, it doesn't seem to be the case. Our school system doesn't talk about acceptance. But children need to know that transgender individuals are also people and that they too have a place in society."

The team includes a plastic surgeon, dermatologist, psychiatrist, an endocrinologist and a general physician. All services at the clinic including consultation, laboratory tests and medicines are free of cost. This has indeed made a world of difference for most clients who visit the clinic. Although the clients are registered, their details are highly confidential.

Quite surprisingly, Dr. Sue has only encountered just one individual with HIV. Likewise, there are only a few individuals with HIV and other Sexually Transmitted Diseases (STDs). "When people see a woman walking around in jeans, nobody says anything. But they have a problem when a man wears woman's jeans. This mindset needs to change," she added in her concluding remarks.
*Names withheld under strict condition of anonymity
Pic courtesy: Scroll