---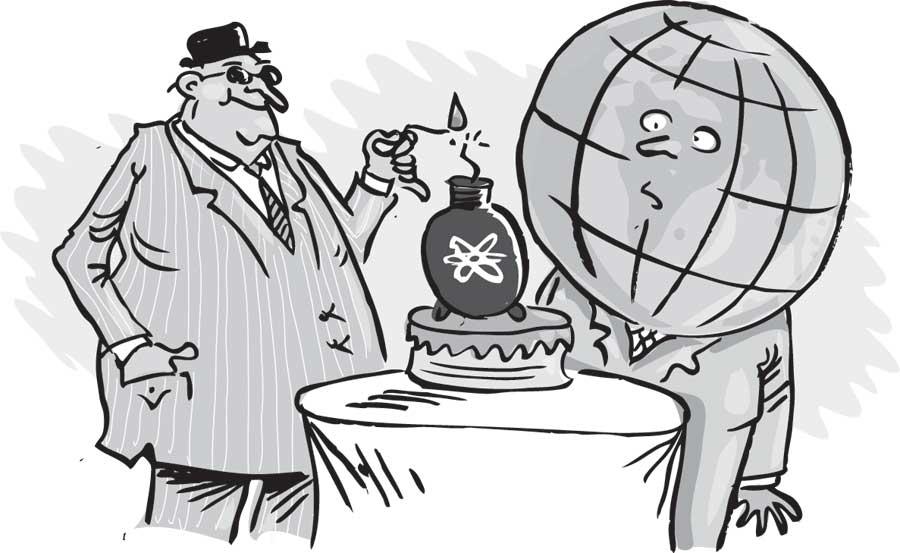 August 29, was the International Day Against Nuclear Weapons. In our country unfortunately, the date went largely unmarked. On December 2, 2009, the 64th session of the United Nations General Assembly declared 29 August the International Day against Nuclear Tests by unanimously adopting Resolution 64/35. The resolution calls for increasing awareness and education "about the effects of nuclear weapon test explosions or any other nuclear explosions and the need for their cessation as one of the means of achieving the goal of a nuclear-weapon-free world.

The discovery by nuclear physicists in a laboratory in Berlin, Germany, in 1938 made the first atomic bomb possible. Nuclear weapons testing began on July 16, 1945 at a desert test site in Alamogordo, New Mexico when the United States exploded its first atomic bomb. Today nearly 2,000 tests have been carried out by eight different countries -mainly in the atmosphere. In those days little consideration was given to its devastating effects on human life or to the dangers of atomic fallout.
In the five decades between that fateful day in 1945 and the opening for signature of the Comprehensive Nuclear Test Ban Treaty (CTBT) in 1996, over 2,000 nuclear tests were carried out in different parts of the world. Between 1945 and 2009 United States conducted 1,032 tests between 1945 and 1992. The Soviet Union, 715 tests between 1949 and 1990. The United Kingdom carried out 45 tests between 1952 and 1991. France carried out 210 tests between 1960 and 1996. China carried out 45 tests between 1964 and 1996.
On August 6, 1945, the United States carried out the world's first atomic bombing on the Japanese city of Hiroshima. The "Little Boy" exploded with about 13 kilotons of force, leveling five square miles of the city and killing 80,000 people instantly. Tens of thousands more would later die from radiation exposure. Since the CTBT was opened for signature in September 1996, 10 nuclear tests have been conducted - India two tests in 1998, Pakistan two tests also in 1998 and the The Democratic People's Republic of Korea conducted five nuclear tests between 2006 and 2017.

South Korean government analysts have put North Korea's nuclear spending at between $1.1 billion to $3.2 billion overall," Reuters reported last year. Although experts say it is impossible to make an accurate calculation, the U.S. government believes North Korea has up to 60 nuclear weapons. If North Korea does indeed have around 60, that puts the cost of each warhead according to the US at between around $18 million and $53 million!
According to the Swedish International Peace Research Institute (SIPRI), the worldwide total inventory of nuclear weapons as of 2019 stood at 13,865 making a total cost of 13,865 multiplied by $ 53 million! A colossal amount of money spent on 'weapons of mass destruction'. At the same time, the Global Poverty Report in 2017 estimated around 1.85 billion people, or 36% of the world's population, lived in extreme poverty and nearly half the population in developing countries lived on less than $1.25 a day.

UN statistics reveal more than 150 million children are stunted. It says more investment is needed to end hunger, and UN agencies estimate that an investment of $265 billion per year could end world hunger. But no one is ready to make that commitment. Something is indeed very wrong with the world leaders and the billionaires of this world. While we cannot afford to eradicate poverty we have the capacity to spend many more trillions of dollars on 'weapons of mass destruction'.
The 'Atomic Audit' published in 1998, by Stephen I. Schwartz claimed the US had spent $5 trillion since 1940 on developing and maintaining its nuclear arsenal (A trillion is 1,000,000,000,000). And to add insult to injury, US President Trump has unilaterally withdrawn from an arms control treaty with Russia dating from the cold war that has kept nuclear missiles out of Europe for three decades - the 1987 Intermediate-Range Nuclear Forces treaty (INF) - which banned ground-launch nuclear missiles with ranges from 500km to 5,500km signed by Ronald Reagan and Mikhail Gorbachev,