---
Politicisation is accepted as inevitable in almost every government sector institution.

But, generally, whether it is utilised in terms of administration or in policy making it does more harm than good. Politicisation could also have an adverse effect by demoralising officers in government service.

If politicisation is taken to the extreme, it can be harmful and cause a dysfunctional environment to those officers who want to work independently. Only officers, who can balance political interference and their assigned duties, could continue to function satisfactorily in their work.

However, the resignation of Dr. Sumith Pilapitiya, a leading environmental specialist in the South Asia Environment, Water Resources and Climate Change Unit at the World Bank Office and the former Wildlife Director General has been attributed to a number of issues. The warden of the Yala National Park Suranga Rathnayake was transferred after he spoke to the Daily Mirror regarding his experience as a victim of politicisation. That particular article was written following Dr. Pilapitiya's resignation.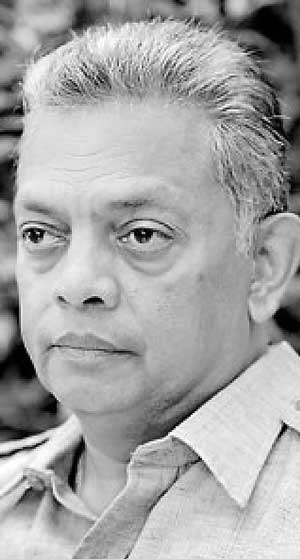 In an exclusive interview with the Daily Mirror, Dr. Pilapitiya, while speaking about certain issues concerning the wild life sector, expressed his ideas that reflected the statement he made just after assuming duties as director general in March. "I would rather resign than be instrumental in causing a negative impact on wild life conservation".

Following are the excerpts of the interview.

Q - What is the main issue that was identified by you in the Wild Life sector in Sri Lanka and how should it be addressed?
" I must say that Sri Lanka has the potential of becoming the greatest wild life tourists' destination outside Africa because competing with Africa is not easy. Nonetheless, there is a long way to go before we can reach that level. In order to realise the potential, the country will have to invest a lot of money, time, effort with commitment. While the best place to observe the behaviour of elephants is Minneriya when compared to all other countries in Asia the highest density of leopards is in the Yala National Park. We have a tremendous variety of birds and other animals too. Indeed, Sri Lanka is having all the resources within the country and the only thing one has to do is to invest more.
"Sri Lanka should concentrate more on long-term benefits of wild life conservation other than short- term benefits of wild life tourism. Right now, sadly the country is looking for short- term advantages while doing very little on investment.

If I were still at the Wild Life Conservation Department, I would have focused more on wild life conservation because it automatically gives benefits to tourism. Over the last five to ten years, the habitat in UdaWalawe Park has changed eventually causing a shortage of food for elephants.

Unless the Wild Life Department or the government intervenes to manage the habitat in Uda Walawe, in the next three to four years, Uda Walawe won't be able to support a 600-700 elephant community. Since it will be difficult for the elephants to find food, they would tend to enter nearby villages. So, the country has to seriously put more resources into managing the eco-system in Uda Walawe.

Q - As you said, if the government is involved more into managing the eco-system in the Uda Walawe National Park, will it also eventually help to reduce the human-elephant conflict?
"Yes. It will help to reduce it; not solve it completely. We should start managing our protected areas including those falling under the purview of the Wild Life Department and Forest Department better, because elephants tend to occupy lands under the control both departments.

Then we might be able to reduce the conflict between elephants and humans. Based on my research data, rather than trying to limit elephant movements from electric fences surrounding protected areas belonging to the Wild Life Department, it might be better to allow elephants to roam in Forest Departments lands as well while protecting villages through electric fences. Villagers should get involved into managing electric fences. In order to protect agricultural lands, temporary electric fences should be set up, allowing elephants to eat what is left after harvesting is completed. The fences are also removed until the next season. This proposal has been implemented in Ehetuwewa, Galgamuwa by an elephant research organisation called the Centre for Conservation and Research.

I have visited it, but, a small organisation alone cannot do it because since they don't have enough funds. What the government should do is to scale down the Ehetuwewa model.
Q - If this proposal helps to provide answers to the long standing human-elephant conflict, why isn't a commendable involvement from the government forthcoming?
Well, this proposal was one of the things I had planned to work on. I have planned that human-elephant conflict in a scientific way. Unfortunately, in this country many technical decisions are made by politicians; that is wrong. When I became the Director General I was trying to move the department activities according to scientific methods. I feel that if the department is allowed to do its work without any political interference it would be better.
Q - Do you think that there are people who are qualified enough to fulfil the duties of the department?
Yes, particularly after working in it. However, I felt that the department is not allowed to do what it is supposed to do. Look what has happened to Sri Lanka; the same thing has happened to the Wild Life Conservation Department. There has been progressive politicisation of the public sector. So, the government institutions are not allowed to do what they are supposed to do.

Q - There have been many reports about that subject. The poor maintenance of national parks has also been in the spotlight. What effects have resulted from these issues and what can be done to correct them?
There is a lot of work to be done by the department to improve the quality of parks. The primary objective of national parks is to manage a sanctuary for animals improving suitable habitats,not to promote tourism which is a supplementary benefit and a secondary objective of wild life conservation. But, Sri Lanka is doing it the other way around. There have been many issues in Yala I focused on with the support of ex-Yala warden Suranga Ratnayake. We were trying to change the negative comments of tourists who
visited Yala.
Q - If we talk about the measures taken by the Sustainable Development and Wild Life Ministry regarding former Yala warden Suranga Rathnayake after he revealed some issues in the department, what would you say about it?
I tried to protect my officers from political inference. I had told departmental staff to give my telephone number to any politician if there is any political interference in their work. I told them not to be worried and to do their work properly. I was not part of the decision to remove Suranga. I don't know why he was transferred.

Q - What are the measures taken by you, and what others do you plan to reduce frequent hit and run accidents in national parks?
We had introduced penalties for drivers who are caught for fast driving within the park. From March to June, after Mr. Rathnayake introduced penalties, there had not been a single hit and run accident in Yala. According to the penalties, if the driver drives fast or goes off the road, if they get out of the vehicles in places where they are not supposed to, or if they block roads causing a traffic jam for the first time, they are suspended for one week.. If you start enforcing the rules, people will start to behave themselves. In the beginning, the jeep drivers tried to use political alliances to get the suspensions removed which I didn't agree to. Even though I got telephone calls from politicians, I just ignored them and went ahead with the suspensions. And those drivers have not repeated the offences.

Q - Are the penalties applied only to Yala National Park drivers?
Former Yala Warden Suranga Rathnayake and I started off with Yala, but later they were introduced to other national parks as well. However, I am not aware of the current situation in parks as I am not there anymore.

Q - Animal poaching is taking place in national parks and the dept. is conducting raids. What do you think should be done to reduce poaching?
The best thing is to control the parks properly; and there has to be a campaign. Villagers poach because there is a market for poached meat. Action should be taken to eliminate the market through awareness. Unfortunately, some visitors look for poached meat when they come to visit national parks or for religious activities in Kataragama.

Q - When you were working as the DG, an issue reagarding the release of elephants for religious processions arose. Are you against using elephants for religious processions?
Let me be very clear. I am not against the use of elephants for peraheras as they are cultural affairs. But, I am opposed to using elephants that are illegally captured. The Wild Life Department and the Criminal Investigations Department filed cases connected to illegally detained elephants. There are thirty five-elephants in the custody of the department. There was a lot of pressure to release them for peraheras; but they were not 'legal elephants'.
Q - Are there enough legally permitted elephants in Sri Lanka to be used for religious processions?
I believe there are enough. There are 127 elephants with legal permits.
Q - After you resigned, there were requests from Wild Life Minister Gamini Jayawickrema Perera, environmentalists, animal lovers, environmental organisations and the department staff to withdraw it. As reported, there were some meetings held with Prime Minister Ranil Wickremesinghe regarding your reappointment as well. Why did you ignore the requests?
I don't like to answer that question because then I will have to talk about why I resigned. I can say one thing about my resignation though. I did not want to be the DG of Wild Life merely for the position.
I accepted the offer to become to DG because I thought I would be able to do something to Wild Life Conservation in Sri Lanka with my experience. And I wanted to work according to my conscience' but I found that was not possible.
Q - Even though you are no longer in the Director General post of the Wild Life Department, you are still an animal lover, aren't you?. What do you expect to do for the wild life conservation in Sri Lanka in future?
In whatever way I can help the Wild Life Department, through Wild Life Conservation, whatever the role is, other than working for a government.

I am not talking about this government or that government. I do not want to work for the government or in a public sector background again. If the department needs my help, I am more than willing to help them only on a voluntary basis.
See the previous article published on 2016-06-09 upon Mr. Pilapitiya's resignation