---
At a time of unprecedented political turmoil when Sri Lanka's political leadership and people's mainline representatives are in a crisis where for most of them their reputation has been shattered, the world on Wednesday marked the fifth anniversary of the death of South Africa's legendary President Nelson Mandela.

Much is the inspiration, the encouragement and ideals that Nelson Mandela could give to world leaders and politicians. We hoped that in overcoming the current crisis our leaders also will take the right perspective and paradigm shift from Mr. Mandela and become game changers. Thereby they will be remembered in the golden pages of our history, rather than ending up in a garbage dump. One of his main lessons was that he lived for democracy, and a free society, would fight for it, and was even ready to die for it.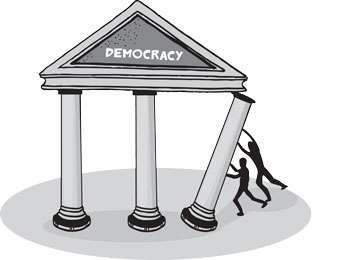 After serving decades in prison and suffering much, he peacefully won the power struggle of South Africa's black majority and became the President in July 1994. The people loved him and he could have served for a lifetime, but chose to retire after one term. This is another important lesson for our leaders who appear to have problems in letting go because power corrupts even the best of leaders.

Instead of persecuting the white minority leaders, President Mandela set up the Truth and Reconciliation Commission (TRC), where the white minority leaders were given an opportunity to admit their guilt, to be forgiven and play their role in society. During the proceedings of the TRC, one military officer was on trial for killing the husband and the only son of a coloured woman. When he pleaded guilty, the commission asked the woman how she would respond to it. She made two requests. One was to be shown where her husband was buried so that she could go and pay her respects. The woman paused before making her second request. A hushed court also waited and when the judge asked what her second request was, she told the young killer, I want you to come and be my son. The young killer collapsed in disbelief, but through Nelson Mandela, the world came to know of the power of repentance, forgiveness and reconciliation.

Mr. Mandela was born on July 18, 1918. Hearing the elders' stories of his ancestors' valour during the wars of resistance, he dreamed also of making his own contribution to the freedom struggle of his people.

Mr. Mandela began his studies for a Bachelor of Arts degree at the University College of Fort Hare but did not complete the degree there as he was expelled for joining in a student protest. He later completed his BA through the University of South Africa and went back to Fort Hare for his graduation in 1943.

According to the Mandela Foundation, the legendary leader, while increasingly politically involved from 1942, only joined the African National Congress in 1944 when he helped to form the ANC Youth League. Mr. Mandela rose through the ranks of the ANC Youth League and through its efforts, the ANC adopted a more radical mass-based policy, in 1949.

In 1952 he was chosen as the National Volunteer-in-Chief of the Defiance Campaign with Maulvi Cachalia as his deputy. This campaign of civil disobedience against six unjust laws was a joint programme between the ANC and the South African Indian Congress. He and 19 others were charged under the Suppression of Communism Act for their part in the campaign and sentenced to nine months of hard labour, suspended for two years. A two-year diploma in law on top of his BA allowed Mandela to practise law, and in August 1952 he and Oliver Tambo established South Africa's first black law firm, Mandela & Tambo. At the end of 1952, he was banned for the first time. As a restricted person he was only permitted to watch in secret as the Freedom Charter was adopted in Kliptown on June 26, 1955.

On October 9 1963, Mr. Mandela joined 10 others on trial for sabotage in what became known as the Rivonia Trial. While facing the death penalty his words to the court at the end of his famous Speech from the Dock on April 20, 1964, became immortalised. "I have fought against white domination and I have fought against black domination. I have cherished the ideal of a democratic and free society in which all people live together in harmony and with equal opportunities. It is an ideal which I hope to live for and to achieve. But if needs are, it is an ideal for which I am prepared to die. "

On this Mandela Remembrance Day, we would like Sri Lanka's leaders and other politicians to ask themselves, how many are ready to die for democracy and a free society.