---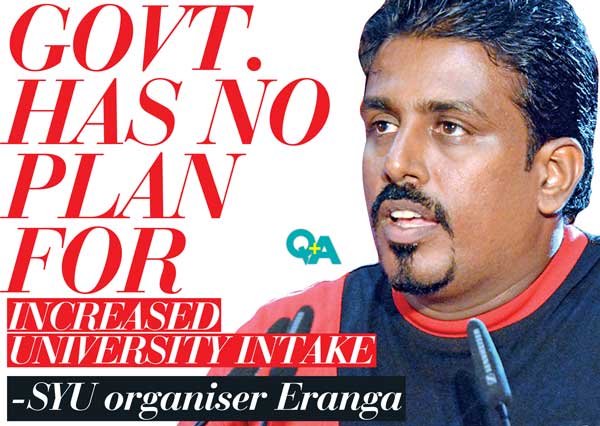 Q What is SYU?

SYU is the youth wing of the JVP. This was originally begun on January 1, 2016. However its activities came to a halt with the proscription of the party by those who ruled the country during that period. We became active once again in 2007. Since then we have been working with the Sri Lankan Youth for nine years. Lately we have been holding the national brotherhood in Jaffna July 23rd to July 25 every year to build up national unity. SYU has been working for peace since its very inception. In February this year we launched a national youth policy.

QTalking of your national youth policy, SYU had called for vast social change with the abolition of the dowry system and to have only mixed schools instead of boy's schools and girl's schools and many more. Do you think you can achieve these in a society such as Sri Lanka ?

We accept that there may be obstacles to bring these remarks. But we can at least make a start
.
Q How do you see the day to day life in the North since the war ?

One has to accept that it was the people in the North who had to suffer most as a result of the conflict. Also they have been affected by language issues. Life has become difficult in the North as well as in the South. The society has declined. Northern people face issues which are exclusive to them. Many children have lost their parents and wives their husbands. Some have gone missing. At least 15,698 youth are without jobs. The North has become the province with the highest recorded narcotic drugs sales. People in the North have also been hoodwinked by the imperialists.

Q How do you rectify this situation?

People in this country had only felt the heat of communalism during the past years. Many steps have to be taken to bring in national reconciliation. Equality to all ethnic and religious groups should be ensured by the Constitution. The 'National Unity Promotion Bill" should be introduced to ensure national unity. We have been able to instill such an idea in the society during the past few days. A truth commission has to be set up. Issues pertaining to the disappeared and the political prisoners should be resolved.

Q What are your impressions on the recent student clash that took place in the university of Jaffna?

First of all we vehemently condemn this attack. Also we saw that the incident had a face of communal hatred. We are actually saddened by it as we as SYU together with some progressive people are making an effort to establish national unity. No one wants to experience a civil war in this country again.
Some in the North and in the South try to describe this incident as a communal riot. Some politicians including those in the opposition are happy about this incident. In addition some forces in the North also use this incident to fulfill their interests. A child who has been born in and after 1983 had only lived amidst Tamil and Sinhalese communalism. For this reason communalism tendencies have been created in our minds. This is why communalism is spread all over the country. The incident in the Jaffna University is a result of this situation. As a party who works for common interests of the country we condemn this kind of attacks. But we don't provoke anyone just by talking about it over and
over again.

Q The Minister of Higher Education has said the clash in the University of Jaffna was caused by some outsiders and not the students. What are your impressions about
this statement?

We cannot jump the gun and make conclusions. Also this is a sensitive issue which should be resolved with much care. If some one holds some idea about such an issue he or she should make statements with responsibility. If the Government has information to suggest that there is an external force behind the incident, an investigation should be
carried out.

Q Who do you think is behind this incident ?

It is not possible to draw a line and say such a person or persons is or are behind this. One should not allow this incident to go into disastrous proportions. One should not leave room for those who rely on communalism to make use of this incident.

Q Don't you think that such a force should be dealt with?

First of all we don't think this could be resolved only by arresting someone. This is not an isolated incident. It is visible that it is a result of communal tendency which has prevailed in the country for some time. There are laws in the country and rules and regulations in the universities. We believe that investigations should be carried out with this in mind. You cannot resolve this only through punishing someone. One has to be neutral when resolving this, besides the whole society has to play a role in it.

Q What do you think about the concessions given to the youth in this year's budget?

The government had pledged to create one million jobs several times. But it does not seem to have an idea as to how it is going to do it. One proposal was to provide tabs for the youth. On the other hand the internet charges have been increased. They say tabs are given to enhance the knowledge of the youth. In order to do that one has to browse the internet. How can a youth browse the internet when charges are high?
This is like giving milk toffees to a man who has been starving for a long time. The university intake increase up to 50,000 is good. However it is will be implemented in 2020. The Government does not seem to have a plan for this. One should have at least an annual target in this endeavour. Where are those
targets?