---
The speech by the new US President Donald Trump after his inauguration on Friday has been met with mixed reactions – those for him absolutely praising, while those of the liberal left condemning it. Anyway, this has been a hallmark of Trump from the very moment he expressed his desire to seek the Republican Party nomination.
However, most people watched the speech of Trump with a bated breath- those who love him as well as those who hate him. Bated breath because here was a man who defied all odds, beat the intellectuals, liberal elites, pollsters, analysts, commentators, international media, Hollywood stars, INGOs, multinational corporations, international manipulators like George Soros and even the CIA to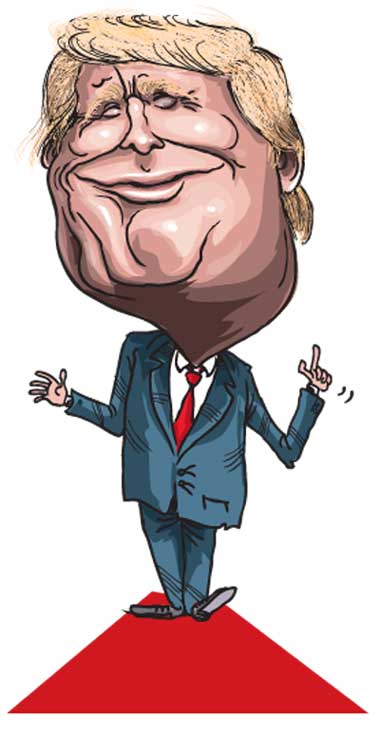 get elected with a record number of electoral college votes. The above list could be very well termed as the Internationalist tribe. Add the European Union and the United Nations system to it and you get the buzz word of all pundits i.e. "The International Community."

As the Godfathers and Godmothers of Neo-conservatism and Neo-liberalism including Bill Clinton, George W. Bush, Barack Obama and Hillary Clinton that presided over this so-called International Community since the mid 90s listened on, President Trump blankly said:
"We will seek friendship and goodwill with the nations of the world – but we do so with the understanding that it is the right of all nations to put their own interests first. We do not seek to impose our way of life on anyone, but rather to let it shine as an example for everyone to follow."
This is exactly the opposite of what the U.S. and the so called International Community has been doing for about quarter a century since the end of the Cold War. They have not respected the sovereignty and the interests of other nations and countries but have been imposing their own interpretations of democracy and human rights on others with missionary zeal reminiscent of colonial missionaries, who came to convert the heathens of invaded countries about three centuries before. It is this lack of respect on the part of the U.S. and the "International Community" towards others that had led to much strife and unrest across the globe with double standards being applied brazenly with regards democracy and human rights.

The words "Democracy" and "Human Rights" were used as a tool for intervention and destabilization. This double speak and hypocrisy reached new heights under the Obama-Hillary regime with flourishing countries and nations reduced to rubble through the covert and overt assistance of the CIA and the State Department.
It is these destabilization moves that led to the creation of terrorist outfits like ISIS, in a similar manner to how India assisted the creation of the LTTE monster in the early 1980s. Ironically President Obama who was awarded the Nobel Peace Prize was responsible for unloading tons of explosives killing thousands of people in many countries that were destabilized with the intervention of the U.S. and the "International Community."
In such a scenario the plain speak of Trump is more authentic. He did not mince his words but spoke bluntly: "We will reinforce old alliances and form new ones – and unite the civilized world against Radical Islamic Terrorism, which we will eradicate completely from the face of the Earth. "At the bedrock of our politics, will be a total allegiance to the United States of America, and through our loyalty to our country, we will rediscover our loyalty to each other. When you open your heart to patriotism, there is no room for prejudice."

It will be still too early to understand how the State Department and the CIA would function under the Trump administration. But, President Trump's speech indicated a clear attitudinal change. It still remains to be seen as to how far it would go. As far as Sri Lanka is concerned, let us hope that the U.S. and the so-called International Community would leave us alone without "imposing" themselves on us any more as it had been doing during the war and much severely afterwards for the simple reason of defeating a dreaded terrorist outfit.
Let us wish Good Luck to President Trump as he treads a new course in making America great again and hope that a new world order would arise that could make all countries great again and are treated with mutual respect without being dictated upon by the so-called "International Community."