---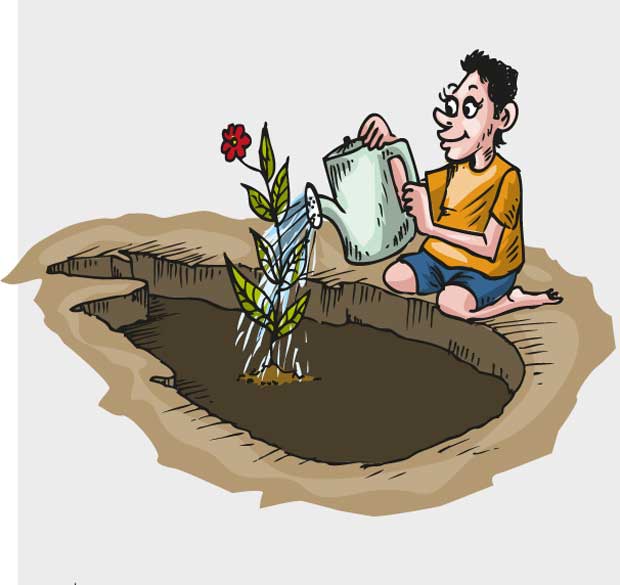 Thursday December 1 will mark the upstaging of a festive season filled with buying sprees and bargain sales. We hear popular or romantic songs about white or blue seasons but this year on a more serious note it is essential to commit ourselves to a green or eco-friendly season and future.
Multifaceted are the dimensions of this green season or future. Also in a small way or big way. All people committed to an eco-friendly Sri Lanka and world, could contribute in their own small way, believing the time-tested truth that little drops of water make the mighty ocean.
An important area to start would be on Mother Earth. The National Government, in one of its most positive moves, has committed itself to a three-year national food production programme and an eco-friendly, all inclusive development strategy. Hopefully it will work out if political leaders are sincere, selfless and sacrificial in their commitment without playing double games as some of them often do. Only if the proper example is set will the political leaders get the active cooperation of the people.
One important move being implemented now is the mission to make Sri Lanka a 'Wasa Wisa Nethi' country. Despite counter measures by powerful transnational companies and their vested interest groups here, the government is going ahead with the programme to gradually stop the use of imported expensive and sometimes toxic agro-chemicals. Instead, the farmer community and others are being encouraged and given incentives to switch to organic or bio-farming with the use of cow-dung fertilizer and natural remedies for weeds and pests. Fresh creative thinking is required for this and civic action or eco-friendly groups need to encourage the people to go green in agriculture. One such group is at Fatima Church premises where the Oblate Mission Centre, has been carrying out this programme, bringing packets of pure cow-dung fertilizer from poor villages in the East and selling them for use in home gardens or small plant nurseries here.
" Instead of deforestation we also need to stop cutting trees and instead plant trees for a green festive season and a greener future with green pastures."

From December 1, the government will also launch a countrywide road safety mission based on the theme, "Drive safely and come safely". With tens of thousands of extra vehicles on the road specially after the big fuel price reduction early last year, the number of accidents is rising at top speed with more than 2,300 deaths last year and a higher death toll this year. To curb this big fines are to be imposed for seven traffic offences. While this is good, also important is the need to go green on the roads. The government is giving big tax incentives for the people to buy electric taxies or other vehicles. We hope the people would cooperate to reduce environmental pollution and thus curb climate change to the limits prescribed in the UN-sponsored Paris agreement last year and reaffirmerd at the climate change conference at Marrakesh in Morocco last week. Sri Lanka also has ratified this treaty and we hope it will be successfully implemented here and all over the world though the United States President-elect Donald Trump has damned climate change as a hoax made in China. Thankfully the unpredictable Mr. Trump is also changing his opinion and we hope his colour will change from red to green.
Other vital areas would be for more institutions or even individuals to go for solar or wind energy for which sweeping incentives are being offered. All people also need to play a role in curbing the pollution of fresh water resources and the oceans. Instead of deforestation we also need to stop cutting trees and instead plant trees for a green festive season and a greener future with green pastures.