---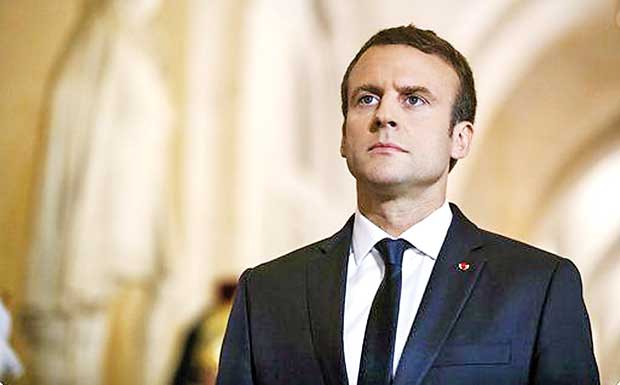 A few days back, hosting media for a New Year reception, French President Emmanuel Macron announced his government's plan to bring in laws to fight fake news in the run up to elections.
"Thousands of propaganda accounts on social networks are spreading all over the world, in all languages, lies invented to tarnish political officials, personalities, public figures, journalists," he said.
"We will develop our legal system to protect democracy from this fake news," the 40-year-old President who himself was a victim of a mass misinformation campaign, declared.

The declaration comes hot on the heels of similar legislation by Germany which came into effect on January1st, this year. However, unlike the French plan the German law is not election specific. The German government has made it mandatory for social media companies such as twitter and Facebook to remove fake news from their platforms within 24 hours after they have been flagged. The failure to do so will see the media entities facing fines up to Euro 50 million.

Meanwhile, the deadline given to Facebook and Twitter by UK's House of Commons to hand over information it has requested about Russian misinformation campaign, during Brexit, on their platforms, expires on January 18. Interestingly January 18 also the date British Prime Minister Theresa May is slated to host French President Macron for the 35th UK-France summit at Royal Military Academy, Sandhurst (RMAS).

Macron who became a victim of a Russian hacking attack during the French Presidential polls last May also was affected by a powerful misinformation campaign allegedly by Russian media. Days after his election the young President lambasted Russian media giants RT and Sputnik during a joint press conference interestingly with Russian President Vladimir Putin. Macron's bold move saw the media splashing the headline "Putin gets Tsar treatment in Paris".
The EU and Britain no doubt are giving signals that they are not in a mood to soft-peddle fake news as the Americans do.
Meanwhile, on Saturday, January 6, Singapore announced that it would set up a ministerial committee to "study the problem of online falsehoods" and offer recommendations, which could even include legislations, if necessary, to counter them. A green paper in this regard is to be tabled in parliament on January 10.
In 2015, not only Singapore, but the whole world fell victim to a prank by a Singaporean student when he shared a fake screen image of Prime Minister's office website with the news that country's founder leader Lee Kuan Yew had passed away. Even media giants like CNN fell for it.
While the above certainly a matter of concern of late Singapore online media have been quite boldly exposing the widening gap in the relations between Prime Minister Lee Hsien Loong and his brothers.
Past few years no doubt saw a meteoricalrise in the dissemination of fake news across the world and even South Asia was not spared.
One of the biggest scandals in the region broke in 2012 when a story was planted, allegedly by the elements within Inter Service Intelligence (ISI) of Pakistan, against the then Pakistan Foreign Minister Hina Rabbani Khar. Incensed by Rabbani Khar's statements at UN that tough actions would be taken against Pakistan's HR violators, the culprits concocted a bizarre story that she was having a torrid affair with young Bilawal Bhutt, the son of then President Asif Ali Zardari and slain PM Benazir Bhutto. Fake images were attached to the story giving it an authenticity.
The news rocked the South Asian nation for weeks despite strong denials by the foreign minister, the first woman to hold the portfolio. Rabbani Khar-Bhutto case is evidence that even the President and foreign minister of a country can become helpless victims with very little leverage in the face of barrage of fabricated news.
Yellow journalism certainly is not a new phenomenon and there's no doubt that action should be taken against culprits who disseminate deliberate lies using various platforms. However, not all news that the politicians or others would dub as fake are fake news.
For instance last year several media entities came under scathing attacks by the government over their exposure of the bond scam which was uncovered by a business website. The media was accused of lying only to be proven a few months later that what they had written was true.
Law makers certainly are not best people to judge what is fake and what is not.
However there's no doubt that there's a need to ethicize media platforms especially online and social media platforms in the best interest of the global community.