---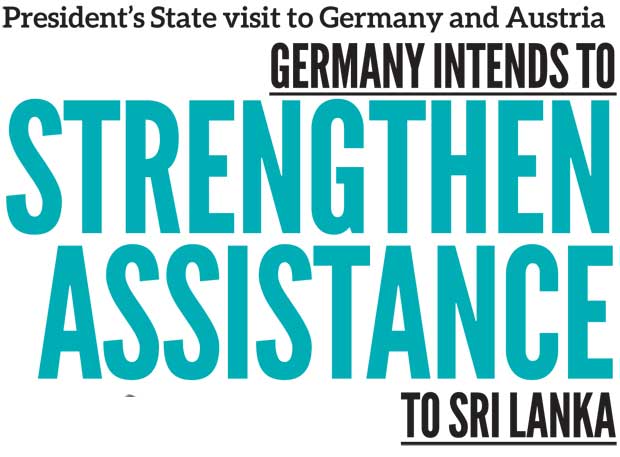 resident Maithripala Sirisena paid a three-day State visit to Germany from 15th. to 18th. and from 19th. to 20th. February to Austria which is considered as a high watermark of the relations between the two countries.
The State visit to Germany by a Sri Lanka's head of state after nearly 15 years and for the first time to Austria are viewed as a crescendo of bi-lateral diplomacy between three friendly Nations. The last Sri Lankan leader to visit Germany was President Chandrika Bandaranaike Kumaratunga in 2001.
The most remarkable outcome that emanated from President Sirisena's State visit last week to the two highly influential EU countries was the consolidating of close links with Germany and Austria which had been in low ebb in the recent times.
The renewed links between the major power and most technology advanced country in the EU,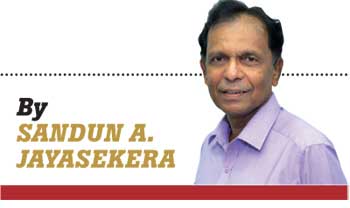 Germany and Austria and Sri Lanka were more significant as the two EU members had an extremely hostile and invasive policy on Sri Lanka before the consensual government came to power in January 2015.
The state visit had all the ingredients to make it successful as bilateral relations between Sri Lanka and the EU are at its zenith today and the most powerful country in the EU, Germany has pledged every possible assistance to Sri Lanka at all international forums.
On the educational sphere, Germany is to increase intake of Sri Lankan students seeking higher studies. The German Stiftungs (foundations) is keen to strengthen assistance to Sri Lanka in the varied development segments.
Small and Medium Enterprises, and Industrial projects will also be assisted. The German Government will look afresh at the links forged already over the years in order to enhance bi-lateral links extending to more than 64 years.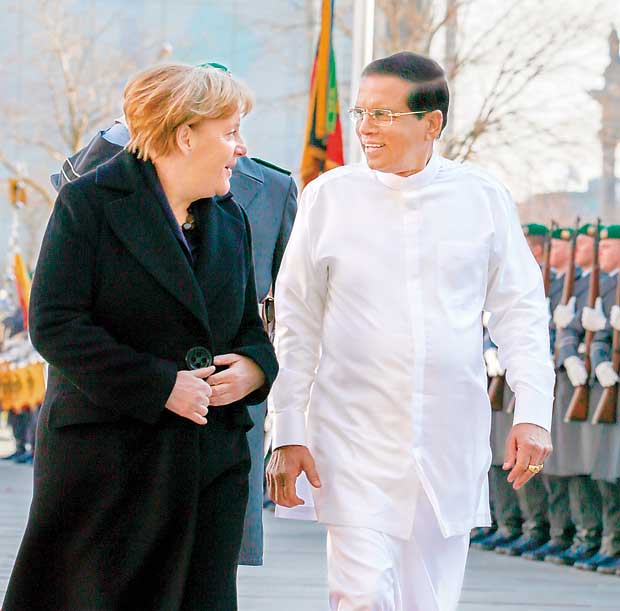 The joint declaration of intent issued in Berlin regarding co-operation on cultural relations and education policy envisages to intensify and promote co-operation in the area of culture.
The German Embassy in Colombo plans to dispatch a mobile library for socially disadvantaged children, young adults and women in remote areas and support the reconciliation process in Sri Lanka.
The German side will examine the possibility of organizing cultural events such as concerts, exhibitions, etc., with German artists in Sri Lanka in the future. The Sri Lankan side intends to support such events as-well-as co-operation regarding bi- and multinational events such as art festivals, concerts and exhibitions.
Germany intends to promote and facilitate language and inter-cultural learning, particularly as part of the initiative "Schools: Partners for the Future (PASCH)". The two sides intend to continue their efforts to promote German as a foreign language in the Sri Lankan national education system. Germany and Sri Lanka intend to promote co-operation in the higher education sector in the form of academic exchanges (professors, postgraduates and undergraduates).
An MOU was also signed by Foreign Affairs Minister Mangala Samaraweera and German Foreign Affairs Minister Frank Walter Steimeier to offer German assistance to develop Small and Medium sector enterprises in Sri Lanka.
"Germany will provide an opportunity to showcase Sri Lankan products of Small and Medium Enterprises and craftsmen in selected trade fairs and exhibitions in Germany and organize a buying mission of Germany to Sri Lanka to manufacturers with potential."

The opportunity will provide under this MOU for training and re-training of managerial skills, product quality improvement, export promotion, technology transfer in Sri Lanka.
The SME apparel sector will uplift the productivity of export oriented Small and Medium Enterprise sized apparel industries and will facilitate for technical capacity development of the apparel sector of Sri Lanka by the management techniques of utilizing man power in production lines and other areas.
Skills development training programmes for traditional craftsmen and entrepreneurship in the field of manufacturing gift items, souvenirs and proper usage of modern tools and equipments which provide global acceptance for Sri Lanka gift and craft items and provide the training on ethical practices expected by the traders and end users in the European market will be in place shortly.
The MOU further envisages technology transfer to enhance the quality standards of the products of Small and Medium Enterprises including toys, telecommunication terminal equipments, medical equipments, electric equipments, which the German Small and Medium Enterprises have a wide exposure with the European market under the new approach to technical harmonization.
Technology transfer programmes to introduce for eco-labelling and packaging for Small and Medium Enterprise manufacturers expect to expand the export market opportunity for Sri Lankan production manufacturing by the Small and Medium Enterprises Sector.

Germany will provide opportunities to showcase Sri Lankan products of Small and Medium Enterprises and craftsmen in selected trade fairs and exhibitions in Germany. and organize buying mission of Germany to Sri Lanka to the manufacturers of potential products such as apparel, tea, rubber, rubber based products and handicraft items for Germany to source from Sri Lanka.
The mission is proposed to consisting of multi product sector exporters to the German market with the objective of studying the opportunity to access the market, counselling from commercial services and create the networking with the government and industry decision makers.
It also intends to establish an integrated product and market development programme for the Sri Lanka automobile industry and organize one to one business meetings with pre-identified buyers to expand the market opportunity for Sri Lankan Small and Medium Industry manufacturers' goods and services.
The MOU with Heidelberg University on the setting-up of a Sri Lanka Chair at the South Asia Institute offers unique research environment with adversity of academic disciplines which includes Anthropology, Economics, Geography, Languages and Literature, Cultural and Religious History, Political Science, Buddhist Studies, Art History etc. offering a variety for linking up with Heidelberg Scholars.