---
A humanitarian crisis of near genocidal proportions is taking place in Myanmar's Rakhine State, yet the world's reaction is confined to mere condemnation instead of sanctions or direct intervention. Although international journalists are not allowed to visit the troubled province that has for the past five years been witnessing state-sponsored terror against the hapless Rohingya, a Muslim ethnic minority living in Rakhine bordering Bangladesh, information pours in through social media. It indicates that another Rwanda or Srebrenica or Darfur is in the making.

If the international community and the United Nations had reacted at the first signs of the troubles, one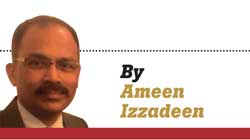 million minority Tutsis would not have been massacred by the Hutu dominated regime in Rwanda from April 7 to mid-July 1994, more than 8,000 Bosnian men and boys would not have been executed by Ratko Mladic's Serb army a year later, and more than 300,000 people would not have perished in Darfur from 2003 to 2010.

Post-conflict measures such as taking the perpetrators to war crime tribunals may serve as a warning to killer regimes. Post-conflict UN reports lamenting the world body's failure to protect civilians caught up in war cannot bring back to life the innocent people killed for the simple reason that they had a different identity to that of the majority within a state.

But immediate intervention under the responsibility to protect (R2P) principle can save life though the concept is highly abused. Powerful states have taken cover behind R2P to justify their self-centred interventions. Yet, a UN-led R2P initiative is the best option available to save the Rohingyas.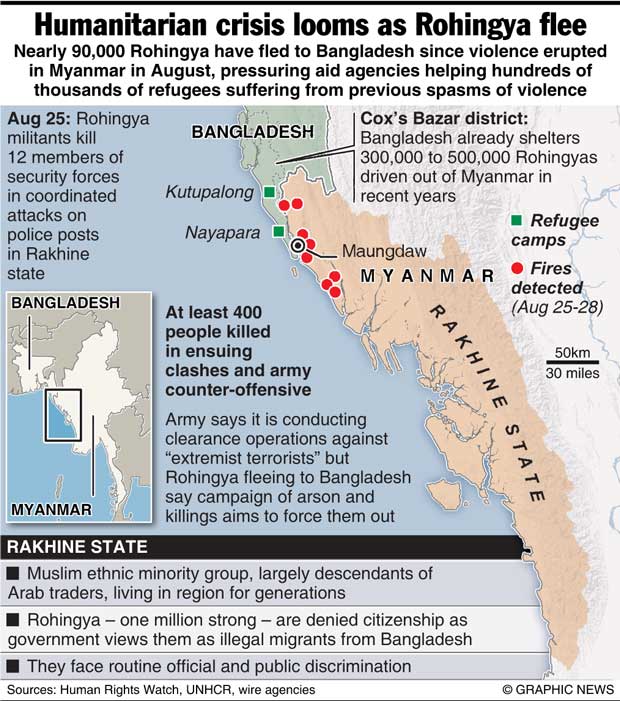 The Rohingyas have faced severe persecution and violence at the hands of the state for decades. They have been stripped of their nationality in terms of a 1982 law, though they have been living in Myanmar for generations. They have no access to state education and employment. Successive Myanmar governments have denied the existence of the Rohingya as an ethnic group, calling the most oppressed people on Earth "illegal Bengalis" instead. However, Bangladesh strongly disputes Myanmar's claim.

Myanmar's strategic importance gives it licence to violate international humanitarian laws and still call itself a fledgling democracy. In other words, geopolitics undermines R2P.

The United States, China and India are in a competition to bring Myanmar under their sphere of influence. They were like three men on their knees proposing to one damsel. They would not mind that she has reddened her lips by sucking the blood of Rohingyas and darkened her eyebrows with charred remnants of Rohingya's wooden huts.

Geopolitics is why the US condemnation is not commensurate with the crime being committed against 1.3 million Rohingyas. Myanmar during the latter part of military strongman Than Shwe's administration (1992-2011) adopted an equidistance policy vis-à-vis China, the US and India, after being under China's economic protection for decades. The visit of the then US President Barack Obama to Myanmar took bilateral relations to a new level where human rights abuses are largely ignored, and if they warrant a mention, the criticism appeared mere routine. With the aim of reducing Myanmar's economic dependency on China, the US has increased economic aid to Myanmar following the country's transition to democracy.

Entangling the Rohingya case in big power politics is China's bid to build a deep sea port at Kyauk Pyu in the troubled Rakhine state – close to Maungdaw -- and an oil pipeline extending from there across Myanmar upto China's hinterland – a shorter energy supply route that circumvents the arduous Malaca Strait. China has won the contract for the port, but is negotiating for an 85 percent stake in the project instead of the 50 percent that formed the basis of the negotiations. The Chinese port project together with an industrial park has ruffled feathers in India's security circles as the port is overlooking India's northeast. Also, Rakhine is believed to be rich in resources, including natural gas.
It was to counter China's strategic foothold in Myanmar that India's Prime Minister Narendra Modi was in Myanmar this week. This is why India has not condemned Myanmar's atrocities against the Rohingyas. Throwing human rights principles into the dustbin of self-centred politics, Modi during his visit sought to enhance cooperation on intelligence sharing amid politically motivated s claims that linked Rohingya rebels with ISIS terrorists following the August 25 rebel attack on police posts. India and Myanmar are also to ink a deal on a 1640 km highway project that would connect India with Myanmar and Thailand – a highway which India describes as its gateway to Southeast Asia and its response to China's One-Belt-One-Road initiative.

With big powers in a scramble to improve relations with Myanmar, the new government which came to power promising to strengthen democracy and uphold human rights, finds itself in a comfort zone from where it could spurn international criticism on the armed forces' oppression against the Rohingyas, whom Pope Francis in a speech in February described as "our brothers and sisters", while calling on Myanmar to stop the persecution.

It is while sitting in this comfort zone of crime that Myanmar is counting on China to block moves to bring the Rohingyas issue before the UN Security Council, and Myanmar's de facto leader Aung San Suu Kyi could dismiss international criticism and irrefutable video evidence as "fake news". The story being churned out by the Suu Kyi's government is that the Rohingyas killed Rohingyas. Journalists who were taken on a guided tour on Wednesday under police escort were told the Rohingyas fled because the Rohingya rebels were burning their villages. The hard-to-believe story does not provide answers to questions over refugees who bore gunshot wounds, women who were raped and mutilated bodies found in Rakhine jungles.

Suu Kyi's government has blocked UN aid agencies from delivering vital supplies of food, water and medicine to the besieged Rohingyas. A few months ago, a dozen Nobel peace prize winners signed a petition calling on fellow Nobel laureate Suu Kyi to protect the Rohingyas. This week, the youngest Nobel Peace Prize winner, Malala Yousafzai, in a statemnent called Suu Kyi to condemn the "tragic and shameful treatment" of the Rohingyas.

But Suu Kyi's conduct is unbecoming of a Nobel laureate. On the one hand she refuses to defy the military, which is the ultimate power in Myanmar -- a situation that makes the so-called transition to democracy a charade. On the other, if she acts against the perpetrators, she runs the risk of being labelled unpatriotic by the military and extremists led by monk Ashin Wirathu. She failed to act against the extremists, though she had an opportunity in May this year when the Sangha Maha Nayaka Committee, Myanmar's highest Buddhist authority, issued a declaration ordering Wirathu and his Ma Ba Tha organisation to end their activities. Unperturbed, Wirathu continues his hate campaign, while Suu Kyi plays politics with the lives of the Rohingyas.

The Rohingyas crisis is a humanitarian issue. It is not a Muslim issue, though Myanmar's persecution of the Rohingyas has triggered a series of protests in the Islamic world, with Turkey, Pakistan and other Muslim countries issuing strong statements.

Humanitarianism is beyond race, religion and other considerations. If Myanmar cannot solve the Rohingya crisis in a civilized manner, then the international community should intervene. Let the R2P initiative begin with an international conference on the Rohingya crisis.