---
The 75-day curfew, though relaxed in stages in some parts of the country, was finally relaxed countrywide from Saturday, June 6 with travel also permitted to and from the districts of Gampaha and Colombo. This will to a large extent help Sri Lanka return to normal by resuming day-to-day business activities and resuscitating the economy, which was more or less lying dormant, amid the COVID-19 onslaught.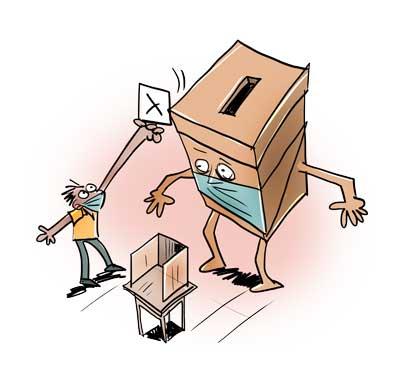 The foregoing of course does not mean we are out of the woods just yet, and for the sake of each others' safety, the people cannot afford to drop their guard and need to continue adhering to the guidelines issued by the country's health authorities. It is unfortunate that these guidelines are often violated, at times blatantly so. Despite the authorities repeatedly threatening dire consequences to people who fail to wear face masks, maintain physical distancing and hand hygiene or avoid public gatherings; some two weeks ago we saw those who attended former minister Arumugam Thondaman's funeral showing scant regard to the maintenance of health guidelines in the visible presence of police personnel looking the other way. We also saw people gathered in large numbers at bus terminals and train stations openly violating health guidelines, while on Monday we saw visuals of United National Party (UNP) trade union leaders gathered at Sirikotha throwing health guidelines out of the window as it were, while attempting to get their message across to the party leaders, whom trade unionists claimed were least concerned about their plight.

Incidents of this nature have prompted many exasperated citizens to ask whether there is any use in attempting to enforce health guidelines if they are permitted to be observed more in the breach, thus putting the entire country -- and by extension the people -- at great risk.

Against this background comes the World Health Organisation (WHO) update on the wearing of masks as a COVID19-preventive measure. It requests people to wear fabric face masks in public where there is risk of infection.

The WHO has also highlighted the fact that face masks are only one of a range of tools that can reduce the risk of viral transmission and should not give a false sense of protection.

"Masks on their own will not protect you from COVID19," the WHO's director-general Tedros Adhanom Ghebreyesus told reporters at a news briefing while the WHO's technical lead expert on COVID-19, Maria Van Kerkhove said, "We are advising governments to encourage the general public to wear a mask. We specify a fabric mask -- that is a non-medical mask," because hi-tech medical masks are found to be too restrictive and can end up making the wearer breathless.

Be that as it may, the number of COVID19-affected patients in Sri Lanka as of last morning were 1,859 with 1,057 of them discharged and 11 deaths, leaving 791 active cases with most of them confined to the Navy or returnees from Middle-Eastern Countries. As such there is no gainsaying the fact that these figures are nowhere near formidable when compared with the devastation caused by the deadly virus in other parts of the world including America, Spain, France, Italy and India where a total of more than seven million were infected and more than four hundred thousand killed. In such a scenario we should applaud Sri Lanka's efforts in curbing the spread of the unseen enemy and limiting its onslaught to a comparatively few.

Meanwhile, the Supreme Court's dismissal of the fundamental rights petitions after a 10-day hearing has once again reverted on the Election Commission the responsibility of deciding the election date, giving sufficient time to political parties and independent groups to carry out their campaigning and conducting the general election under the guidelines provided by the health authorities headed by Health Services Director General Dr Anil Jasinghe.
On Sunday, the Election Commission carried out a mock election at Ambalangoda based on the prescribed health guidelines with EC Chairman Mahinda Deshapriya announcing at a news briefing on Monday that two more mock elections would be held in two other areas. At a news conference yesterday, he announced that the general election would be held on August 5 and assured all stakeholders that the Commission considered their safety a priority.

Whether the fear of a coronavirus infection while participating in the election process would limit the number of people prepared to exercise their franchise and whether under these restricted circumstances a free and fair election giving priority to the safety of the people could be conducted countrywide, is anybody's guess.