---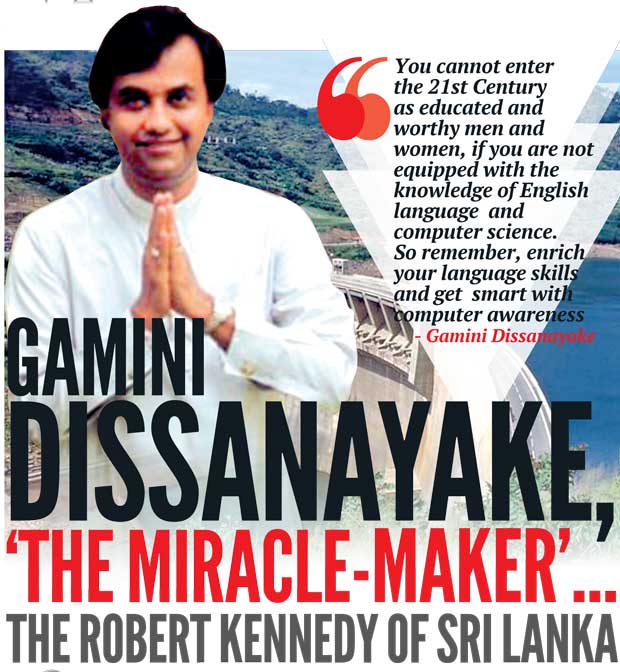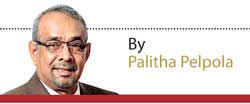 Gamini Dissanayake's birth anniversary fell on March 20. Commenting on the assassination of John Kennedy in 1963 in Dallas, Texas, Marian Wright Edelman, President and Founder of the Children's Defence Fund stated thus: "So much of the deep lingering sadness over President Kennedy's assassination is about the unfinished promise, unspoken speeches, unfulfilled hopes, the wondering about what might have been." Those words would have been truer about Gamini Dissanayake.

Many eulogies have been delivered by world leaders of our era praising the gutsy and determined President Kennedy. A man whose footprints are embedded as a rock in the shifting sands of time and history, John Kennedy was a leader par excellence. In a world that was then caught up in a quagmire of cold war, with the then Soviet Union feverishly hostile to America on all fronts -- economic, military and culture -- the USA lent leadership to the West that consisted of an array of post-World War II leaders of the calibre of De Galle of France, Harold McMillan and Alec Douglas Home of Great Britain and Konrad Adenauer of West Germany.

John Kennedy's brother Robert (Bob), however, was different in that Bobby's apparent air of ultra-liberalism, his open acceptance of 'Black America' as an integral part of the whole American nation and advancing the cause of equality among drastically diverse communities in the southern states of America where more than fifty percent of the African-American population lives, were indeed a fresh wind sweeping across all parts of the USA. Bob Kennedy was a man ahead of his time.

If Bob was a man ahead his time in that part in the West, Gamini Dissanayake was a man ahead of his time in this part of the world. Gamini's credentials were impeccable. His political genius had no equal at the time and to date stands unique and unmatched. What brought him to such great heights? How did he manage to win an election in 1970 in Nuwara Eliya when most of the stalwarts of the United National Party (UNP) were routed out of power? As a newcomer into politics, Gamini secured the Nuwara Eliya seat against a sitting MP. Of course, one cannot understate the fact that Gamini's campaign was managed and run with ruthless efficiency by his brother-in-law Dr. Wickrema Weerasooria, a name that came to be feared by his political rivals in the late 1970s and 80s as one person who introduced a totally new campaign culture and transformed the art of election-campaigning into a science.

Wickrema apart, Gamini's charisma took the nation by storm when he took a seat in the then Opposition in Parliament. His prowess with words, either Sinhala or English, under the guidance of Dudley Senanayake and J.R. Jayewardene -- in and out of Parliament -- was second only to another firebrand orator R. Premadasa.

Oratory is one part of a clever politician. But oratory alone does not make a complete politician. His or her rhetoric must essentially be matched with action, policies, principles and authenticity to achieve any degree of success. "Reading maketh a full man; conference a ready man; and writing an exact man" Francis Bacon said. In terms of Bacon's characterization, Gamini fulfilled all aspects of a man being full, ready and exact. He not only was eminently credentialled to be full, ready and exact. What set him apart from the politicians of today was that he went out of his way to make each and everyone around him also attain those lordly heights. His reading habits, his extraordinary ability to converse and instil in others his point of view and his superlative writing skills would have made today's politicians look mere amateurs and utterly puny tyros in an unforgiving arena of hard-nosed professionals.

What was promised by Bob Kennedy to America in the 1960s; Gamini, in a very fundamental sense, held out to Sri Lanka in the late 1970s, 80s and 90s. Bob Kennedy would have been the 'first Black President' of the USA -- so they say -- had he not been gunned down by Sirhan Bishara Sirhan in 1968 during the Presidential Primaries. Had Gamini Dissanayake not been killed by the Liberation Tigers of Tamil Elam (LTTE) in 1994, he might well have been dubbed as the one leader Sri Lanka had who delivered the country from the 20th Century to the 21st. The projection he held out to the settler families in Kalawewa in the early 80s, that computer science and English language as the defining subjects of our future generations and his vigorous efforts to promote those subjects among those who followed higher studies at the time are fondly remembered by his colleagues in politics and staff in the two Ministries that he was in charge of.

Completing the gigantic Mahaweli programme in six short years, initiation and granting of Swarnabhumi lands to the landless and winning 'Test' status for Sri Lanka's cricket are no mean miracles. All these feats were game changers. If not for the Mahaweli programme and its capacity to produce a critically significant amount of hydro power, Sri Lanka today would still be dwelling in darkness; had the Swarnabhumi land scheme not been implemented, a third revolution by the rural youth might have overpowered the prime movers of power in Sri Lanka, and of course, without 'Test' status, the plight of Sri Lankan cricket would have been just a footnote in the pages of cricketing history. While in the last twenty years, Sri Lanka did not see a single major development scheme (except of course the end of the ethnic war), it took Gamini Dissanayake only thirteen years to radically change the lives of ordinary men and women for the better. In thirteen short years he changed the history and geography of Sri Lanka.

The unique feature in the changes that Gamini brought about was that their effects were felt by the local population almost immediately. When the massive headwork programmes that included, among others, Victoria, Kotmale (now named after Gamini Dissanayake himself), Randenigala, Rantembe, Maduru Oya and Ulhitiya were undertaken, all the local contracts from gravelling of byroads to preparation of meals for the workers were handled by indigenous Sri Lankan companies and individuals. Trickle-down effects of a thriving economy were enjoyed by the village folks.

Gamini stood before the windswept landscape of the Kalawewa Tanks and under the shadows of the serene and sublime Aukana Buddha statue, addressed the students of the 'H' area (the area that is enriched with the Mahaweli waters in the Anuradhapura District is known as), the children of original settlers who were given land in the downstream Mahaweli programme, and prophesized: "You cannot enter the 21st Century as educated and worthy men and women, if you are not equipped with the knowledge of English language and computer science. So remember, enrich your language skills and get smart with computer awareness". And thanks mainly to the dogged efforts of Ms. Srima Dissanayake (Gamini's widow), today the Gamini Dissanayake Institute of Technology and Vocational Studies in Nuwara Eliya, which was initiated in 1995, is continuing to contribute its mite to Gamini's prophesy.

Gamini Dissanayake was a great stalwart of the free market economy and Social Democracy. His commitment to the cause he undertook to pursue and his liberal outlook of society and politics placed him above the rest. He was not a giant among pigmies; on the contrary, he stood tall among the tallest and commanded the respect of his rivals as well as his followers. Once christened as a 'nation builder' by J. N. Dixit, the then Indian envoy in Sri Lanka, Gamini indeed was a monumental figure in Sri Lanka's politics of the second half of the 20th Century. Today the young generation might not know him as one whole generation born after his death has come of age, but their parent generation would remember him with unreserved delight and awe.

Robert Kennedy's memory is fast waning in the United States of America. Yet, the hope and promise that he held for the American people continue to inspire and motivate all Americans to aim even higher. Kennedy died when he was fully engaged in a Presidential Primary campaign. What was lost to America was immeasurable and had he lived, he would have won the Democratic nomination and then Presidency. Had Gamini lived, he had more than a fighting chance to win that election in 1994. What was lost to Sri Lanka was immense and beyond comparison.

When swirling winds sweep across the Mahaweli Development fields, when a single light bulb is turned on in the remotest hamlet, when a home is constructed on a Swarnabhumi-grant land, when a square cut or a cover drive is exquisitely executed by a Sri Lankan cricketer on a world cricket field, the echo that pierces the blue skies is the unheard chants of victory that we never had the good fortune to hear and applaud. That echo would continue to meander in the lonely skies and desolate landscapes in Sri Lanka.

Gamini we love you.
May you attain Nibbana!
The writer may be contacted at palithapelpola@gmail.com