---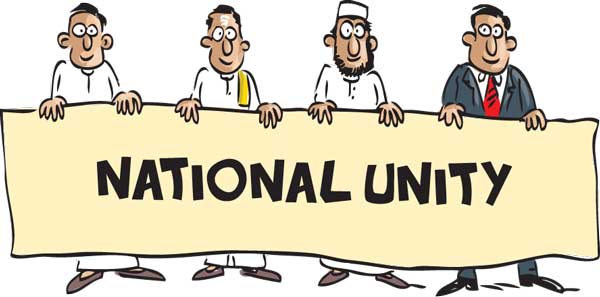 Independent Sri Lanka's first Prime Minister D. S. Senanayake -- widely respected as the father of the nation -- made an extraordinary contribution to the sustainable development specially in the agricultural sector with the revival of the historic Parakrama Samudra, which had a 14-km-long bund and launched the first major Laksapana Hydro Electric Power Project.
DS, as he was affectionately known, also gave high priority to the principle of unity in diversity among the people of all races and religions. So much so that in 1946, the British Colonial rulers offered him a knighthood but he politely turned it down because truly great men need no such titles. His greatness was seen most in his simple and humble lifestyle on the lines of the hallowed Alpechchathawaya. According to an article on this page, DS did not use luxury vehicles or jeeps but travelled by train, bullock cart or on horseback. In the night he did not stay in luxury hotels but instead in camping tent huts or under a canopy with a hurricane or lantern light. He also did not go abroad to find solutions to Sri Lanka's problems.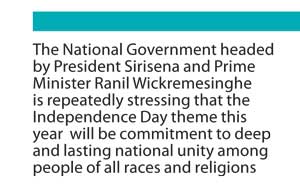 Today, as we celebrate the 68th anniversary of our Independence we need not only to remember patriots such as DS Senanayake but more so do what he did by working sincerely and with commitment for national unity in diversity and by living in a simple and humble way.

In the footsteps of heroes like DS, President Maithripala Sirisena -- who was elected in the historic people's revolution of January 8, 2015 -- repeatedly says that he is the chief servant leader of the people. Like DS the President is also committed to the mission of working for national unity in diversity and to a simple and humble lifestyle. He has called on government leaders, politicians and other leaders to avoid wasteful expenditure, luxuries or extravagance.

The National Government headed by President Sirisena and Prime Minister Ranil Wickremesinghe is repeatedly stressing that the Independence Day theme this year will be commitment to deep and lasting national unity among people of all races and religions. The vision is to create a multi-racial, multi-religious and multi-cultural society where we not only protect and promote diversity but also celebrate it. Government leaders also say that 2016 will be the development year with the emphasis on a sustainable eco-friendly and all-inclusive economic strategy.
That means millions of poor people, now struggling for existence, will be brought directly into the economic growth strategy mainly through the setting up of some 2,500 cluster village development councils.
While the two major parties, the United National Party and the Sri Lanka Freedom Party are working together in a national government for the first time since Independence, we have also seen the emergence of a dissident faction pledging loyalty to the former President Mahinda Rajapaksa.
This dissident faction comprising more than 40 parliamentarians of the United People's Freedom Alliance calls itself the joint opposition and has vowed it would boycott today's Independence Day ceremony at the Galle Face Green.
This faction has warned it will also boycott other major State functions and development projects. Minister and UNP front-liner Sajith Premadasa had some vailidity when he pointed out yesterday that the two main factions boycotting or criticising today's Independence Day ceremony were the dissident Rajapaksa faction and the LTTE's Tamil diaspora.
The Government, the Opposition and all the people need to remember one important fact not only today but also in the months and years to come.
The right to freedom, like all rights, is linked to our responsibilities. To the extent we fail in our responsibilities, to that extent we forfeit our rights. Our main responsibility is to put our country's interests before any party or personal gain or glory. If we fail in that responsibility and are enslaved to selfishness or self-centredness, then any external freedom is a bluff.