---
Over the week, at least three cases of teachers physically abusing pupils at their schools were reported from different parts of the country.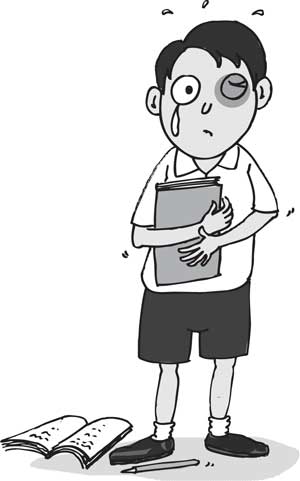 Last week, the Kandepola Police launched an investigation against a teacher attached to a school in the Nuwara Eliya Education zone regarding an incident of assaulting four Grade five students who had remained after school to attend extra classes for Grade five scholarship examinatins. Four students who had gone out of school for lunch had mischievously thrown a stone at a girl in the same class and a male teacher who saw this is reported to have assaulted the four. During his assault the teacher had kicked one pupil on his back and the latter had to be rushed to hospital. Later the child's father had lodged a complaint at Kandepola police station.

Another incident of teachers using violence on pupils was reported from a school off Anuradhapura. A grade seven student had been admitted to the Anuradhapura Teaching hospital after regular spells of fainting. The 12-year-old child's father had complained to the Police Children and Women's Bureau of the Anuradhapura Police saying that a teacher had assaulted his son on May 29. According to the complaint the boy had been assaulted based on a false allegation that he had scolded the teacher.
The latest incident was reported from one of the semi-government schools in Colombo. A nine-year old boy was reported to have been assaulted by a female dancing teacher last week. Having lost patience with the child who had been identified as a slow-learner, the teacher had hit the student's hand with a stick normally used to beat a traditional drum. This caused a fracture of the boy's arm, causing the fractured area to be covered with a plaster of Paris cast. The student's guardian had lodged a complaint to the police and the National Child Protection Authority (NCPA).

Commenting on the complaint, NCPA chairperson Marini De Livera described the incident as a case of alleged violation of a child's right to dignity and education. "Cruel and degrading treatment has been regarded as a serious form of torture under Article 11 of the Constitution," she said and added that Sri Lanka was also a signatory to the United Nations Child's Right Convention and as such was obliged to adhere to international standards of child rights.

Whatever the paperwork may state regarding existing regulations or conventions to protect children's rights, it is the paramount duty of society to love and protect children, for the future belongs to them. Any unpleasant experiences or trauma he or she undergoes at school or home will affect the personality, with negative effects on society once the abused child grows up with mental scars.

On the other hand, teachers punishing children is not something unknown in our culture. Corporal punishment like caning has been used to instill obedience and discipline among children. Many adults claim that they now regard these punishments as a blessing because that helped them to be better citizens or to become who they are now. But this is now an obsolete view. In many parts of the world, corporal punishment is banned in schools.

Eastern cultures place teachers on revered positions, second only to one's own parents. In return, thousands of teachers have lived up to this expectation and they have been exemplary shapers and gurus of our societies. Unfortunately amid the rapid social and economical changes, teaching has become one of the most frustrating and least paid professions in Sri Lanka. It has forced many male teachers to give up teaching as it was hardly possible for a male teacher to maintain a family with the salary of a teacher. On the whole, teachers, both male and female, are made to struggle desperately to make ends meet, and the the resulting frustration would naturally be released on helpless students.

Violence in the education system, starting from the primary level to the tertiary level, including violence among students, teachers abusing students and ragging at universities, are recurring issues that need to be urgently addressed and resolved. If violence, in various forms, continues to be a part of education, the country will inevitably have a future generation, which is prone to violence.