---
In our editorial yesterday, the Daily Mirror highlighted the need to conserve water with the onset of the South West Monsoon and we also stressed that rain should not be considered as bad weather. But even a blessing could turn out to be a major disaster mainly because of the tens of thousands of water conservation Wewas being abandoned, the lack of proper drainage systems and the unauthorized constructions near canals and waterways among other problems.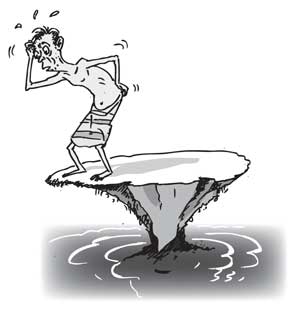 Persistent rains since May 18 and particularly heavy showers and landslides on Thursday night have left at least 65 people dead, more than 100 missing, hundreds injured and hundreds of thousands displaced in different degrees of despair and destitution. The Kelani River, the Kalu Ganga, the Gin Ganga and other rivers are rising not only because of the heavy rain but also because the major water reservoirs are overflowing and sluice gates have been opened sending more water into the rivers. Hundreds of thousands of families were yesterday plunged into uncertainty and fear, dreading a repeat of the catastrophe of May last year.

Apparently learning from experience, the government has acted fast and deployed the police and the security forces for a full scale rescue and relief operation in several districts. But many analysts are asking why flood-protection action was delayed even while we had an extra long drought from
last year.

Yesterday, Megapolis and Western Development Minister Patali Champika Ranawaka ordered the destruction of illegal constructions that were blocking canals and waterways. He warned that the Kelani River water level was rising and there was a major flood threat in the Colombo city, Kolonnawa, Kaduwela, Wattala and Keleniya among other areas. The Land Reclamation and Development Corporation (SLRDC) was ordered to destroy the illegal constructions but again the valid question was why they waited to take action till disaster struck.

Analysts also say that during the long drought little or nothing was done to clear a large number of polluted rivulets in Colombo and the suburbs.

A related catastrophe is what we have done with our marshlands or wetlands. After the flood havoc last year, the Daily Mirror spotlighted how the construction of housing schemes and other buildings on what were once marshlands has contributed towards the calamity.

According to global scientific analysts, when an area is flooded, wetlands act like a giant sponge. This is because the living plants and even the dead plants can absorb the extra water. By doing so, wetlands also help slow down the movement of the water to surrounding areas where people may have houses. So, having wetlands in areas where there is regular flooding may save our homes.
Scientists say wetlands are important features in the landscape that provide numerous beneficial services to people, fish and wildlife. Some of these services, or functions, include protecting and improving water quality, providing fish and wildlife habitats, storing flood waters and maintaining surface water flow during dry seasons.

These valuable functions are the result of the rare natural characteristics of wetlands. Wetlands are among the most productive ecosystems in the world, they are comparable to rain forests and coral reefs. An immense variety of species of microbes, plants, insects, amphibians, reptiles, birds, fish and mammals can be part of a wetland ecosystem.

The microbes, plants and wildlife that inhabit the wetlands are part of the global cycles for water, nitrogen and sulphur. Scientists now know that atmospheric maintenance may be an additional wetlands function. Wetlands store carbon within their plant communities and soil instead of releasing it to the atmosphere as carbon dioxide. Thus wetlands help to moderate global climatic conditions.
Far from being useless, disease-ridden places; wetlands provide values that no other ecosystem does. These include natural water quality improvement, flood protection, shoreline erosion control, opportunities for recreation and aesthetic appreciation and natural products for our use at no cost. Protecting wetlands can protect our safety and welfare.