---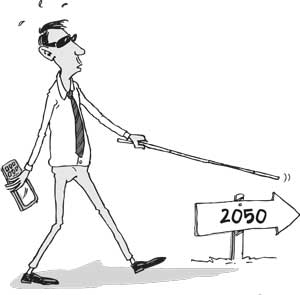 In the Daily Mirror editorial last Wednesday we highlighted a shocking report by Transparency International's British branch which exposed the extent of corruption in the worldwide pharmaceuticals and healthcare sectors, warning that this posed a danger to the lives of millions of people. According to the report, worldwide 70 % of people said they had paid a bribe when dealing with the medical sector and 45 % believed medical and health services to be corrupt or extremely corrupt.

Three highly respected Sri Lankan professors, in an interview telecast on the Sri Lanka Rupavahini Corporation on Wednesday night referred to global netwroks reducing cultures everywhere into a marketplace. They said Sri Lanka's people need to become aware of this and take realistic, preventing measures instead of indulging in racism as some extremists do. These global networks are associated with the arms trade, agrochemicals and pharmaceuticals.

In this context we need to open our eyes today to what is happening to our eyes which we consider as one of the most important parts of the body. We often say we will look after something precious as much as we look after our eyes. Therefore the report we are going to reflect on today needs to serve as an eye-opener. The website Science Alert in a report issued yesterday warns that if current trends continue, half the world's population, almost 5 billion people, will be short-sighted in about three decades, with one-fifth of them likely to have a significantly increased risk of blindness, a new study reports.

That's a seven-fold increase in short-sightedness or myopia from 2000 to 2050, and despite the condition becoming so rapidly prevalent, scientists still can't agree on what is causing it. It would be easy to link our obsession with computer and phone screens to the so-called myopia epidemic, but things were that simple.

The report says that from the 1970s to the early 2000s, cases of myopia almost doubled in the United States, and in certain parts of Asia, the rise has been even more dramatic, with a recent survey finding that as many as 96 percent of teenagers in South Korea are short-sighted. In Singapore, China, and Japan the rate is around 80-90 percent.

Now a new report by an international team of researchers has looked at the rise in myopia cases over the past few decades to come up with predictions for the future. Looking at data from 145 studies covering 2.1 million participants, they found that in 2000, some 1,406 million people were diagnosed with myopia (22.9 percent of the world population) and 163 million people had high myopia, which comes with an increased risk of blindness and cataracts.

"We predict by 2050 there will be 4,758 million people with myopia -- 49.8 percent of the world population--and 938 million people with high myopia," they conclude in the journal Ophthalmology.So what is going on here? Just looking at how recently this has become a crisis, it seems likely that the sudden rise in myopia cases is linked to lifestyle and behaviour changes over the past few decades. The researchers put it down to "environmental factors, principally lifestyle changes resulting from a combination of decreased time outdoors and increased near work activities, among other factors."

We are spending much more time indoors than any other period in human history, and very few of us could live without some serious daily screen time, either for work, school, or pleasure. But what scientists are struggling to figure out is, what biological mechanisms are at play to make such drastic, physical changes in the structures of our eyes? How do we turn this correlation into causation?

The best evidence there is now is not increased screen time -- because the increase in near sightedness happened long before smart phones became mainstream -- it's the lack of outdoors time that screens have made progressively worse. So let us switch the screens off and take a good old walk.