---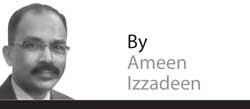 What has happened to Turkey's President Recep Tayyip Erdogan? It appears he has lost his balance and is epitomizing the time-tested political maxim that power corrupts and absolute power corrupts absolutely.

Domestically, he is leading Turkey to tyranny, after he elected himself as President while, at international level, he is being seen as a conceited bully. The latest world leader to give into his threats is German Chancellor Angela Merkel.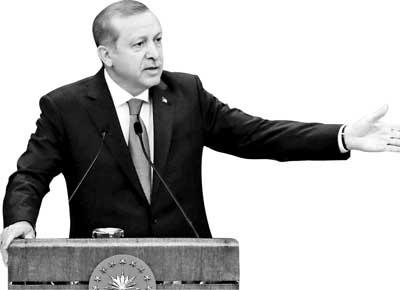 She apparently undermined Germany's commitment to liberal values and agreed to the prosecution of a comedian who insulted Erdogan. Comedian Jan Böhmermann is to be tried under an archaic law which prosecutors have not invoked for ages.

Merkel's move only encourages Erdogan to continue to be a dreaded despot at home and a strong schemer in the Syrian crisis and the refugee problem that has become a humanitarian headache for Europe. He is also demanding that Merkel should make a public announcement that it is wrong to ridicule him. Emboldened, he says "the European Union needs Turkey more than Turkey needs the European Union."

Böhmermann may be wrong when he, in his late-night talk show, broadcast a poem that portrayed Erdogan as committing sex with animals, "kicking Kurds and beating up Christians while watching child porn."

The content of the poem, no doubt, is gross and defamatory of Erdogan, however bad he is. It should ignite a debate on the boundary between freedom of expression and irresponsibility or indecency. But the bigger buffoonery is not what Böhmermann performed, but it was Merkel's decision to reward a dictator. Merkel's action only underscores the charade behind the West's commitment to human rights, democracy and liberal values.

The West's own record in places like Vietnam, Cambodia, Afghanistan, Iraq, Pakistan and other trouble spots shows it has little or no qualms about violating human rights and humanitarian laws, when such violations suit its agenda. Also Western nations say nary a word when human rights are violated by their Middle Eastern allies. The United States, for instance, encourages Israel to continue with its suppression of the Palestinian people, instead of taking punitive measures to make the Zionist state pay for its crimes.

The US, Britain, and France turn a blind eye on Saudi Arabia's excesses at home and in Yemen. They compete with each other to reward Riyadh with billion-dollar arms sales. The West also turns the other way when Erdogan's actions prop up the terror outfit ISIS. Recent Russian satellite images show bowsers said to be linked to a company owned by a scion of the Erdogan family lining up to fill stolen fuel sold by the ISIS on the Syria-Turkey border. It is no secret that Turkey, together with its close ally Saudi Arabia, also arms Syrian rebel groups allied to ISIS and the al-Qaeda-affiliated al-Nusra group. European nations also feign ignorance over Turkey's culpability in aggravating the Syrian refugee crisis.

This is Europe's dirty politics, which also manifests in Merkel's decision to reward a miffed-and-puffed potentate in a bid to protect the European Union's recent refugee agreement with Turkey. In terms of this agreement, Ankara has agreed to accept refugees turned back from Greece in exchange for more aid, reopening talks on Turkey's accession to the EU and a liberal visa policy for Turks to visit EU nations. As Erdogan holds Europe hostage to the refugee crisis, the EU will pay US$ 6 billion a year to prop up his tainted regime.

The reward to the wrongdoer comes notwithstanding the European Parliament's damning report on Turkey's human rights record. The 2015 report accused the Erdogan regime of "backsliding" on its commitment to democracy, the rule of law, human rights and media freedom.

With powerful countries like Germany genuflecting to the Sultan in Ankara, he becomes bolder by the day to carry on with his abuses at home.

He has been ruling Turkey since March 2003 -- 11 years as prime minister and, since 2014, as Turkey's first elected President. It was democracy that helps him reach the pinnacle of political power, but modern Turkey has not seen in its history a leader who has abused democracy and democratic institutions as Erdogan has. In comparison, even Turkey's military regimes of the past appear more benevolent.

In recent comments that followed his regime's crackdown on dissent in the wake of a series of bomb blasts, Erdogan said democracy, freedom and rule of law had no value any longer. And in George Bush style, he declared that those who did not support his government's efforts to combat Kurdish terrorists were Turkey's "enemies." In another preposterous outburst, he said the definition of a terrorist should be changed to include MPs, civil activists and journalists, who, in his opinion, support the Kurdish people's autonomy call.

He included journalists in his definition of a terrorist, probably, in a bid to justify his suppression of media freedom, the imprisonment of journalists and the takeover of the country's largest newspaper group that publishes the popular English language newspaper, Today's Zaman.

On Tuesday, the Turkish police arrested more than 100 people connected to an Islamic welfare movement headed by a US-based Turkish scholar, Fethullah Gulen. The Gulen movement runs a large network of charity organisations, schools, universities, publishing houses, media groups, Islamic banks and businesses in Turkey and more than 100 countries.

Erdogan and Gulen were allies until police and prosecutors opened a corruption inquiry into Erdogan's inner circle in 2013. Erdogan accuses Gulen of trying to run a parallel government and suspects that the movement's members have penetrated the country's judiciary and the police. In one of the shocking scandals that made headlines in 2014, Erdogan was heard in an audio tape allegedly instructing his son to hide tens of millions of euros stored in his house. Erdogan's son Bilal is under investigation in Italy for money-laundering charges. Bilal is also being accused of profiteering from oil purchases from ISIS.

Erdogan claims corruption charges against him, his family and the government were orchestrated by the Gulen movement.

Erdogan, who last week hosted the Organisation of Islamic Cooperation summit, came to power on a promise to usher in stability and democracy in a country that has seen many a military takeover in its chequered history. His main support base was the country's conservative majority who saw in Erdogan a savior who would end the oppression of their Islamic culture, which the Kemalists – the then ruling elite – saw as a sign of backwardness and incompatible with the state principle of secularism.

The Kemalist regimes banned women from wearing the veil or hijab in public life and controlled religious schools, the clergy and Friday sermons.

Erdogan's AK (Justice and Development) Party teamed up with the Gulen movement, saying it wants to empower the marginalised majority and alleged that the military, the judiciary and the bureaucracy formed a deep state that directed the affairs of government. And now, it appears, Erdogan is the Deep State.