---
Recent UN and FAO reports reveal that world is losing forest at the rate of 3 million hectares a year, according to 2010 - 2015 figures. Sadly, Sri Lanka has also been trapped in the same boat for many years, and our forest cover is below 20% of the land. However, dwindling forest resources are known to have several serious drawbacks. First, it robs the present and future generations of valuable and wide-range plant species around us.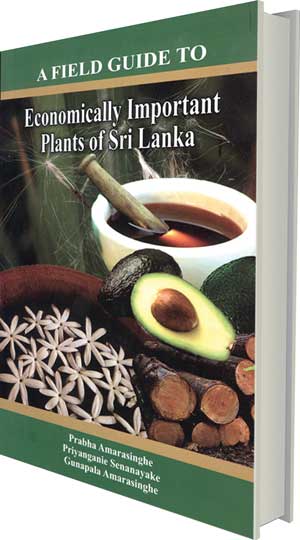 It makes certain plant species extinct forever. Such extinctions are an unbearable loss, particularly to Ayurvedic and other indigenous treatment systems that depend heavily on medicinal plants.
Secondly, diminishing forest cover is known to have an adverse impact on the environment as well as the climate.

It is in this backdrop that the publication "A Field Guide to Economically Important Plants of Sri Lanka," authored by three eminent local scientists namely Prabha Amarasinghe, Priyanganie Senanayake and Gunapala Amarasinghe, comes in handy. The awareness raised on the subject matter by these erudite academics of top echelon can be considered highly beneficial.

Professor Gunapala Amarasinghe currently serves as a Professor at the Department of Kaumarbhrithya, Institute of Indigenous Medicine, Colombo University, while Professor Priyanganie Senanayake extends her services to the Department of Botany, Kelaniya University, at the capacity of an Associate Professor. On the other hand, Prabha Amarasinghe, a graduate of the Peradeniya University with an MSc in Molecular Life Sciences from the Colombo University, now continues her further studies in the US.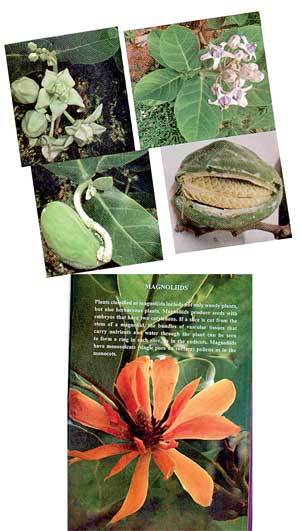 However, Miss. Prabha has the rare distinction of describing a new plant species just after her first graduation. It is a new species of Anitta found in secondary forests of dry lands in Sri Lanka, and has been named 'Rhinacanthusflavovirens Amarasinghe & Wijesundara.'

This book highlights some 144 economically important plant species, and creates awareness on the significance of each of them. It is no secret that many plant species have disappeared in recent years as a result of clearing of land for urbanization and other development projects, in addition to illegal clearings. Sadly, except for the older generation, the present generation is hardly aware of the plants that grow around them. If this trend continues, the resultant would be a future generation clueless of what surrounds them.

Accurate identification medicinal herbs are of paramount importance for Ayurvedic and indigenous treatment as laid down by our ancestors.This book, however, positions itself as an excellent guide supporting the correct classification of medicinal herbs. It should be noted that 135 of the 144 plant species described in this book are well-known medicinal herbs.

The main botanical features for each plant species are given with colour photos to identify them accurately. This field guide follows the latest taxonomic classification introduced by the Angiosperm Phylogeny Group at the time it went for print. The plants described in the guide are arranged in their respective families under different higher taxonomic classes. Vernacular names, medicinal and other economical uses are also jotted down, further emphasizing the value of these floras. Glossary of medical and technical terms listed in the beginning of this book will be of use to any novice who wishes to use the guide.

However, I recently happened to visit a rural area in close proximity to Tantirimale in the Anuradhapura District to take part in a religious function at a newly-constructed Buddhist temple. Witnessing a number of trees, apparently of the same species, full of beautiful flowers in the temple premises, I inquired from a villager as to what these plants were called.

He replied "Helamba," which was right. I then turned around and asked the same question from several others who had joined me from Colombo, only to see their drained faces turn mute. They were unaware.

This little incident is evident that it is the diminishing older generation who are aware of the environment. This is where books of this nature can play a vital role in tempting and making the general public mindful of their surroundings.

The authors of this guide should be commended and congratulated for producing a timely book of this nature. All those interested in medicinal plants, particularly Ayurvedic physicians, teachers, medical students, botanists and agriculturists, will find this piece of literature very useful, and it is a must for any library. Authors should seriously think of extending this work to include some more plant species of economical importance in Sri Lanka. Further, they should consider a Sinhalese translation of this book.

Reviewed by
Emeritus Professor
Piyasiri Amilasith Yapa