---
In the Vision 2025 programme for sustainable, eco-friendly and all-inclusive development, the National Unity Government has quite rightly given the highest priority to education. All students in public, private and international schools will have 13 years of education. Even those who fail at the General Certificate of Education, Ordinary Level examination will be encouraged to go in to a vocational training field such as high technology or other skilled areas for which there is a good
job market.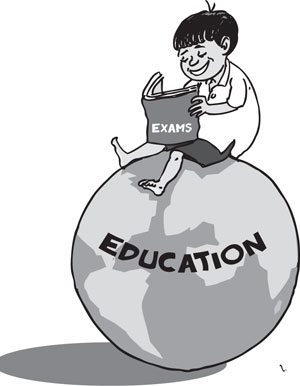 In addition the government has given health and life insurance policies for some 4.5 million children in all schools. This has been widely welcomed as being immensely beneficial specially for poor and middle class children because there had been many cases where one major illness has made the family bankrupt.

The government is also planning to set up e-classes in universities and schools with the highest technology being used for students to rise to the highest level and get well-paid jobs here or overseas.

We hope the government also will give priority to the setting up of green schools or universities where there will be solar-energy panels, classes that work directly by sun or wind power without a roof and with provision for tent cover if there is rain.

These green schools, working well in countries such as Singapore and Malaysia, also have recycling systems for excess food and it is often turned into organic manure.

Yet as in all good things there is a negative and even dangerous side to high technology including smart phones. Specially underage children who have been unwisely given such smart phones by their parents are known to have fallen into deep trouble with girls being raped and forced to commit suicide. At the GCE Ordinary Level examination which ended on Wednesday there were several incidents where students had allegedly tried to use smart phones to help them find answers and explanations in violation of examination laws.

In Piliyandala on Thursday, a youth who allegedly impersonated an O/L student and sat on behalf of him for the examination, was taken into custody at the examination centre. According to Police the arrest was carried out on a complaint made by a Deputy Commissioner of Examinations. It is learnt that the individual, who was arrested at noon during the exam, had pasted his picture on the candidate's identity card in a bid to impersonate him.

The 23-year-old suspect, a resident of Udawalawe, was produced before the Piliyandala Magistrate on Thursday.

Overall in education, it would be prudent to follow the principles at the Subodhi Institute of Integral and Holistic Education. This institute was founded by Rev. Dr. Mervyn Fernando, an intellectual giant of the country, who died this week and laid to rest yesterday. Subodhi students were taught and moulded not only to pass examinations but to be responsible, eco-friendly citizens who would ask not what their country had done for them but what they have done or are doing for their country.

In most countries including the United States, Russia and China, cyber crime or even a cyber war is reportedly taking place in areas ranging from elections to business in the stock market and even in education. While giving smart phones or laptops to students, the government needs to take effective steps to ensure that cyber crimes do not take place especially in schools or universities. If that happens instead of producing good and responsible citizens we will have more criminals using cyber tactics for corruption and fraud.