---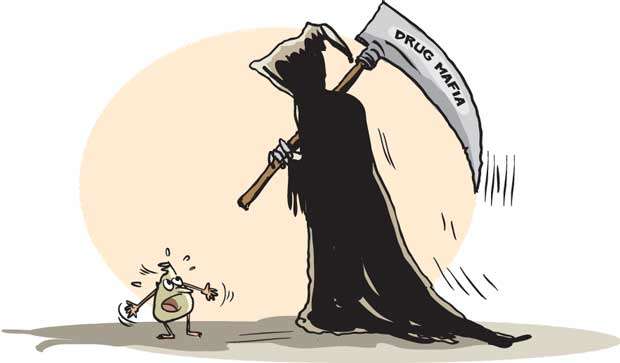 Many people seem to think that the arrest of notorious drug kingpin Samarasinghe Arachchige Madush Lakshitha alias Makandure Madush and some of his accomplices in Dubai is the end of drug peddling, trafficking and use in Sri Lanka. However, in light of the fate of high profile cases of drug peddling and terrorism in the past, we can't help but have to be pessimistic about the success of the fight against drugs.

Any right thinking man would have been elated with the news that the man who had been in the news for the last few years had been captured by the Dubai police, despite there being various versions of his arrest. Some claim that the raid at Al Marina Resort and Spa in Dubai was carried out by the Dubai police alone on the information given by another rival drug peddler who is operating as Merrill while some others put it as a joint operation by the Dubai police and the Sri Lanka's elite Special Task Force (STF). And the State media on Sunday attempted to give the full credit of the raid to President Sirisena who took over the Law and Order portfolio recently under which the Police Department functions.

President Sirisena has lately been making very strong statements against the drug trafficking/peddling in the country. On September 5 last year, he dumbfound the country by making a special statement in Parliament that he would end the 42- year-old moratorium on death penalty by implementing it on the drug peddlers who run the illicit trade from prisons. Again he expressed his resolve to wipe out the drug related offenders from the surface of the earth when he met his Filipino counterpart Duterte, who ordered killing of many drug-related offenders in that country, earning the wrath of human rights campaigners across the world. Then again President Sirisena told the Parliament six days ago that he would implement the capital punishment for drug offences in two months.

Madush was instrumental, according to police reports, to many murders; some were extremely brutal, apart from his drug trafficking which he remotely controlled from Dubai. According to some reports, he had been such blood thirsty that he had even watched from Dubai over Skype the killing of his adversaries by his group members in Sri Lanka. Therefore he and his group, as well as his rivals have to be punished under the law of the land and their drug trafficking network should be destroyed. Nevertheless, do the people in general believe that this arrest is the beginning of the end of a menace? No, they don't.

The main reason is that people believe, in fact they have reasons to believe that powerful figures are behind the high profile crimes, drug trade and corruption or they are indirectly benefitted -- financially or politically -- by these vices. People still remind the incident where a President visited the house of a local politician and hugged him in public when the STF raided the latter's house. Also people have not forgotten how former Director General of Bribery Commission Dilrukshi Wickramasinghe had to relinquish her post, after three high ranking military personnel were questioned over corruption. It is no secret as to how comfortably Arjuna Mahendran escaped to Singapore.

Even if those who have been arrested in Sri Lanka and Dubai were given death sentence, there is a social aspect that sustains the illicit drug trading. Except for a very few large-scale drug barons, all others involved in that trade are hailing from the lower or lower-middle strata of the society. Even Madush was not from an affluent family. They are being pushed towards this hellish situation by the absence of an economic system that could not absorb those added to the labour force annually and the absence of an education system that is not compatible to such an economy.

Every year hundreds of thousands of youth who are school drop-outs or are left stranded after their O/Ls or A/Ls, are being dumped into an uncertain situation. The economy is not prepared to absorb them. They are without guidance and easily go astray. Some of them would be lucky enough to find a place in the society and some others resort to self employment with or without accepted small-time frauds. And the rest become fodder for drug businessmen and criminals. No leader has been prepared after the Independence to find a solution to this problem.