---


emotely piloted aircraft systems (RPAS) are a new component of the aviation system. RPAS alter drastically what the world is accustomed to at this point in flying, with a pilot operating the aircraft from within and more often than not with passengers on board.
There emerges a wide range of machines from micro RPAS to High Altitude Long Endurance, rotorcraft and airships which use new technology (e.g. high level of automation, sense and avoid, electrical propulsion, unusual configurations, cooperative operations). Quite often they are developed by Small and Medium Enterprises (SME) and universities. Members of the public are generally favourable towards drones, however there are concerns about safety security and privacy associated with these operations. Removing the pilot from the aircraft raises important legal, technical, operational and administrative issues, the extent of which is being actively studied by the aviation community.
However, despite the great opportunities that RPAS are able to offer, there are still many challenges and issues facing their effective adoption. The foremost consideration is the safety or security hazards they may pose to manned aircraft operations. When a RPAS flies near a manned aircraft, it can endanger manned aircraft operations by distracting pilots or risk being ingested into aircraft engines.
With roots in the military, RPAS have long been used in and developed for conflict situations for intelligence gathering, hostile surveillance and even air raids. Consequently, it should come as no surprise that the proliferation of civil RPAS also raises some significant security concerns.
Privacy is another issue that is often raised in conjunction with RPAS, because of their great propensity for collateral intrusions of privacy, their ability to access high places, and a relatively low signature.
Additionally, RPAS requires the use of radio-frequencies, and this poses potential spectrum management issues unless regulated consistently.
It is not difficult to recognize that issues related to the use of RPAS are highly complex, given the great diversity of RPAS types and configurations, and the diversity of the RPAS ecosystems existing today.
ICAO is currently embarking on developing the Standards and Recommended Practices (SARPs) for

cross-border unmanned aircraft operations and for the safe integration of such operations with manned aircraft operations. These SARPs are expected to be issued in 2018.
While ICAO continues to develop the SARPs for international RPAS operations, there is a need for Sri Lanka to facilitate the operation of unmanned aircraft within its airspace. Clear rules on the safe, secure and responsible operation of RPAS (Drones) had to be quickly developed in order to mitigate the risks to aviation and public safety, security and privacy. Moreover, the general public, businesses and organizations and recreational users of unmanned aircraft expect the Civil Aviation Authority of Sri Lanka (CAASL), as the aviation safety regulator, to stipulate the safety requirements and provide guidance for the safety, security and privacy preservation of their operations. Those who engage in commercial services likewise expect a reasonable level of regulatory control of unmanned aircraft operations. In this regard, CAASL worked closely with other relevant government agencies such as the Ministry of Defence, Chief of Defence Staff and the Sri Lanka Police to develop local standards and regulations for RPAS in Sri Lanka.
Accordingly the CAASL recently promulgated Implementing Standard 053 on Requirements for Operation of Pilotless Aircraft (Unmanned Aerial Vehicles /Remotely Piloted Aircraft/Drones) under the Civil Aviation Act No. 14 of 2010. It is accessible to the general public under the CAASL website at http://www.caa.lk/index.php?option=com_content&view=article&id=714:operations-of-drones-require-approval-from-the-caasl&catid=155:important-news&Itemid=1550&lang=en
Under this framework, an approval system has been introduced to regulate the operation of unmanned aircraft, in any part of Sri Lanka. The key considerations have been to address the safety and security risks and intrusion of privacy posed by RPAS. Some such considerations are as follows.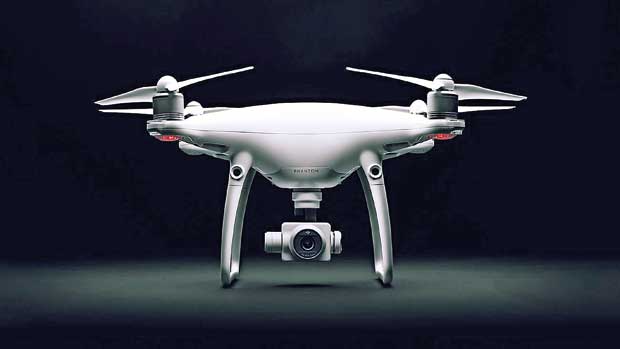 (a) Injury to persons and damage to property - RPAS that are likely to pose a higher risk to aviation and public safety and security in cases of collision due to their mass and speed.

(b) RPAS that are used for commercial purposes are likely to pose higher risks as they operate more frequently, involve complex and difficult manoeuvres (e.g. carriage of load), and are often flown over crowded areas. Discharge of items/substances from an unmanned aircraft likewise can also pose safety risks to populace and property on the ground.

(c) Safety hazards to manned aircraft operations – Approvals are also required if the unmanned aircraft operate within 5 miles of any aerodrome/military airbase, or above 150 ft when beyond 5 miles.This is to ensure that unmanned aircraft operations are adequately separated from manned aircraft operations.

(d) Spectrum management – A permit is also needed for the use of non-approved frequency spectrums as defined by the Telecommunication Regulatory Commission (TRC), due to the potential hazard of frequency interference.

(e) After obtaining requisite approval, the operator shall obtain flight clearance for the proposed activity from the local police of the area, where the drone will be operated. This arrangement is made in order to ensure that the Local Police are aware as to drone operations taking place in the area so that safety and security of the public is well assured.

Approvals/ Permits (e.g for flying over security-sensitive locations) from other government agencies may also be required, depending on the activity to be carried out.

Airspace: A Premium Resource
Sri Lanka being an island state, airspace is considered a premium resource, which has vast potential for economic development. With increasing proliferation of RPAS and rapidly growing civil air traffic movements at the domestic airports, managing the competing demands for airspace use becomes a challenge. Airspace has to be optimally allocated to the various users according to operational priorities and industry demands. For CAASL, a balanced approach to airspace management will become increasingly crucial to support the continued growth of the manned aviation sector while facilitating the development of the rapidly growing RPAS industry, without compromising aviation safety.

Aircraft Separation
In managing domestic RPAS operations, Sri Lanka, like many other ANSPs around the world, has to practise total segregation between manned and unmanned aircraft operations. Reasons for this are twofold; firstly, there is currently a lack of internationally-accepted separation standards and secondly, given that the RPAS industry is in its nascent state and with the wide range of RPAS available, the performance and capabilities of RPAS are relatively ill-defined. This means that many unmanned aircraft are unable to comply with regulations designed for manned aircraft.
In the light of these concerns, safety and security risk for other airspace users is largely mitigated through separation with manned aviation. Unmanned aircraft in Sri Lanka must be flown outside critical areas of flight operations, such as areas within 5 miles of aerodromes and aerodrome flight paths, with requisite prior approvals.

Airworthiness and Flight Operations
Unlike the maturity and reliability of manned aircraft technology, RPAS technology is nascent and relatively less regulated. The absence of humans on-board the unmanned aircraft to steer the aircraft to land safely in the event of loss of control from the remote pilot or ground control station adds to the complexity of the assessment. In addressing these challenges, CAASL adopted a risk-based assessment approach. All potential risks, such as loss of control of the aircraft, failure of the flight control system, loss of line of sight and collision with properties and both natural and man-made obstacles, have to be identified by the operator or user and substantiated with adequate risk mitigation measures. This is complicated by the diverse profile of operators or users, ranging from large entities with an established pool of expertise on RPAS operations, to inexperienced members of the public.

Remote Pilot Competency and Licensing
In a similar light, there is currently a lack of standards of harmonized requirements on pilot competency and licensing. CAASL does not issue remote pilot licences currently, but instead manages the safety risks arising from a lack of pilot competency by assessing the remote pilot in three aspects, namely; knowledge, flying experience and skills. In assessing knowledge, CAASL reviews whether the pilot has adequate knowledge of the capabilities of the unmanned aircraft, knows the contingency measures to undertake, has attended any relevant training, including training on relevant training, including training on manned aircraft, and is familiar with Aviation Safety Regulations relevant to aircraft operations. Experience is assessed based on the number of hours previously acquired on flying the unmanned aircraft, including that of manned aircraft, and past track records of unmanned aircraft operation. The skill of the remote pilot will determine whether the remote pilot is proficient and competent to operate the unmanned aircraft for the proposed operation and this is being determined through the conduct of a demonstration flight.
While CAASL is yet to promulgate standards applicable for assessing remote pilot competency, there exists a certain degree of subjectivity which could potentially lead to inconsistencies in assessment in the long run. While remote pilots may declare that they have completed certain training by an unmanned aircraft training organization, there is difficulty in ascertaining whether the knowledge is sufficient due to a lack of harmonized international requirements.
Experience levels such as that of flying hours are figures declared by the remote pilot, which are neither officially certified by an approved training organization, nor officially documented.
The demonstration flight could only verify certain aspects of the skills possessed by the remote pilot for the specific operation and may not be comprehensive. Further studies would be required to better determine of assess remote pilot competency. The wider use of RPAS in Sri Lanka presents a complex combination of opportunities and challenges that cut across various sectors, as well as strong public sentiments expected to be divided along the lines of competing needs for increasingly limited resources (especially land and airspace), and that of safety, security and privacy concerns. The enhancements to the regulatory and permit framework and the guidelines are interim steps that would help to address immediate aviation and public safety issues, pending the ongoing study of an appropriate framework to facilitate and promote the use of unmanned aircraft for public and commercial purposes. They also work to adequately address safety, security and privacy concerns, as well as ICAO's developments on the SARPs for international RPAS operations.

The writer is Director General of Civil Aviation and CEO
Civil Aviation Authority of Srilanka