---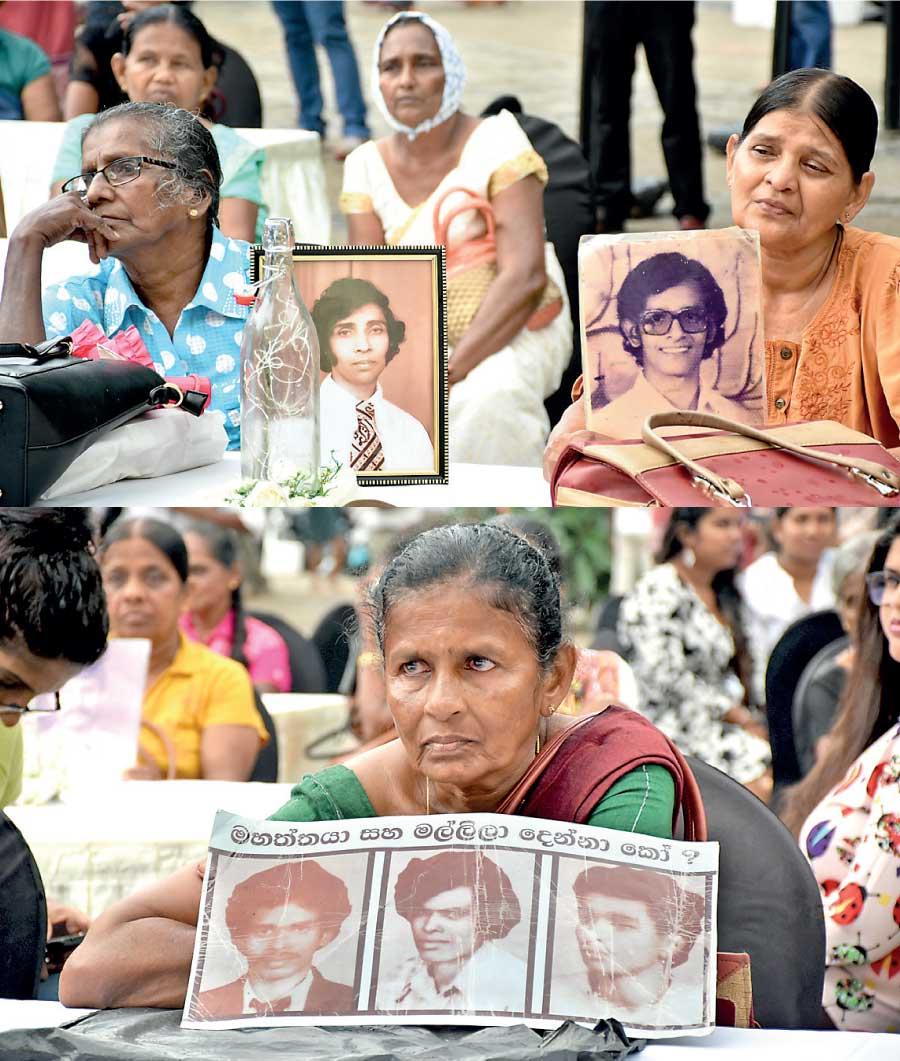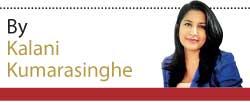 W.P. Ariyasena was last seen on the evening of December 12, 1989. Caught between the violence of two forces of the Government and rebels, Ariyasena was one among hundreds who never returned home during the reign of terror. "He left for the town, during the curfew, to bring home a bag of rice. He only wanted to feed our children. That was the last time I saw my husband" his wife, Charlotte Mangalika from Hambantota, recalled.
Four months pregnant at the time, Mangalika received the message that her husband was 'taken'. "I was helpless, I couldn't do anything," she said adding that she feels no different even today. Thirty years later, Mangalika was joined by the Families of the Disappeared, in Colombo, to celebrate Missing Lovers Day at the Dutch Hospital on the eve of February 14, the day designated for love and affection.
As countless loving couples strolled about the cobblestone precinct, lost in conversation, S.H. Nandaseeli, also from Hambantota, gazed at them dotingly. Sitting at a table decorated with a posy of white roses and strings of light, she said that days like this are evocative of both warm and violent memories. "Soldiers took my husband away in 1990. They dragged him away alleging that he was involved in JVP activity. Our house was doused in fire. Friends became foes. I was left with three traumatised children. I searched for my husband far and wide, in every Army camp and police station," Nandaseeli recollected, her eyes welled with tears. "But on days like this, I remember how fond we were of each other. We too had a loving family life with our children. He disappeared without a trace. But they can't make my love for him disappear," she charged.
---
The Missing Lovers Day 2019 was an evening of observance, reminiscence and hope
The economic difficulties expressed by these families of missing persons have deep roots
While poverty is widespread among these families, they highlight a lack of support
---
Social media campaign
The Missing Lovers Day 2019, organised by the Families of the Disappeared was an evening of observance, reminiscence and hope. Weeks ahead of Valentine's Day, an attractive social media campaign invited lovers, old and new, to join these families awaiting their loved ones. As aggrieved families shared their cherished memories, brutal truths and overwhelming feelings of love and hope, the evening progressed into an important and empowering discussion of justice and accountability.
Clutching a framed photograph of her long lost lover, 56-year-old Chandralatha recalls how worrying it was to raise their children following the disappearance of her husband. "If not for my family, I wouldn't have been able to take care of my children. I had an aunt who was willing to look after my children while I worked. But my son didn't continue with his education beyond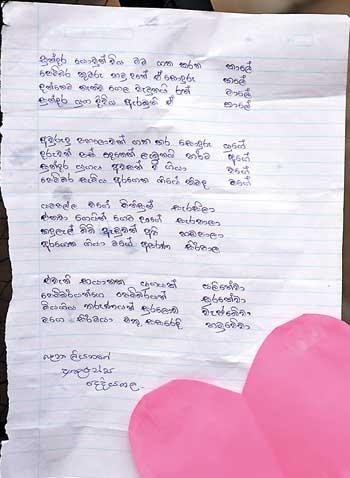 the Ordinary Level Examination," she said, adding that her son was a bright student in school. "He asked me one day, if I can afford to pay for university education. I had no answer. Now he is a fisherman, and takes on various odd jobs to provide for his sister and me," Chandralatha revealed.
Since the abduction of her spouse, 61-year-old Wimalawathi from Devundara has worked as a casual labourer for over thirty years. "I wasn't employed when they took my husband away. I searched high and low for my husband Nandapala. We were married for eight years, but I didn't know how to manage on my own," she said. Since the abduction in 1989, Wimalawathi has relied on various means of income, including drying fish, domestic labour as well as various odd jobs such as assisting masons at constructions sites. "I did everything I could think of to keep my children alive. But I couldn't educate all of them," she said regretfully. The youngest three of her seven children were more fortunate as they sat for the O/L Examination. The others were unable to follow educational pursuits and couldn't even complete their elementary schooling.
"My children couldn't receive the education they deserved. Now they're stuck in the same rut as the rest of us, because they depend on a day's wage working as casual labourers," Wimalawathi lamented.
The economic difficulties expressed by these families of missing persons have deep roots in a variety of factors including the loss of the breadwinner and in most cases, the loss of property. These are the concerns they expressed in addition to the expenses related to the search of their loved ones.
Veena still has belief
While a majority of the participants at the event were from the South of Sri Lanka, families from the North searching for their loved ones, shared their experiences, not too different from their counterparts of the South. Veena Yogendran from Batticaloa took the stage as attentive crowds began to gather around slowly. "Valentines was always a special day for us as my husband would take me sightseeing, it was to a new place every year," recalled Veena with tears streaming down her cheeks. As she recollected memories of her marriage of five years, in a strong and determined tone, Veena said that she still believes that her lover is alive. "Where ever you are, I love you!' she asserted to a moved audience. "I cannot utter anymore words other than my love for you, because I'm overcome with grief," she moaned. "I would never wish this pain on anyone," she added before she left the stage. Neeta Abeydeera took the stage next and recalled the difficulty of raising her children without a father's love, she requested the young members of the audience to protect their loved ones. "Don't make love disappear" she appealed.
As prominent activists including wife of disappeared journalist Prageeth Ekneligoda, Sandya Ekneligoda and President of the Families of the Disappeared organisation's Brito Fernando looked on, young groups of musicians soothed the crowds with their renditions of popular romantic tunes. Observing the evening's proceedings in a corner, with a toddler in tow, is the sister of Balasumbramaniam Nageswaran from Chenkalady, Batticaloa. Balasubramaniam, only 19 years old at the time, was last seen in 1996, while working in the family field. He disappeared without a trace, leaving his sister and mother in charge of the family's dairy cows. Balasubramaniam was the breadwinner of the family and his disappearance left the family not only in dire straits, but also in complete shock. "Unable to cope with my brother's disappearance, our mother suffered repeated strokes and is now bedridden," Balasubramaniam's sister who was accompanied by an aunt,said.
The disappearances of these young men, during the dark days of unrest, has left distraught and disrupted families headed by females. While poverty is widespread among these families, they highlight a lack of support and systematic initiatives to ensure that the family is sustained. Having searched for answers together, wives, mothers and children later that evening, shared their bittersweet stories with audience members, gifted couples in the audience a red rose, with the humble request, 'protect your love. Don't let love disappear'
Pix by Kushan Pathiraja