---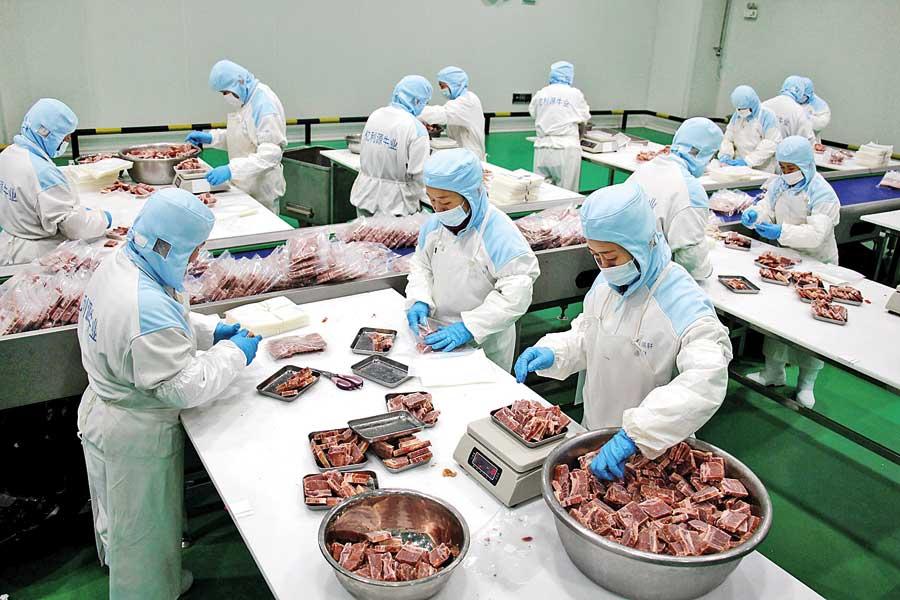 The picture shows workers packaging frozen steak for export at a beef processing plant in Binzhou, in eastern China's Shandong province. (AFP)
"Studies have indicated that hard dry fish is not associated with cancer whereas soft dry fish is associated with cancer."
Recently some prominent medical doctors in Sri Lanka claimed in electronic media that beef is a carcinogenic food which means a causative agent of cancer. We as responsible medical professionals would like to analyse this

statement in the light of science and give a balanced, neutral opinion on "What causes cancer." In this article we will be presenting a broad overview of cancer-causing foods, food habits and other lifestyle factors backed by scientific evidence.
Cancer is one of the leading causes of death globally and is second only to cardiovascular diseases. It was responsible for 9.6 million deaths in 2018. More than two thirds of these deaths occurred in low and
middle-income countries.

Five leading cancers in the world are lung, breast, colorectal, prostate and skin cancer. In 2014 the commonest cancer in Sri Lanka was breast cancer followed by oral, thyroid, bowel (colorectal) and oesophageal (food pipe) cancer. Generally, the incidence of cancer increases with age. Different cancers affect males and females differently. For instance, the breast cancer affects females mostly whereas most sufferers of lung cancer are males.

Tobacco smoking has been implicated in 17 different cancers. In addition to that there is limited evidence of causing breast cancer and leukaemia in smoker's children. Even second-hand smoking (that is, people who passively inhale the air contaminated with tobacco smoke) is a well-recognised cause of lung cancer.
Consumption of alcoholic beverages is associated with breast (female), colorectal, laryngeal, liver, oesophageal, oral and pharyngeal cancers. According to WHO data, on average a Sri Lankan male (≥15 years of age) consumes 18.9 litres of alcohol and a female consumes 6.7 litres of alcohol per year. These figures have steadily increased over the past 40 years.

Meat is an important source of protein, some vitamins (e.g. vitamin A and B) and minerals (e.g. zinc, iron) . Amino acids are organic compounds that combine to form proteins. They are the building blocks of life. Out of 28 amino acids found in humans, 9 cannot be synthesised in our body. They are known as essential amino acids. Meat is an important source of essential amino acids. Therefore, they should be provided with diet. (11) (12)
According to IARC, the consumption of red meat is classified as "Probably carcinogenic to humans". This means that unprocessed red meat is not a confirmed causative factor of cancer. Red meat refers to all types of mammalian muscle meat and this includes beef, lamb and pork. Chicken, turkey, duck, goose and rabbit do not fall under the category of red meat. The processed meat like; sausages, salami, ham and bacon are categorised as "carcinogenic to humans" (category 1), i.e., proven to cause cancer, but it is dependent on quantity eaten.

The other important factor to consider is the amount of red meat or processed meat consumed. It appears that higher amount of their intake is associated with cancer. It is clearly shown that the increased intake of fruits and vegetables protects against cancer. There is conflicting reports regarding the role of fish and sea food consumption in cancer prevention and causation. There is evidence of Cantonese-style salted fish (dry fish/ 'Karawala') causing nasopharyngeal cancer specially if consumed during young ages. Studies have indicated that hard dry fish is not associated with cancer whereas soft dry fish is associated with cancer. In summary, processed meat has been shown to be definitely a cancer-causing food while red meat is categorised as potentially carcinogenic, but only if consumed in large quantities. Preserved foods, saturated/animal fats, cholesterol, high sugar foods, spicy foods and refined carbohydrates have a positive association with bowel cancer. Vegetables and fruits play a protective role against bowel cancer.

Trans-fat is an important cancer-causing agent. Many routinely consumed food items have high concentration of trans-fat. Frying with coconut oil is less likely to produce trans-fat, but when it is re-used, the production of transfat will increase. Routine physical activity is linked to reduced incidence of many types of common cancers. Additionally, it reduces the risk of death among patients with breast and bowel cancer. Long-term, uncontrolled diabetes is a risk factor for cancers. Obesity is also proven to be a risk factor for cancer.

The causal relationship with processed meat or red meat and bowel cancer should be understood in the correct context. Moreover, there are many other foods and lifestyle factors which can lead to cancer. Therefore, it is important to strike a balance between necessity and harm when making food choices and following different lifestyles. Making healthy lifestyle changes is the most effective way to reduce cancer risk. These include regular exercise, eating a healthy diet, avoiding smoking, and not drinking too much alcohol.
(Dr Kamal Naser, MBBS (Jaffna), MD (Colombo), FRCP(Lond), FRCP(Glasg), FACE Consultant Physician, Sherwood Forest NHS Hospitals Trust, UK
Dr Suhail Abdul Wahab MBBS (Peradeniya), MRCP(UK), Sherwood Forest NHS Hospitals Trust, UK)