---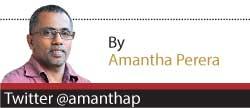 Fifteen years ago, I woke up on the day after Christmas to something that I was never prepared for. A phone call from a relative was my first alert to get to the coast.
I grabbed a camera and got to the nearest beach front, just south of the Colombo harbour. I saw a ship tilting on its side and larger multi-day trawlers pushed like paper boats on to the shore.
What I saw frightened me. But nothing prepared me for what I would see during the next three months, most of which was spent on the devastated coast that lay in utter devastation after the tsunami.
Death hung along the coast like an evil sneer. The smell of decaying bodies would cling to your body for days.
Even then I relied on mobile communications. Then there were no apps or social media. Large tracts of the devastated coast, especially in the conflict-ridden North and East (hardest hit by the tsunami), remained out of reach. A sudden rumour would send the working networks crashing down. We relied on SMS groups; they were popular among journalists. They were also laden with security threats. These groups evolved among those who were covering the war – how they worked was that a single SMS would be shared among a larger group, at a hefty cost to the sender.
When the war escalated and restrictions also rose, these SMS threads were a vital information line as well as a security risk. Once a colleague sent out a message on an attack on an Army camp in the Mannar area. The message had been sent by a source within the camp, but the mass thread also alerted the military of the channel through which information was flowing. The tsunami was also a major turning point in disaster management in Sri Lanka. The Disaster Management Act was enacted eight months after the disaster and the National Disaster Management Centre came into effect.
There have been massive improvements in the manner national disasters are handled in Sri Lanka. But one area that is lagging is how social media is being used in this regard. The DMC Twitter handle and Facebook page send out what the Meteorological Department puts out. It does so daily. But whoever is in charge of these platform does not appear to be comprehending the interactive, instantaneous nature of the platforms. There is no interaction. There is no attempt to connect with people individually, especially during times of crisis.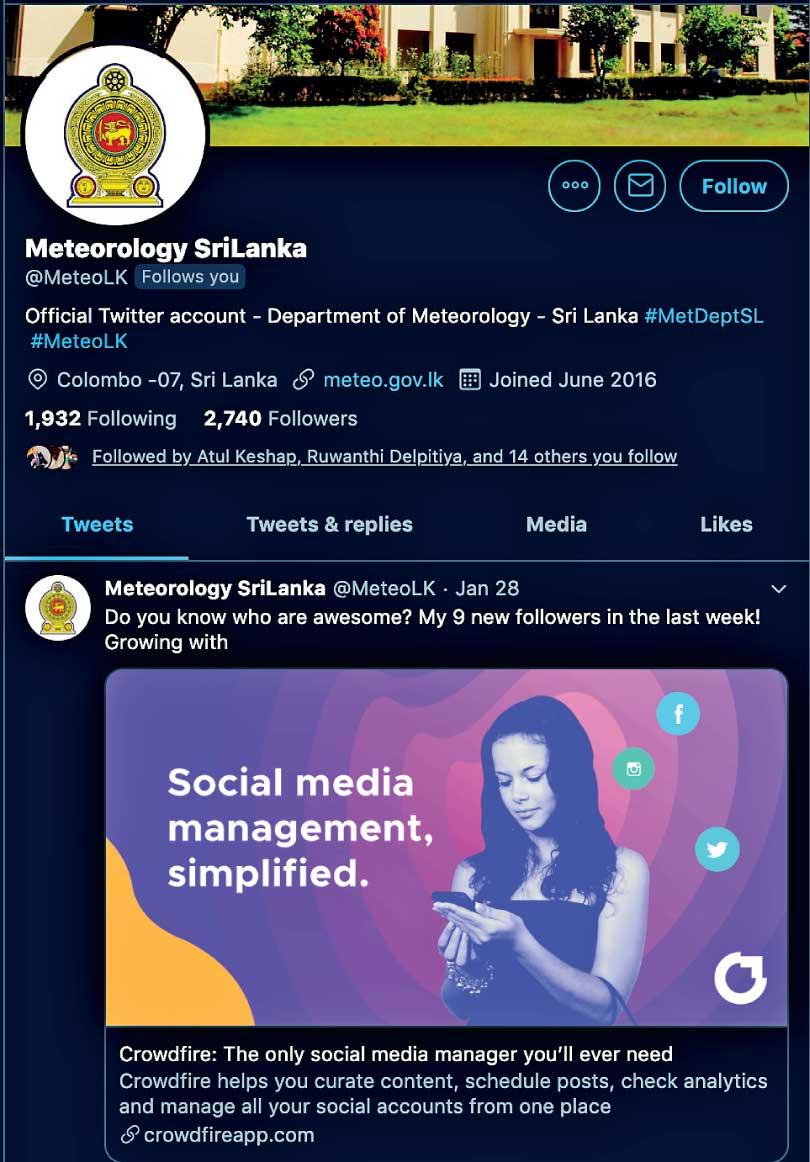 The Meteorological Department's social media platforms fare worse. Its Facebook page is a collection of jargon-laden press releases and updates. Its Twitter feed has not been updated since January 28. And the last 50 messages are an automated ad for an app that has no connection to disaster management. The last time it sent out a weather update on twitter was in April 2017.
Neither organisation has moved into engaging the two platforms effectively. Facebook has over six million accounts of Sri Lankan origin and Twitter has upwards of 250,000 such accounts. Their effect was quite clear during the elections. These two public agencies are still working on the assumption that social media are just another avenue to put out one-sided press releases and propaganda.
Quite in contrast, the Sri Lanka Red Cross Society (SLRC) social media platforms seem to be working differently. They are far more interactive and engaging than government counterparts. The SLRC also makes a great attempt to increase its social media engagements during crises.
One other example of such effective use that benefits the ordinary citizen is @roadlk, a twitter handle that is crowd-shared traffic updates. It has been in operation for some time and is of great value for commuters in urban areas.
The writer is currently pursuing a Masters by Research at CQ University, Melbourne on online journalism and trauma.