---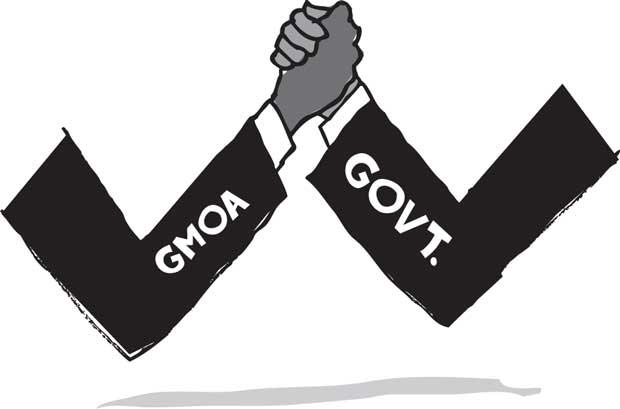 Amid conflicting or contradictory reports on the success or failure of yesterday's so-called general strike, a major question has arisen over the role of the Government Medical Officers' Association (GMOA). The medical officers' union claims or boasts that with about fifteen thousand members it is one of the most powerful trade unions in Asia.

In Parliament yesterday, ministers alleged that the GMOA president and members, while causing thousands of patients to suffer in public hospitals, were engaged in channelled consultation practice at private hospitals in the evenings and sometimes till late at night. Some of them are known to be earning tens of thousands of rupees a day. Government ministers even presented photocopies of channelled consultation receipts for patients to see the GMOA president at a leading private hospital in Colombo at 4.00 p.m. The fee charged from a patient was more than Rs.1,900. With payments for various tests -- some essential, some not so essential and some not necessary -- the cost might be about Rs.8,000. If the cost of medicinal drugs is also added the total would be about Rs.10,000. It is mainly the rich and upper class people who can afford this and the poor are left to suffer in silence or die. One television channel yesterday showed a patient, who said he had travelled more than hundred kilometres because yesterday was his clinic day to obtain treatment for a heart ailment and he did not know what to do now because he had no money to buy the medicinal drugs from outside.

The GMOA is denying the charges of the government minsters and says it has told its members not to engage in channel practise at private hospitals during the 24-hour strike from 8.00 a.m. yesterday to 8.00 a.m. today. But investigative reporters and others who visited private hospitals yesterday confirmed that they were busy if not busier than on other days and were crowded like market places. That means thousands of medical officers were either disobeying the GMOA's so- called directives or were involved in some sort of double standards -- no work for the poor people in public hospitals and more work for the well-to-do in private hospitals.

In politics, medicine or any other field, a monopoly is essentially bad. If in politics, one-party rule leads to a dictatorship, authoritarianism or domination of the people, then so it is in medicine also. The GMOA appears to have become dictatorial and tragically or sometimes fatally the victims are poor patients.

For the past few months, the GMOA leadership has been indulging in regular strikes demanding that the Government should take over the South Asian Institute of Technology and Medicine (SAITM). Millions of poor suffering patients perhaps don't even know what
SAITM means.

President Maithripala Sirisen, speaking out at his home base of Polonnaruwa, yesterday said he had a dialogue with all stakeholders on the SAITM issue and reassured the Government would find a solution which was just and fair to all. The President expressed regret that the GMOA was disregarding this move for a compromise on the middle path and demanding that SAITM be taken over. If that was done, investors whether they be foreign or Sri Lankan would have major questions about investing here. The President said he believed that the GMOA's President Dr. Anuruddha Padeniya, a neuro paediatrician, was a practising Buddhist who took sil on Poya days and it was hard to imagine how he could cause suffering to poor patients on the eve of the United Nations International Vesak Poya Days which would be marked in Sri Lanka
next week.

The GMOA strike fever and the regular demonstrations held by some other groups including an extreme left wing university students union have prompted the Government to consider a suggestion for a crackdown on strikes and demonstrations. One suggestion is that Field Marshal Sarath Fonseka, now a minister, could play a coordinating or commanding role in this move to ensure that essential services are not disrupted and tough action is taken in emergency situations. If trade union or student union rights are not linked to their responsibility to ensure the common good of the people and not inconvenience them or make them suffer, then such unions would morally forfeit their rights.