---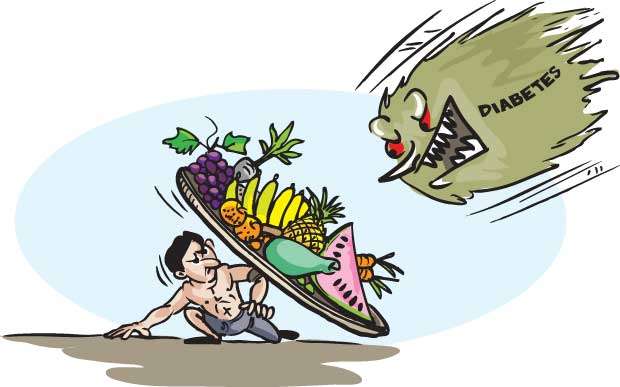 While the nation focuses on the ongoing political crisis and the Supreme Court's historic verdict on Tuesday, we also need to concentrate on vital issues such as healthcare and education especially for the younger generation. Yesterday was World Diabetes Day and the International Diabetes Federation (IDF) in a statement says the theme for this year and next year is 'The family and Diabetes'.
According to the IDF a two-year time frame has been chosen to best align the World Diabetes Day campaign to the current IDF strategic plan and facilitate planning, development, promotion and participation.
It says materials and actions that IDF will develop over the two years of the campaign will aim to raise awareness of the impact that diabetes has on the family and support network of those affected. It also wants to promote the role of the family in the management, care, prevention and education on diabetes.
According to figures compiled by the IDF, more than 425 million people are now living with diabetes. Most of these cases are type-2 diabetes, which is largely preventable through regular physical activity, a healthy and balanced diet and the promotion of healthy living environments. Families have a key role to play in addressing the modifiable risk factors for type-2 diabetes and must be provided with the education, resources and environments to live a healthy lifestyle.
IDF says one in two people currently living with diabetes is undiagnosed. Most cases are type-2 diabetes. Early diagnosis and treatment are key to prevent the complications of diabetes and achieve healthy outcomes. All families are potentially affected by diabetes and so awareness of the signs, symptoms and risk factors of all types of diabetes is vital to help detect it early.
Diabetes can be expensive for the individual and family. In many countries, the cost of insulin injections and daily monitoring alone can consume half of a family's average disposable income, and regular and affordable access to essential diabetes medicines are out of reach for too many. Improving access to affordable diabetes medicines and care is therefore urgent to avoid increased costs for the individual and the family, the IDF says.
Less than one in four family members have access to diabetes education programmes. Family support in diabetes care has been shown to have a substantial effect in improving health outcomes for people with diabetes. It is therefore important that ongoing diabetes self-management, education and support be accessible to all people with diabetes and their families because it can reduce the emotional impact of the disease.
IDF warns that the number of people with diabetes is likely to rise to 522 million by 2030. Three out of four people with diabetes live in low and middle income countries including Sri Lanka. One in two people with diabetes, that is about 212 million remain undiagnosed. Diabetes is a leading cause of heart disease, stroke, blindness, kidney failure and lower limb amputation. About 80% of cases of type-2 diabetes is preventable through the adoption of a healthy lifestyle.
World Diabetes Day is a global occasion in which people with diabetes, health professionals, diabetes advocates, media, the general public and government organisations unite in the fight against diabetes.
In Sri Lanka, Dr. Manilka Sumanatilleke, the President of the Sri Lanka College of Endocrinologists, is reported to have expressed grave concern that youth in the age group of 18 to 20 years are being afflicted by diabetes. The specialist says urgent action is required to reverse this trend. Parents especially need to make their children aware of the diet and lifestyle that could prevent diabetes. For instance, some parents because of their work schedules or lack of awareness give their children money to buy fish buns or ham burghers for breakfast instead of some protein rich gram, green gram, cowpea or other grains. People say eat well but now we need to emphasize the need to eat wisely and think not only about the taste but also about the nutritional value of the meals we have.