---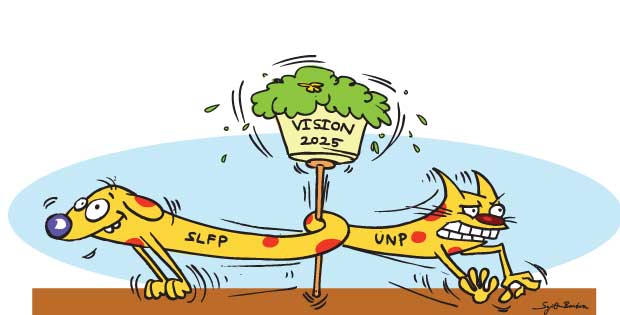 Despite regular disputes on policy issues and personal agendas, the National Unity Government's coalition partners -- the United National Party (UNP) and the Sri Lanka Freedom Party (SLFP) -- have little or no option but to stay together. This is not only for their personal survival but more so for the common good of all people of Sri Lanka, specially the future generation.
According to our sister paper The Sunday Times, the UNP's main concern is over some developments in the Presidential Commission probing the Central Bank bond issue.
Three senior ministers, UNP Chairman Malik Samarawickreme, General Secretary Kabir Hashim and Mangala Samaraweera met President Sirisena recently to express concern over the decision to summon Prime Minister Ranil Wickremesinghe to testify before the Commission.
The party believes this will give a wrong impression and could have a negative impact especially at a time when the parties are preparing for the local council elections likely to be held between January 25 and 31 next year. The Prime Minister had submitted a written affidavit relating to the bond issue, but the Commission has summoned him to testify.
The President's response was neither positive nor negative. He said the Commission was independent and he would not interfere in its proceedings. The President had also reiterated his concern over the long delays in going ahead with the cases against VIPs of the former Rajapaksa regime.
Last week, at a ceremony to mark the death anniversary of the Ven. Maduluwawe Sobitha Nayaka Thera, the President again referred to the delays. He had earlier said that if he was the minister in charge of law and order he would have completed these cases within a few months. The Ven. Sobitha Nayake Thera was the key figure who took the initiative for the formation of the National Movement for a Just Society.
This led to the dramatic events of November 2014 and the nomination of the common candidate, Maithripala Sirisena, who with the support of the UNP, other parties and civic action movements surprisingly defeated Mahinda Rajapaksa at the presidential election on January 8, 2015.
The new Justice Minister Thalatha Athukorale last week moved a bill and got parliamentary approval for the appointment of a special three-member High Court to conduct a trial-at-bar on these political cases. This means that in any particular case, inquiries will be held almost every day with morning and evening sessions and hopefully the cases would be completed within months.
With the restoration of the rule of law, the National Unity Government is likely to get much more public support to work towards its vision 2025 programme for sustainable eco-friendly and all-inclusive development.
This was clearly outlined in Finance Minister Mangala Samaraweera's designer-budget and we hope that any desire for personal or party gain or glory will not prevent Sri Lanka from-becoming an economic hub of Asia.